UK-US trade deal discussed in secret meeting between Brexiteers and top Trump advisor
'It was a conversation between friends and, you know, we do tend to do a lot of conspiracies, don't we, in the media at times. There's no conspiracy here, it was just a general conversation'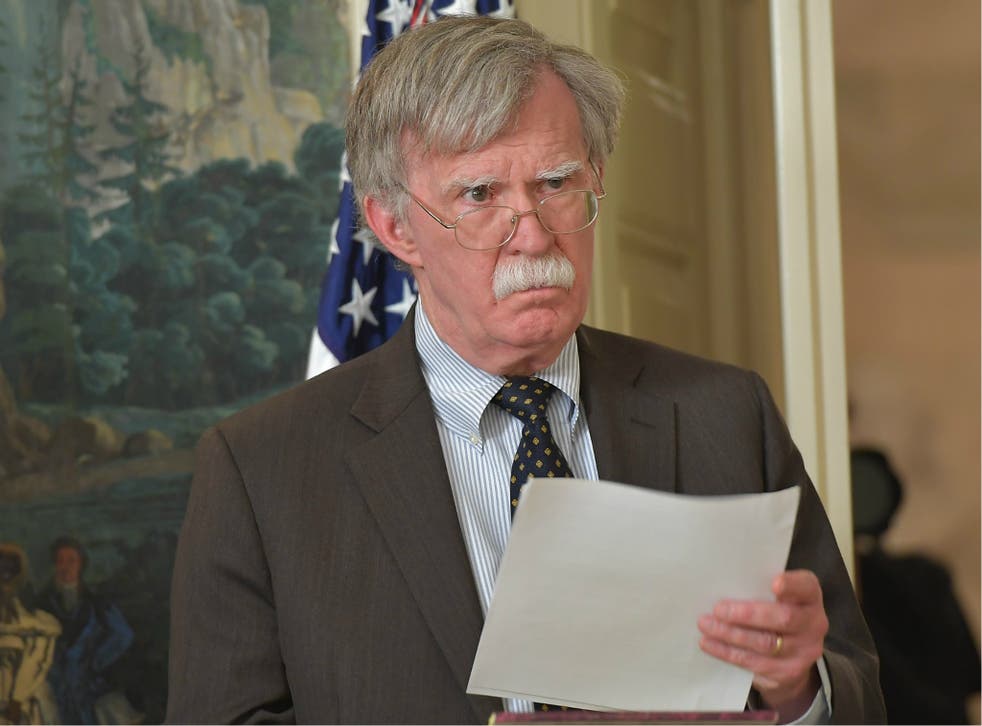 One of Donald Trump's closest advisors had a secret meeting with senior Eurosceptic Tory politicians where he disclosed that the US president wants to do a trade deal with the UK as quickly as possible.
Members of the European Research Group of Conservative MPs, which is chaired by Jacob Rees-Mogg, discussed Brexit with John Bolton, Mr Trump's national security adviser, for around an hour in London last week.
There were no government officials present for the conservations, which reportedly angered Whitehall civil servants, while Number 10 is said to have been unaware Mr Bolton would be meeting with the ERG.
One of the attendees, former Conservative leader Iain Duncan-Smith, admitted they had met with Mr Bolton, his "good friend" of 26 years, who had told them there was a desire to agree and implement a trade deal within two years.
"We didn't talk about details, he just simply said we're very pro the idea of a trade arrangement as quickly as possible and the general view was that they could get it done within two years if the British really wanted to do a real push on it," Mr Duncan-Smith told the BBC Sunday Politics via video link from a field in Chingford.
"So my point is that I've passed that back to government as a general conversation, but it was a conversation between friends and, you know, we do tend to do a lot of conspiracies, don't we, in the media at times. There's no conspiracy here, it was just a general conversation."
In a separate meeting to the one attended by Mr Duncan-Smith – along with Sir Bernard Jenkin and Sir Bill Cash – Mr Bolton met with Sir Mark Sedwill, his counterpart at the British National Security Council.
When the presenter, Sarah Smith, asked whether it was appropriate for backbench MPs to be talking about potential trade deals with senior American officials outside of the presence of British government officials, Mr Duncan-Smith said:
"Well when I was a backbencher and I went to America and I met him when he was a minister in the state department we chatted about lots of things and I used to do that with lots of people from America when I was in government.
"Just because you're in government doesn't stop you talking with people you know and are friends with," he said. "These are friendly chats, I'm not in government, I'm not able to direct the government.
"What I did with him was to chat about the nature of the Trump administration, I was interested in how they worked and what they did. And one point he made across to me was that everybody in America is really keen to make a trade arrangement with us."
Mr Trump is set to visit the UK on July 13 where he will have an audience with the Queen.
The US president recently attacked the EU, which he said was "set up to take advantage of the United States, to attack our Piggy Bank."
It followed the imposition of 25 per cent and 10 per cent levies on steel and aluminium, respectively, from the EU.
In retaliation to the tariffs, the EU placed import duties on jeans, motorbikes, whiskey and other American-made products.
UK news in pictures

Show all 50
Join our new commenting forum
Join thought-provoking conversations, follow other Independent readers and see their replies