Donald Trump's controversial UK visit may be extended so he can play golf
US president could have a round with a professional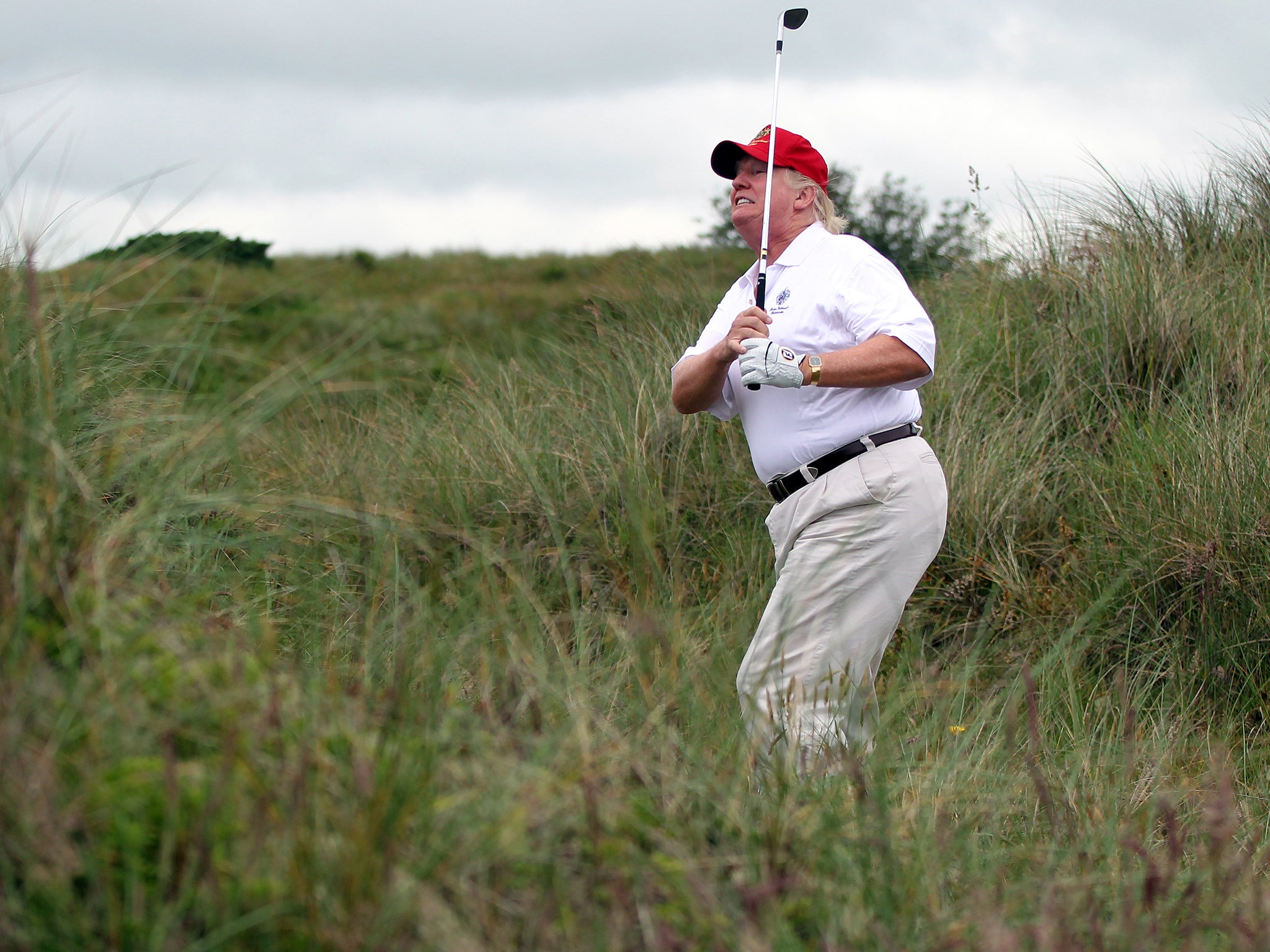 Donald Trump's impending visit to Britain – one which has been surrounded by controversy and is expected to draw massive protests – may be extended because he wants to play golf while in this country.
The US president is expected to be on a golf course, possibly Turnberry in Ayrshire which his family owns, with a British professional golfer, although details have yet to be arranged. There have been previous reports that he may play a round with Prince Andrew, but there is no confirmation that this will take place.
The invitation by Theresa May's government to Mr Trump to visit Britain has been met with sustained opposition. MPs have stated that he should not be allowed to address parliament and London's Mayor, Sadiq Khan, has called for peaceful protests to show that the US president's views were not shared by the vast majority of Londoners.
The trip next month will be on 13 Friday after a Nato summit during which Britain will be asked to supply more troops to help the UK mission in Afghanistan. He will hold talks with Ms May and also, it has been reported, meet the Queen at Windsor, although details of the programme are yet to be finalised. He is not going to visit the US Embassy whose new location, South London, is, he thinks, "lousy" and "horrible". An extra day may be added on for the US president to play golf.
The trip will not be the formal state visit Ms May offered the president when she visited the White House in January last year, but rather what has been termed a working one and that term will continue to apply even though half of it will be taken up with Mr Trump playing golf.
The state visit is expected to take place next year provided he is still in office and is not facing impeachment over his Russian connections – a distinct possibility if the Democrats win the House of Representatives and the Senate in the mid-term November elections.
Join our commenting forum
Join thought-provoking conversations, follow other Independent readers and see their replies