Trump UK visit: Police place tight restrictions on pro-Trump and Free Tommy Robinson protests
Republican US Congressman due to attend 'Free Tommy' protest as police condemn Hitler salutes performed at previous rally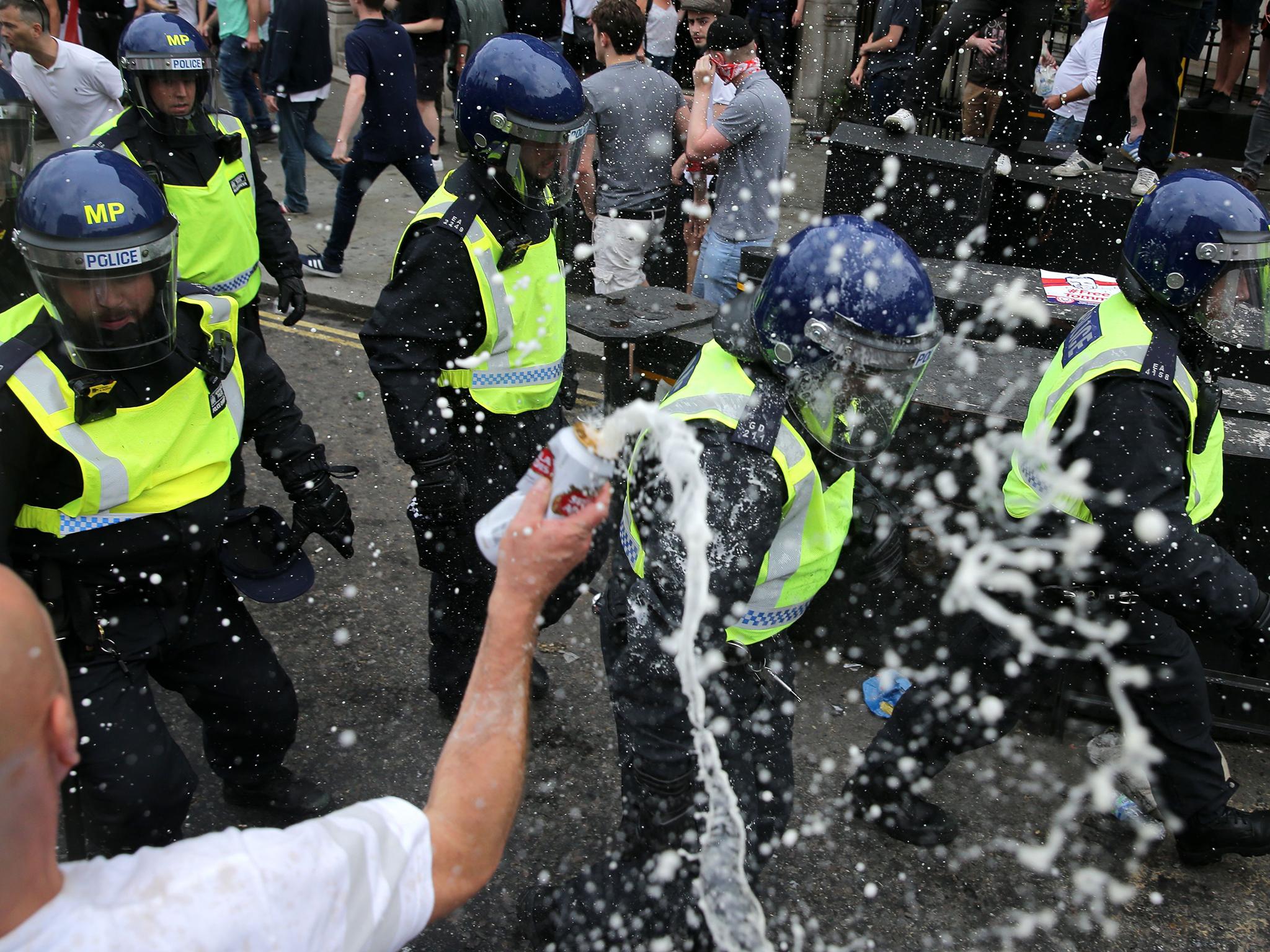 Police have imposed tight restrictions on protests in support of Donald Trump and jailed far-right leader Tommy Robinson, in an effort to prevent "serious disorder" in London.
Organisers of a march in support of the US president plan to merge with a demonstration in support of the EDL founder on Saturday, a day after a huge rally opposing Mr Trump's visit to Britain.
Scotland Yard said it was imposing restrictions "in order to prevent serious disorder and disruption to Londoners" following violence seen at a previous Free Tommy Robinson protest last month.
His supporters threw metal barriers, bottles and other objects at police officers, injuring five of them. Nine people were arrested.
Some pro-Robinson protesters were seen performing Nazi salutes, while others stormed and vandalised a sightseeing bus.
"We police hundreds of public events and demonstrations in central London every year and we always facilitate peaceful protest," said Chief Superintendent Elaine Van-Orden of London's Metropolitan Police. "We have such serious concerns about this event on Saturday that we have made the decision to impose conditions under the Public Order Act.
"We have a duty to ensure that the community can go about their daily business not unduly impacted by demonstrations taking place. Our message is simple: if you wish to protest peacefully, that is your right and we want to work with you. If you commit criminal acts or breach the conditions of the event, you are liable to be arrested."
Tommy Robinson supporter gives Nazi salute in Whitehall
Tommy Robinson supporter gives Nazi salute in Whitehall
The order stipulates the route that must be followed by the "Welcome Trump" and "Free Tommy" protesters from Temple Place to Whitehall.
Police have ruled that it must not include vehicles.
Mr Trump himself has not publicly remarked on Robinson's imprisonment, but his son Donald Trump Jr has shared support for the extremist on Twitter.
Republican Congressman Paul Gosar is due to attend the "Free Tommy" rally and the former White House chief strategist, Steve Bannon, gave a message of support to the June protest.
Police are also restricting the movements of a Unite Against Fascism march opposing the pro-Robinson rally in Parliament Street, to ensure the two groups do not clash and to "prevent intimidation".
Police restrictions do not apply to a separate protest being held in a different Westminster location, which is due to last an hour.
Robinson is currently serving a 13-month prison sentence for contempt of court after breaking reporting restrictions on a trial at Leeds Crown Court.
The 35-year-old, who was jailed under his real name Stephen Yaxley-Lennon, had already been handed a suspended sentence for committing the same crime in Canterbury and was told he could have caused the trial to collapse.
But his supporters have claimed his imprisonment to be part of an "establishment" conspiracy against Robinson.
Almost 5,000 people have listed themselves as attending Saturday's protest on an official Facebook event, which reads: "The people will no longer be silenced. Stand up for Free speech, stand up against this dictatorship they call a government and stand up against the persecution of Tommy Robinson [sic]."
The Tommy Robinson protest: in pictures
Show all 27
A right-wing American think tank called the Middle East Forum claimed it organised and funded the demonstration, which Dutch populist leader Geert Wilders is also set to attend.
It is calling for Robinson's release and "freedom of the press", although Robinson is not a journalist and admitted his crime in court.
MPs were told that the cost of security for both Mr Trump's visit and policing protests will run into millions, with forces having to apply for extra funding and cancel leave to deploy officers around the country.
Nick Hurd, the policing minister, told MPs that police expect the "spikiest" behaviour during the pro-Robinson protests and were managing the risk by keeping opposing sides separate and "reducing the risk of any confrontation".
He said around 100 protests were expected across Britain over the coming days and that "robust" policing plans were in place.
Louise Haigh, the shadow policing minister, said the Home Office had not attempted to calculate how much the operations would cost and had previously denied police requests for extra funding.
"There is no guarantee that the additional costs required will be fully met," she told the House of Commons. "This event will have a huge knock-on effect well into the summer."
Scotland Yard was criticised by some MPs for refusing permission for the Together Against Trump protest on Friday to use a vehicle-mounted stage for speakers.
A spokesperson said the force was protecting the freedom of speech and peaceful protest, but "we equally have a responsibility to ensure the safety of the public and this current time we do not feel that the proposal from the organisers ensures safety of a crowded place".
A statement claimed organisers had not detailed plans for stewarding around the stage and managing crowd safety. Human rights charity Liberty said lawyers had issued a pre-action legal letter to the Metropolitan Police over its decision.
"The Met should make officers available to meet with the march's organisers urgently," its advocacy director Corey Stoughton, said. "The safety of the American president must not trump the safety of protesters."
Join our commenting forum
Join thought-provoking conversations, follow other Independent readers and see their replies