Trump UK visit: Ring of steel erected in Regents Park to keep protesters away from US president
Demonstrators pledge to keep US leader awake for the night by banging pots, drums, and vuvuzelas 
Maya Oppenheim
Friday 13 July 2018 09:35 Comments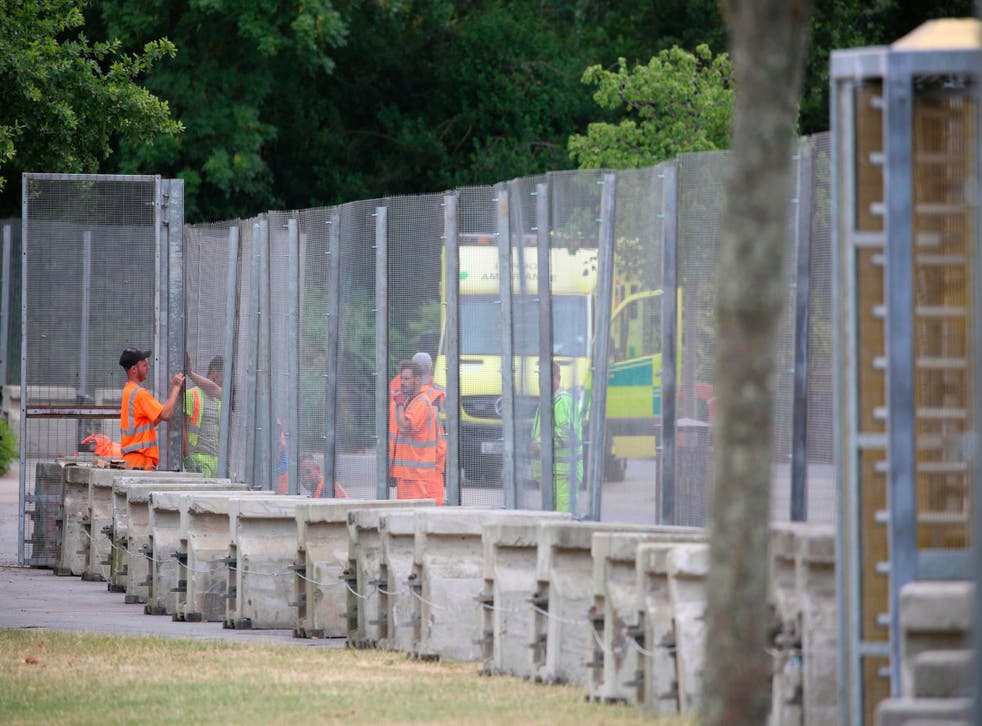 A ring of steel fences and concrete bollards has been erected around the US ambassador's residence in Regent's Park in preparation for Donald Trump's visit.
The US president and first lady Melania are scheduled to touch down at Stansted Airport before embarking on a three-day "working visit" which will see them meet Theresa May and the Queen.
The pair will spend Thursday night at the US Ambassador's residence, Winfield House in London's Regent's Park.
Fences have been constructed around the Neo-Georgian mansion in an attempt to keep protesters at bay as security tightens in the run-up to the Mr Trump's first visit to the UK after becoming president.
Protesters have vowed to keep Mr Trump awake for the night by banging pots and drums and blowing plastic horns known as vuvuzelas in an "all night noise protest".
A post on a Facebook page called "Keep Trump Awake in London", urged participants to bring the noisy instruments.
World news in pictures

Show all 50
"I've just started learning the recorder, beautiful sounding instrument of revenge that it is," one person who said they would attend the event, commented. "Hope he likes Happy Birthday, I can play it like, two times out of five but still a bit out of tune?"
Another suggested: "Hire van, get big speakers, and play all of Alec Baldwin's Trump Sketches out loud. The Donald hates it! Plus Trumps own bigoted views!"
Other groups planning to mark the US president's visit include the Women's Equality Party (WEP), which has created an activist campaign called 'Thank You Trump' – a satirical take on the Republican tycoon's unintentional role in fuelling the global feminist movement.
A giant thank you card has been signed with personal messages from celebrities and members of the public, which the WEP say will be paraded through the London protest marches before being delivered to Mr Trump at his residence in Scotland.
The president will be accompanied by as many as 1,000 staff on his visit and he will travel in motorcade or multiple helicopters during his visit.
Thousands of people are expected to gather in London on Thursday and Friday to show their opposition to Mr Trump's policies on issues like immigration.
London mayor Sadiq Khan has approved protesters' plans for a giant balloon known as "Trump baby" which depicts the president as an angry orange-coloured baby.
But the UK government has worked hard in helping to organise a schedule that largely keeps Mr Trump out of London.
Mr Trump will become the 12th sitting US president to visit the UK.
He will attend a black-tie dinner at Blenheim Palace in Oxfordshire before going on to be the guest of US ambassador Woody Johnson, when the noisy protest is planned.
He will then join Theresa May to watch a UK military exercise, before the pair go to Chequers - the prime minister's official country residence in Buckinghamshire - for bilateral talks.
A meeting with the Queen at Windsor Castle is scheduled on Friday afternoon before going to Scotland, where he will have a break at the Turnberry golf resort, which is owned by the Trump Organisation.
Register for free to continue reading
Registration is a free and easy way to support our truly independent journalism
By registering, you will also enjoy limited access to Premium articles, exclusive newsletters, commenting, and virtual events with our leading journalists
Already have an account? sign in
Join our new commenting forum
Join thought-provoking conversations, follow other Independent readers and see their replies