Lifestyle coach uses two photos to reveal the truth about living with anxiety
'I'm so sick of the fact that it's 2016 and there is still so much stigma around mental health'
Elsa Vulliamy
Sunday 10 April 2016 16:42 Comments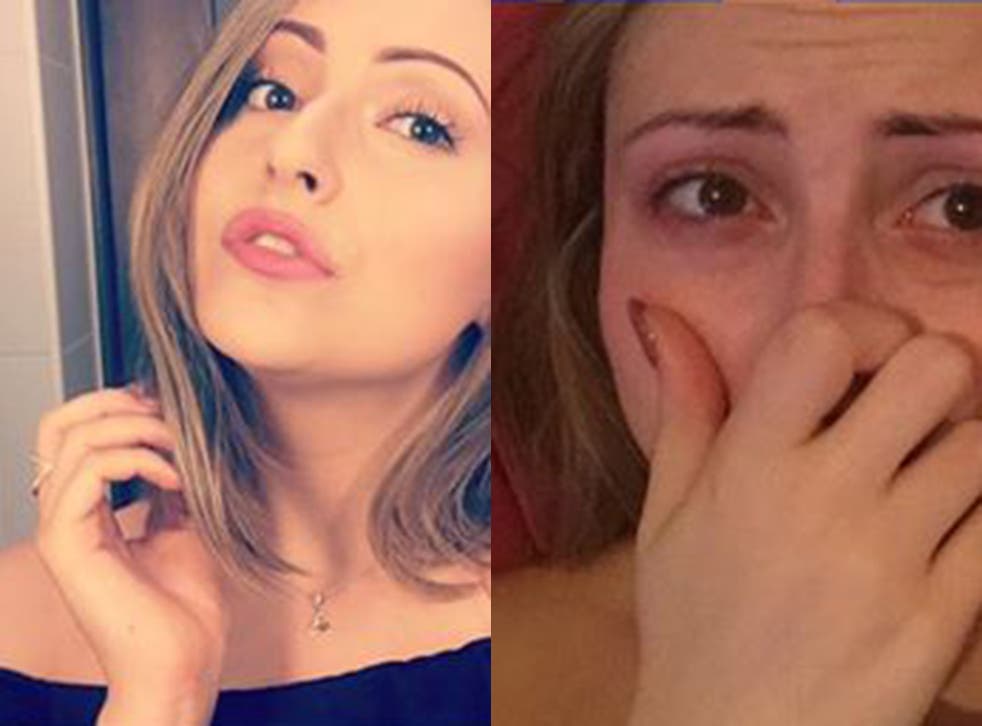 A business and lifestyle coach has spoken out about living with anxiety, revealing her struggle through two photos posted on social media.
Amber Smith, from Rugby, posted the photos on 3 April, in an attempt to combat prejudice about mental health conditions.
"I'm so sick of the fact that it's 2016 and there is still so much stigma around mental health," she wrote. "It disgusts me that so many people are so uneducated and judgemental over the topic."
Ms Smith posted two pictures of herself side by side, one posed and edited and the other showing her to be in significant distress.
The first photo, she said was "what I showcase to the world via social media. Dressed up, make up done, filters galore. The 'normal' side of me."
The second photo was taken after Ms Smith suffered a panic attack because of her anxiety disorder. She described this as "also the 'normal' side to me, that most people don't see".
Sick of being told that she needed to "get over" her mental illness, she made the post on Facebook in order to spread awareness and encourage other sufferers to look for support.
"I have been battling anxiety for and depression for years and years and there's still people that make comments like 'you'll get over it', 'you don't need tablets, just be happier.'"
She encouraged sufferers to find the courage to ask for help, saying: "To anyone who is going through the same, please do not suffer in silence. There is so much support around."
Ms Smith also stressed the value of kindness, and the importance of withholding judgement on others and treating them as equals.
"Don't bully others, don't put others down and the hardest one of them all (as we have all done it at some point) don't judge another person," she said.
"We're all human regardless of age, race, religion, wealth, job. So build one another up instead of breaking each other down."
The post has been shared almost 9,000 times by Facebook users, and Ms Smith said she had received "literally hundreds" of messages since making the post.
More than eight million people in the UK suffer with an anxiety disorder, and women in England are twice as likely to suffer from anxiety compared to men.
Register for free to continue reading
Registration is a free and easy way to support our truly independent journalism
By registering, you will also enjoy limited access to Premium articles, exclusive newsletters, commenting, and virtual events with our leading journalists
Already have an account? sign in
Join our new commenting forum
Join thought-provoking conversations, follow other Independent readers and see their replies