Uber registrations 'increase 850%' as black cab drivers stage London protest
Unions brought central London to a standstill in the dispute over fares and licensing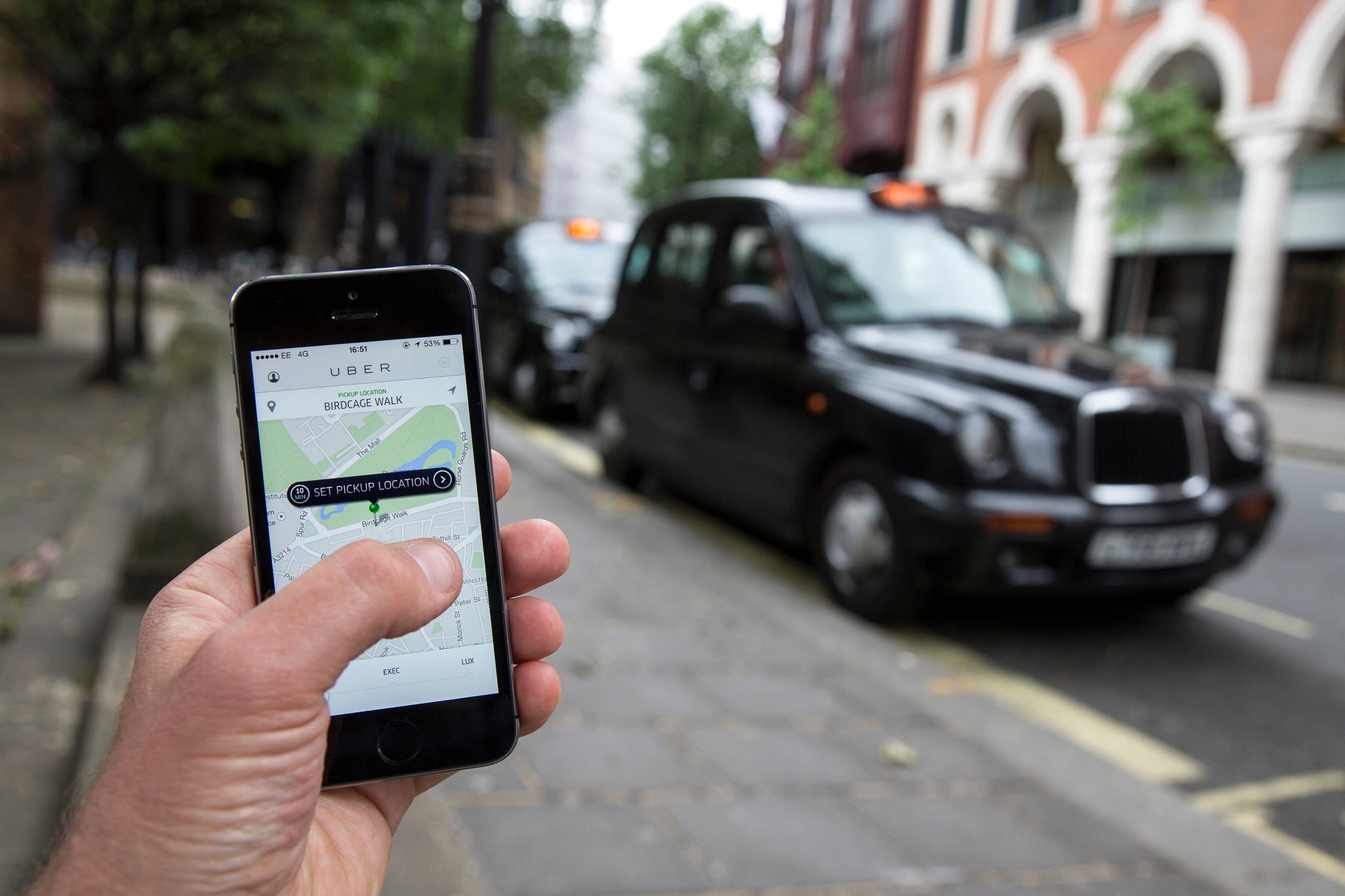 The taxi-booking mobile app company Uber said it experienced an 850 per cent increase new users today as London's black cabs staged a protest that brought gridlock to the city centre.
Up to an estimated 12,000 drivers took part in the "go-slow" demonstration, which began at 2pm, intent on causing disruption to the capital's roads.
Drivers' unions said that the rise of Uber is leading people to contact unlicensed drivers without any checks on whether they are legitimate.
But Uber's UK and Ireland general manager Jo Bertram said: "Londoners are voting with their fingers, tapping the app in support of new and innovative services as we see our biggest day of sign-ups in London today since launch two years ago.
"In fact, today we're seeing an 850 per cent increase in sign-ups compared to last Wednesday. The results are clear: London wants Uber in a big way."
Uber described the union representing black cab drivers, the Licensed Taxi Drivers Association (LTDA), as "stuck in the dark ages", and accused it of "holding London to ransom" with an economic impact of £125 million.
"We passed TfL's most stringent and comprehensive audit of a Private Hire Vehicle operator to date, passing with flying colours," Bertram said.
"We are proud to be to be in London, we are proud to serve London, and we are here to stay. Uber on London."
In pictures: European taxi drivers in protest against Uber app
Show all 8
The app lets customers track vehicles and book them with a couple of taps of a smartphone, but critics say its system for working out prices is tantamount to a taxi meter – which only black cabs can legally use in London.
On the roads around Trafalgar Square this afternoon taxi drivers beeped their horns in unison as demonstrators held placards. Protesters, angry at Transport for London for seemingly siding with Uber in the row, expressed their frustrations with the Mayor Boris Johnson, chanting "Boris, Boris, Boris, out, out, out."
Organisations including the Rail and Maritime Transport union (RMT), London Cab Drivers Club (LCDC) and the LTDA were all represented at the protest in Trafalgar Square.
Derrick Hoare, of the LTDA, said they wanted to highlight the length of training - between four and seven years - taxi drivers undergo before being licensed.
The RMT's Ian Beetlestone said he hoped the demonstration would send a message that Uber is "operating in a grey area".
He said: "We are not objecting to competition. We have had competition for years from minicabs but we haven't caused gridlock over it.
"We have to jump through hoops to be regulated and we don't feel people involved in these new apps are being subjected to the same regulations."
Similar taxi driver protests took place today in Madrid, Milan, Berlin and Paris. Uber now operates in more than 100 cities in 30 countries and last week was valued at $18.2 billion, a fivefold increase in the space of a year. If the valuation is to be believed, an app launched five years ago is now worth more than the global car hire firm Hertz, which was founded in 1918.
Join our commenting forum
Join thought-provoking conversations, follow other Independent readers and see their replies