Uber: TfL to launch crackdown on taxi app firm
The taxi firm's ease of use and cheap prices have made it popular choice of transport for Londoners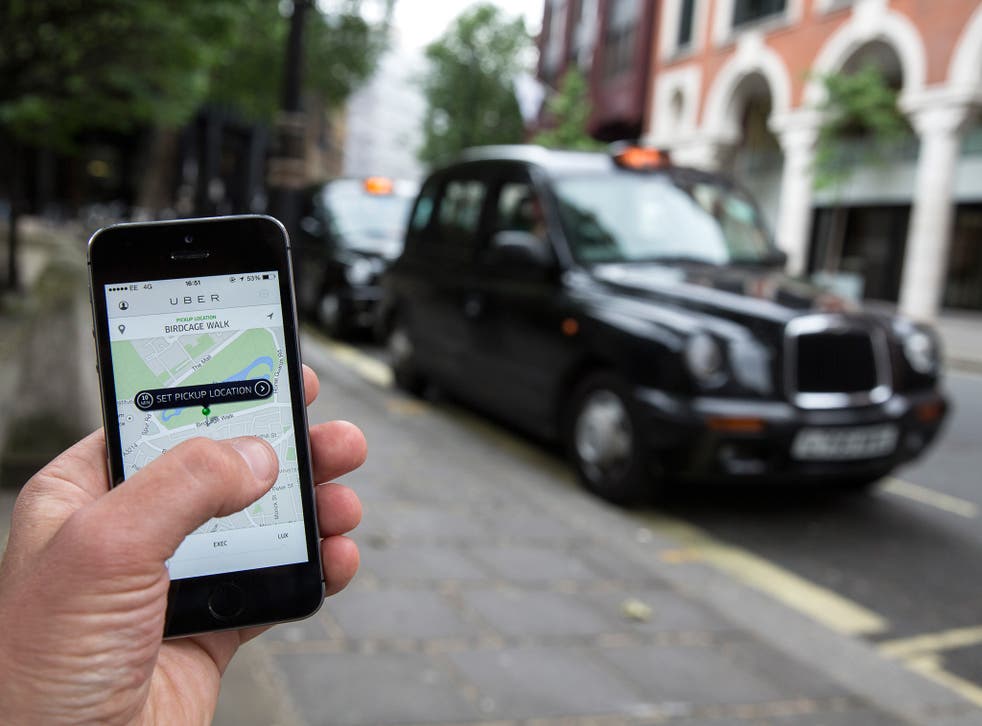 Transport for London (TfL) is reportedly considering cracking down on Uber, with a list of new regulations that will severely affect how the taxi app functions.
TfL documents seen by The Telegraph apparently show that consultations that would regulate Uber are due to begin.
Some of these new regulations, including a minimum five-minute wait time betweening booking and the journey beginning, and a ban on showing nearby taxis on a map within the app, would essentially put an end to some of Uber's key features.
Speaking to the paper, Jo Bertram, Uber's general manager for UK, Ireland and the Nordic countries, called these proposals "bureaucratic" and said they "will not improve your ride."
She acknowledged the pressure that London's black cab drivers feel from Uber, but said the solution to the problem was to loosen regulations for taxi drivers, rather than tighten them for Uber.
The documents reportedly show that proposed rules are in the draft stage, meaning they could have changed.
The draft document contained 25 proposed new rules, but some would hit Uber particularly hard. One specifies that taxi companies must allow users to book a journey up to a week in advance - since Uber only allows customers to book when they need a taxi, this would mean the company would have to introduce a major new feature to keep operating.
Another proposed rule says that drivers must only work for one company at a time - a problem for Uber drivers, many of whom work for more traditonal minicab firms, as well as Uber.
One rule specifies vague "controls on ridesharing in public vehicles" - controls which could possibly affect Uber's plans to introduce a car-sharing feature to London.
In the UK, Uber operates in Leeds, London, Manchester, Sheffield, Birmingham, Bristol, Liverpool and Newcastle. But with more than 15,000 drivers operating in London, the capital constitutes the majority of its operations in the UK.
Whether these proposed regulations get any further than the conference table is unclear, but they will be good news to black cab drivers, who have called for tighter regulations for Uber - with cab drivers' unions bringing central London to gridlock in past anti-Uber and anti-TfL protests.
Uber's ease of use and low prices have made it a more popular service than black cabs for most Londoners, and mayor Boris Johnson has defended the company in the past.
However, in June, Johnson suggested that taxi drivers should have to pass language and city geography tests before being allowed to work.
In response to the proposals, Uber started a petition in opposition, which says the new rules will be "bad for riders, drivers and London." The petition received 38,965 signatures within a few hours.
The Independent has contacted TfL for comment, this article will be updated with their response.
Register for free to continue reading
Registration is a free and easy way to support our truly independent journalism
By registering, you will also enjoy limited access to Premium articles, exclusive newsletters, commenting, and virtual events with our leading journalists
Already have an account? sign in
Register for free to continue reading
Registration is a free and easy way to support our truly independent journalism
By registering, you will also enjoy limited access to Premium articles, exclusive newsletters, commenting, and virtual events with our leading journalists
Already have an account? sign in
Join our new commenting forum
Join thought-provoking conversations, follow other Independent readers and see their replies