UK almost doubles arms sales to countries on governments list of human rights abusers, figures reveal
'There is little oversight in the system, and no controls over how these arms will be used once they have left the UK,' say campaigners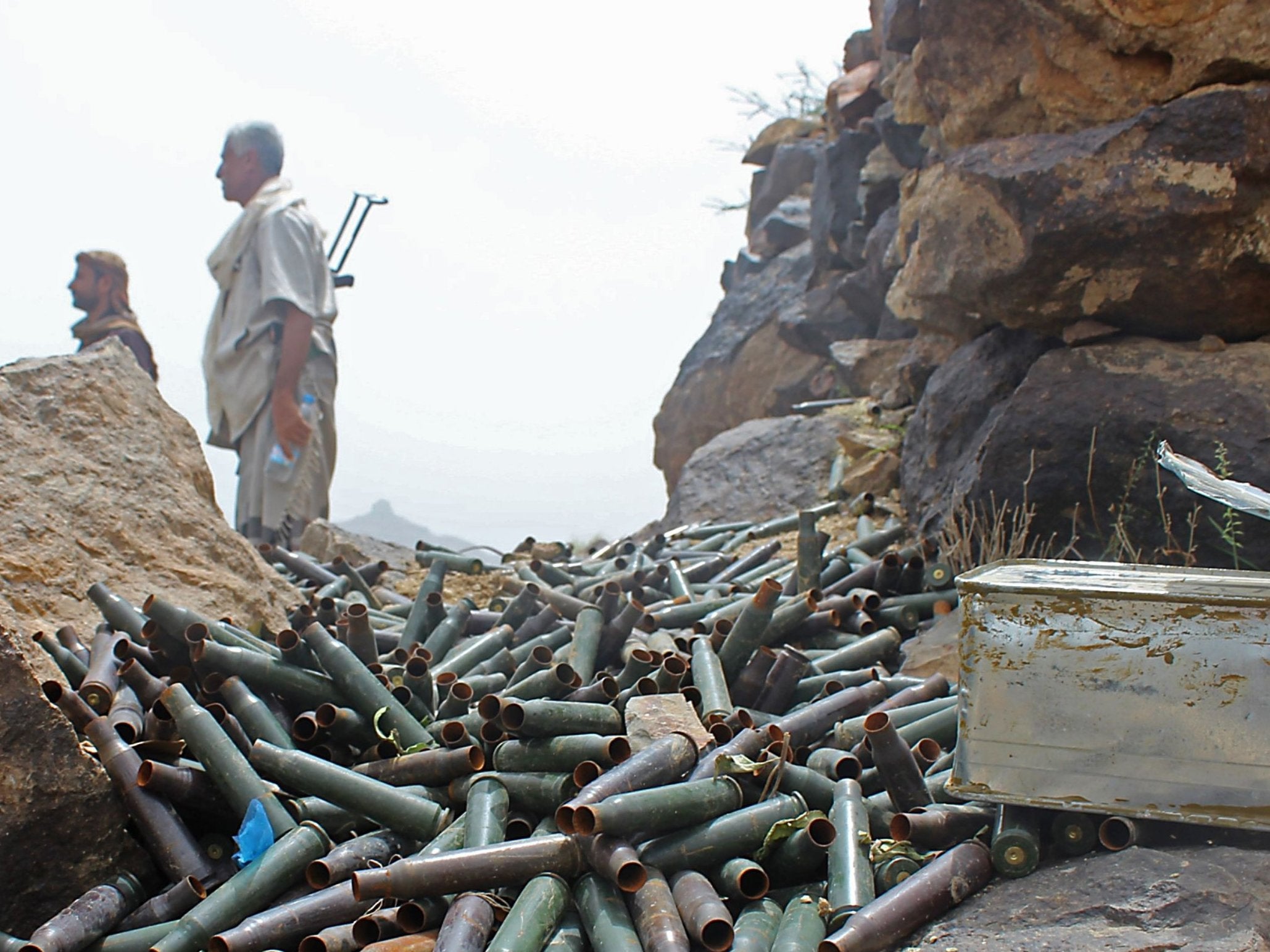 The UK nearly doubled the value of arms sales to countries on the government's list of human rights abusers in the past year, figures reveal.
Licences for arms deals worth some £1.5bn were approved in Whitehall in 2017, up from £820m a year earlier, according to figures compiled by the Campaign Against the Arms Trade (CAAT) pressure group.
Sales were granted to 18 countries on the list, including China, Saudi Arabia, Bahrain, Israel, Egypt and Pakistan, compared to 20 different states in 2016.
The value of sales to Saudi Arabia, currently embroiled in a bloody conflict in Yemen against Iranian-backed Houthi rebels where thousands of civilians have been killed and millions left in need of aid, alone totalled £1.13bn, the group said.
Theresa May's government is "actively arming and supporting many of the regimes that even it believes are responsible for terrible human rights abuses", CAAT's Andrew Smith told The Independent.
He added: "There is little oversight in the system, and no controls over how these arms will be used once they have left the UK. The arms sales being agreed today could be used to fuel atrocities for years to come. Right now UK-made fighter jets and bombs are playing a central role in the Saudi-led destruction of Yemen, and the government and arms companies have totally failed to monitor or evaluate how this deadly equipment is being used.
"We are always being told how rigorous and robust the system supposedly is, but nothing could be further from the truth. These arms sales don't just provide dictatorships and human rights abusers with the means to kill, they also give them a huge degree of political support."
Israel was the second-biggest buyer of UK arms in 2017 to feature on the Foreign and Commonwealth Office's (FCO) human rights priority list, with £221m of licences granted.
In its watch list covering 2017, published this week, the FCO condemned Israel's breaches of international law by its ongoing occupation of the West Bank, East Jerusalem and Gaza and also "its systematic policy of settlement expansion".
Rights abuses were also committed by Hamas and the Palestinian Authority, it said, including 19 death sentences passed and six carried out by the former.
Bahrain bought £30.7m of British arms in 2017, Egypt imported £6.5m of arms and Pakistan, £11.2m. Sales to China, which is cracking down further on freedom of speech and religion, totalled £11.8m.
In recent months, reports have emerged of Chinese authorities detaining Muslims for re-education. Some claim they have been forced to disavow their beliefs and praise the Communist Party daily while being held without access to a lawyer. "Thousands of [Uyghur Muslims] were held in re-education camps after returning from abroad" in 2017, the FCO said.
In Bangladesh, which bought £38.6m of arms, there were continued "credible reports of enforced disappearances, extrajudicial killings and torture by government agencies", the FCO said, though it noted that the Bangladeshi government had taken in more than 688,000 Rohingya refugees from Myanmar following ethnic cleansing and religious persecution there.
World news in pictures
Show all 50
A Department for International Trade (DIT) spokeswoman said: "The UK operates one of the most robust export control regimes in the world. We rigorously examine every application on a case-by-case basis against the Consolidated EU and National Arms Export Licensing Criteria. We will not grant a licence if doing so would be inconsistent with these criteria.
"As we leave the European Union, the government will maintain the integrity and effectiveness of our existing export licensing system."
CAAT's figures came as Parliament's Committees on Arms Export Controls (CAEC) made a number of recommendations for beefing up the UK's arms export regime.
MPs said they were "not convinced" HM Revenue and Customs had sufficient resources to run its export control enforcement regime and that ministers should tighten restrictions on sales to countries accused of rights abuses.
The default position should be to block the sale of weapons to states that have not signed an international arms trade treaty, and those on the FCO's blacklist.
The DIT spokeswoman added: "We will consider the report's recommendations carefully and will respond in due course."
Join our commenting forum
Join thought-provoking conversations, follow other Independent readers and see their replies