UK government accused of 'putting profit before lives' in case aimed at stopping arms exports to Saudi Arabia
Ministers accused of 'signing a death warrant for the people of Yemen' by selling billions of pounds worth of weapons to Saudi Arabia, 'the UK's biggest arms customer'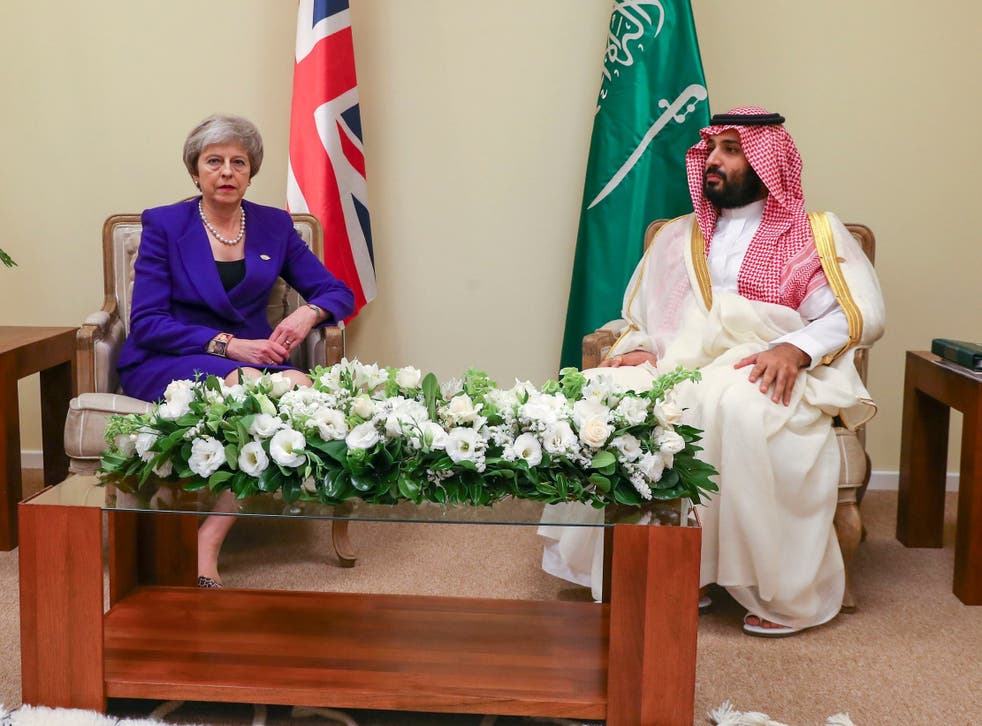 The government has been accused of "putting profit before people's lives" ahead of the start of a High Court case aimed at stopping the UK from exporting arms to Saudi Arabia.
The case is being brought by the group Campaign Against Arms Trade (CAAT), which claims there is "overwhelming evidence" that British-made jets and bombs are being used by Saudi-led forces to violate international humanitarian law in Yemen.
CAAT says more than 10,000 people have been killed since a Saudi-led coalition began fighting Houthi rebels in 2015, and UK-made weapons have helped create "a humanitarian catastrophe".
CAAT is being backed by other groups being represented at the hearing, including Human Rights Watch, Oxfam and Amnesty International, whose strategic litigation director Lucy Claridge said outside court: "It is time for the UK Government to stop putting profit before people's lives.
"By selling billions of pounds worth of arms to Saudi Arabia, ministers are signing a death warrant for the people of Yemen.
"Across Europe, several countries have stopped selling arms to Saudi Arabia because they know it goes against their legal obligations and have seen the devastation they are causing."
The children wounded in Yemen's war

Show all 15
CAAT is seeking to overturn a 2017 High Court ruling in which it was denied a judicial review of the weapons exports.
CAAT had argued the government was breaching its own export licensing rules, which prevent sales when there is "a clear risk that the arms might be used in the commission of a serious violation of international humanitarian law".
But the 2017 judges said the issue of arms sales to Saudi Arabia for use in Yemen "was the subject of intense, genuine concern and debate" by government officials who had better access to information than NGOs.
Secret evidence played a significant part in the 2017 case and the court delivered a closed judgment as well as a public ruling.
In their public ruling, the judges acknowledged that in one February 2016 email, senior civil servant Edward Bell said he had briefed Sajid Javid, then the minister in charge of trade, to the effect that: "My gut tells me we should suspend [the arms sales]. This would be prudent and cautious given the acknowledged gaps in knowledge about Saudi operations."
The judges also quoted from a February 2016 memo by the head of policy at the export control organisation at Mr Javid's department for business, innovation and skills, who wrote: "We are concerned that FCO/MOD appear only to have insight into Saudi processes in respect of pre-planned strikes and have very little insight into so-called 'dynamic' strikes – where the pilot in the cockpit decides when to despatch munitions – which account for a [significant proportion of all strikes]".
The judges themselves noted: "The UK is a bystander in this volatile conflict, is not a member of the Coalition, and the MoD is not involved in identifying targets and does not have access to the operational intelligence."
But they nonetheless found that the government's "knowledge and experience of Saudi Arabia, borne of its close contacts, place it well to make the necessary assessment" of whether human rights violations had occurred through the use of British weapons.
The judges made their ruling on the basis that civilian casualties in war did not automatically mean a breach of international laws, and added: "Even if isolated incidents of international humanitarian law violations by a recipient country are considered likely to have taken place, that does not automatically trigger [the suspension of arms exports]."
The judges said: "The Coalition were not deliberately targeting civilians … Saudi Arabia remains genuinely committed to compliance with international humanitarian law."
They ruled: "There was no "clear risk" there might be "serious violations" of international humanitarian law such that UK arms sales to Saudi Arabia should be suspended or cancelled."
CAAT is now seeking to overturn that ruling by drawing the Appeal Court's attention to two investigative reports by the UN's panel of experts on Yemen which concluded that the Saudi-led coalition had violated international humanitarian law.
Support free-thinking journalism and attend Independent events
The appeal, before Master of the Rolls Sir Terence Etherton and two other judges, is due be heard over three days. Speaking ahead of the first day of the Appeal Court hearing on Tuesday, Andrew Smith of CAAT, said: "UK-made weapons have played a central role in the four-year Saudi-led bombardment of Yemen.
"The results have been catastrophic, with tens of thousands of people killed and vital infrastructure destroyed.
"We believe that these arms sales are immoral, and are confident that the Court of Appeal will agree that they are unlawful."
In a statement on its website, CAAT added: "The complicity of the UK is undeniable. Instead of stopping arms sales to Saudi Arabia, the government has licensed the sales of an astonishing £4.6bn more weapons since the start of the attacks on Yemen.
"Ignoring massive public pressure to stop the arms sales, the government has instead done everything it can to maintain its relationship with Saudi Arabia, the UK's biggest arms customer."
After the July 2017 High Court ruling, a government spokesman said: "This judgment underscores the fact that the UK operates one of the most robust export control regimes in the world.
"We will continue to keep our defence exports under careful review to ensure they meet the rigorous standards of the Consolidated EU and National Arms Export Licensing Criteria."
Join our new commenting forum
Join thought-provoking conversations, follow other Independent readers and see their replies