Ministry of Defence reviews civil rights policy in armed forces after Navy base bans 'taking the knee'
Officials thought to be considering whether gesture is an overtly political act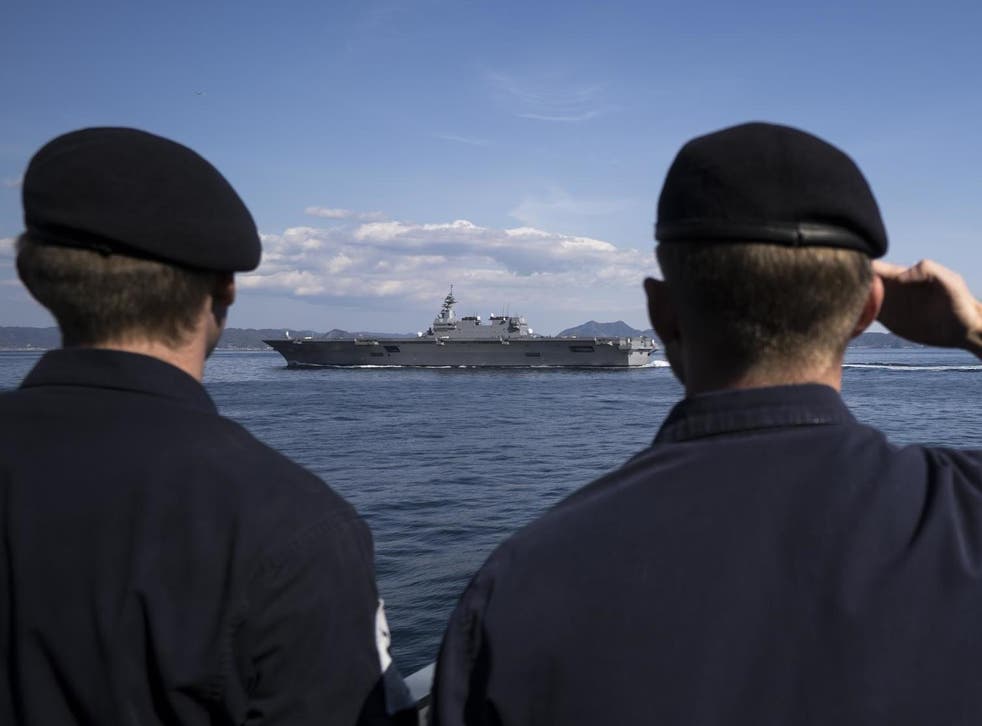 The Ministry of Defence is reviewing policy on how members of the armed forces can show solidarity with the fight for black civil rights after "taking the knee" was banned at a military base.
Personnel at HMS Sultan in Gosport, Hampshire, were told they would not be allowed to make the gesture, which has become symbolic of the Black Lives Matter movement, because it was against regulation.
Defence officials said the commander at the base made the decision in line with standing regulations, which prohibit carrying out political acts while in uniform and on duty. There would be no objection, they say, to servicemen and women taking the knee or going on marches for human rights when they are wearing civilian clothing.
There is, however, no central directive from the Ministry of Defence on taking the knee, and service personnel in uniform have regularly taken part in LGBT+ Pride marches without censure.
The issue under discussion, it is believed, is whether the gesture would be seen to be tied to an overtly political movement. Defence officials acknowledge, however, that taking the knee has a history with the US civil rights movement, and any decision on it will take this into account.
There is an apparent element of confusion in the government about taking the knee. Foreign secretary, Dominic Raab, said recently that the gesture came from TV series Game of Thrones, triggering social media postings of photographs of Martin Luther King carrying out the action during the struggle against segregation in the American South.
Black Lives Matter protesters gather across the UK

Show all 79
In the UK, the Metropolitan Police has given permission for officers to take the action while on duty during protest marches. The service's union, the Police Federation, said this showed "we are all human beings".
A Ministry of Defence spokesman said: "We do not tolerate racism and promote diversity and equality. The recent protests have reminded us that we all have a role to play shaping a better future." Officials point out that the military has consistently won awards over the years for being among the best employers for racially diverse personnel in the country.
Senior officers say they accept much more needs to be done to eradicate racism in the armed forces. In a letter to members of the Army, Royal Navy and the RAF, General Sir Nick Carter said recent protests "have brought the issues of racism and discrimination sharply into focus. We owe it to our black, Asian and minority ethnic servicemen and women, who will be feeling concerned at the moment, to try to look at this from their perspective, to listen and to continue to make change happen".
The chief of defence staff said that although the armed forces is a "rich mix of faiths, colour, gender and creeds reflected in British society", it must be ensured that people are judged on their abilities and "not for what they look like or where they come from".
Ben Wallace, the defence secretary, recently stressed that the military must "reset" its "woeful" record on discrimination against black and minority ethnic personnel. In an interview with The House magazine he said it had historically "not done well enough" in either recruiting or welcoming people from a black, Asian and minority ethnic (Bame) background.
Figures published by the Service Complaints Ombudsman for the Armed Forces show that Bame personnel are more likely to complain about bullying, harassment and discrimination than their white counterparts. While Bame staff make up just 7 per cent of overall armed forces personnel, they account for a disproportionate 13 per cent of those lodging complaints about discrimination.
Join our new commenting forum
Join thought-provoking conversations, follow other Independent readers and see their replies