Drug-testing facilities should be used at all UK festivals after Mutiny deaths, urge experts
'We find that about half of the people we see then go on to throw away their drugs or take less – if you identify adulterated drugs people don't take them'
Mattha Busby
Friday 01 June 2018 12:05 Comments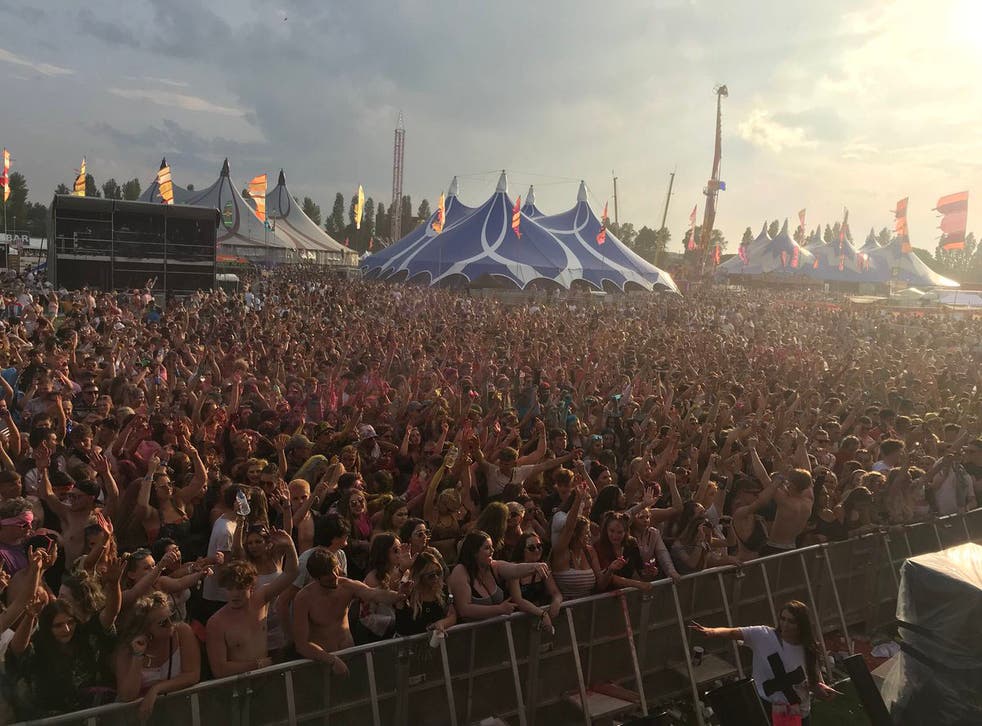 All UK festivals should provide drug-testing facilities, experts and campaigners have urged, following the deaths of two young people believed to have taken high-strength ecstasy at a festival over the bank holiday weekend.
Five people have been arrested for drug-related offences after Georgia Jones, 18, and Tommy Cowan, 20, died at Mutiny Festival in Hampshire. Thirteen other people were taken to hospital, with one remaining critically ill.
Reports said high-strength ecstasy tablets called Silver Audis, which are three times as potent as normal doses of the drug, were in circulation. The pills are known to have been present at the Love Saves the Day Festival in Bristol the same weekend.
The tragic events prompted renewed calls for drug testing, which is provided at a limited number of festivals but was not available at Mutiny, to be rolled out more widely.
Fiona Measham is director of The Loop, currently the UK's sole drug-testing charity at festivals. Staffed by volunteers, it has piloted the service over the last two years and will be at 10 UK festivals this year.
She said: "We have strong police support – we couldn't and wouldn't operate without that – and we are calling on the government, Public Health England, local authorities and events across the country to support us in rolling out drug testing facilities further."
Portsmouth council's Conservative Party group leader, Donna Jones, agreed there should have been drug testing at Mutiny.
The service sees chemists test recreational substances submitted by users within short time frames and healthcare professionals then discuss the results on a one-to-one basis, providing individualised harm reduction advice, while stressing they do not condone drug use.
Its proponents argue that it exponentially reduces the risk of harm and cites reduced hospitalisations at the festivals it has attended as evidence of its success.
"Users are very enthusiastic and appreciative of our drug safety testing service," said Ms Measham. "We find that about half of the people we see then go on to throw away their drugs or take less – if you identify adulterated drugs people don't take them."
The Loop's analysis at the Love Saves the Day Festival in Bristol last weekend found one in eight ecstasy tables had been mis-sold by dealers, with pills sold as MDMA actually containing over 100mg of pentylone, a strong dose of a psychoactive substance.
UK news in pictures

Show all 50
The findings prompted them to put out warnings on social media and onsite signage which may well have prevented harm. The festival organisers said the service proved highly effective.
"The terrible tragedy in Portsmouth from the weekend serves to highlight just how serious the problem is that we are all trying to tackle together," said Tom Paine, the director at Love Saves The Day.
"We would like to thank once again Avon and Somerset Police and Bristol City Council for their forward-thinking support for the initiative. Initiatives like this are undoubtedly saving lives in today's festival climate."
Drug-related deaths in the UK are the highest on record, with at least 3,744 in England and Wales in 2016, among the highest in the developed world. Efforts to limit circulation have largely been unsuccessful and costly.
"Harm reduction interventions, such as drug checking at festivals and in other venues, is a vital tool to reduce the risk faced by people who use drugs," said Niamh Eastwood, executive director of Release, a charity that calls for drug reform.
"This essential service informs people of what is in the substances they have in their possession, allowing them to make an informed decision as to whether to take the drug or to adjust the dose
"At the national level the government has buried it's head in the sand on this issue, still striving for an unachievable drug free society whilst drug related deaths are at an all-time high, across all substances," she added.
"Instead of pursuing a failed policy the government should fund and support services such as the Loop so that it can be rolled out nationally in all venues where it is needed."
With the UK festival season gearing up, the spotlight will fall on Field Day, All Points East, Download, Gottwood, Parklife and more to see how they attempt to keep drug-related harm to a minimum.
In the Netherlands, initiatives like The Loop are subsidised by central government.
However, testing remains a sensitive issue both politically and legally in the UK and is yet to receive support from Public Health England.
At the moment, festivals must fund the expensive service themselves, which means providing a pop-up laboratory.
Boomtown Fair in Hampshire, near where Mutiny took place, had four fatalities in six years, a toll which led it to offering drug testing facilities for the first time in 2017.
"Drugs do get in, they can't stop them getting into prisons and as best we try we can't stop them getting into festivals," said Anna Wade, a spokesperson for Boomtown, which had no reported deaths last year.
"So what we really wanted to do was actually take a more responsible, pragmatic and open and honest approach to it because people do take drugs, they don't just take them at festivals and nightclubs. They take them at city centres and at home. It's a big issue in society."
Drug policy experts and academics also urged UK festivals to support the initiatives.
"We should be adopting a harm reduction policy at these events in place of punishment or zero tolerance," said Professor Mike Barnes, a neurologist and drug expert.
"It should be compulsory for festivals to have a drug testing facility as a condition of the license. It would be easily done and so much good could come from that simple policy.
"I cannot understand why some festivals adopt drug testing and some don't – that makes no sense."
Professor David Nutt, a leading drug policy expert, said: "I believe all festivals should have testing."
"The reason they don't is because each festival has to apply separately to get permission. Then they need the police, the landowner and the organiser to agree, which often does not happen and can take months to decide. In any case, there are too few testers for all festivals.
"Some are scared that they will be breaking law because it is unclear on this point and if they contact the Home Office it will try to deter people."
A Home Office spokesperson said: "Drugs can devastate lives, ruin families and damage communities. This Government's approach remains clear that we must prevent drug use in our communities and support people through treatment and recovery.
"No illegal drug can be assumed to be safe and there is no safe way to take them. Our Drug Strategy brings together police, health, community and global partners to tackle the illicit drug trade, protect the must vulnerable and help those with a drug dependency to recover and turn their lives around."
Register for free to continue reading
Registration is a free and easy way to support our truly independent journalism
By registering, you will also enjoy limited access to Premium articles, exclusive newsletters, commenting, and virtual events with our leading journalists
Already have an account? sign in
Register for free to continue reading
Registration is a free and easy way to support our truly independent journalism
By registering, you will also enjoy limited access to Premium articles, exclusive newsletters, commenting, and virtual events with our leading journalists
Already have an account? sign in
Join our new commenting forum
Join thought-provoking conversations, follow other Independent readers and see their replies