UK floods: North of England faces further misery after 'unprecedented' flooding inflicts chaos across cities
Thousands more prepare to flee their homes tonight, with 24 severe flood warnings – meaning a danger to life – in place
Paul Gallagher
,
Dean Kirby
Sunday 27 December 2015 23:04 Comments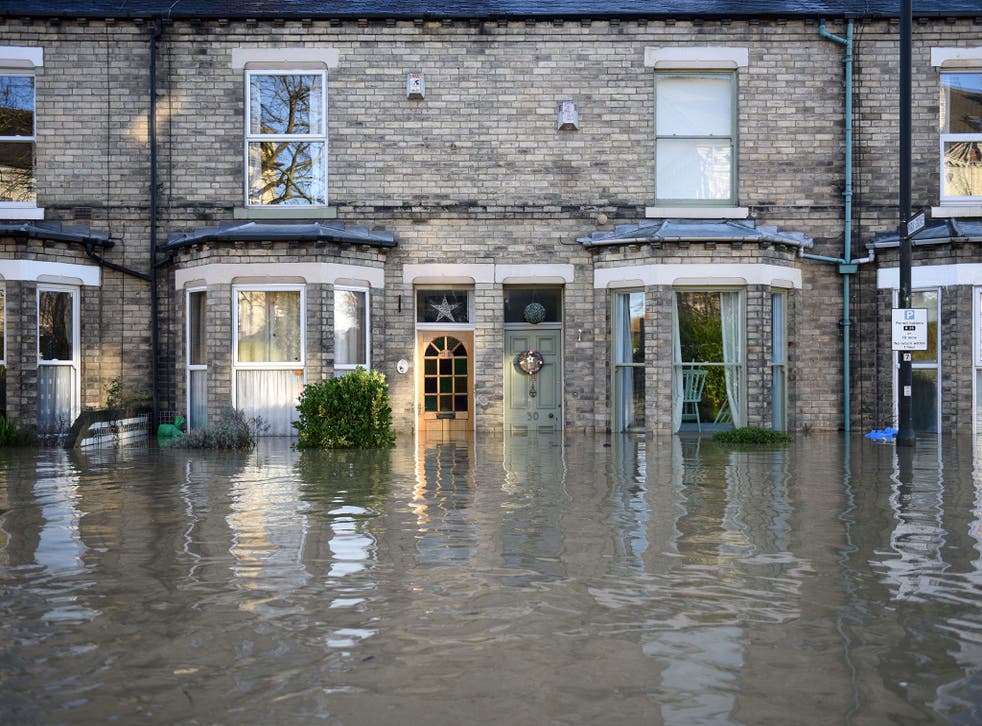 Residents and business owners in city centres across northern England face further misery tomorrow after "unprecedented" flooding transformed urban streets into canals.
The heart of Leeds should expect to suffer again, the Environment Agency warned, with York and areas of Greater Manchester remaining flooded.
Thousands more people are preparing to flee their homes tonight, with 24 severe flood warnings in place – meaning a danger to life – and more than 500 troops being deployed across the region to help with mass evacuations. Another 1,500 soldiers remain on standby, as the Environment Agency warned people to remain vigilant with river levels continuing to rise and the probability of more severe flooding occurring tomorrow.
Most of the severe flood warnings were along the Rivers Aire and Calder, with a further 111 flood warnings and 97 flood alerts in force across England and Wales.
The extreme weather in York caught many unawares. Erica Hammill, who runs Hotel 53 with her husband, Michael, in the Piccadilly area of the city, said hotel guests had to climb out of ground floor windows to escape the flooding.
"It's a nightmare," she said. "There are no doors at the back for them to get out. We are getting supplies, sand bags, pumps to mop up the flood damage, but water is coming back in. We've lost electrics. The phone lines and the computer system are down too."
Officials in York said pumps at the Foss Barrier – where the Rivers Foss and Ouse join – had been overwhelmed and flood barriers had to be lifted, meaning areas of the city that would usually be protected were vulnerable to flooding. If the barrier had become stuck in the "down" position it would not have been able to discharge water into the River Ouse. Around 4,000 residents were rescued by the Army and mountain rescue teams, with others warned to move valuables to upper floors and get ready to go.
Many people either had no time to leave or ignored warnings. Residents in a road near the River Foss in York became trapped as "chest-deep" water surged past their front windows. A 31-year-old man, who did not wish to be named, said there were about a dozen people stuck this morning in each of four blocks of flats along Navigation Road, just 30 metres from the river at its closest point.
"We are surrounded by water. It is really alarming," he said. "I ordered sandbags last night and I'm a bit shocked they still haven't arrived 16 hours later. Now we are at tipping point – it is too late."
In Pictures: Floods hit the UK

Show all 17
The man, who lives on the third floor with his mother, reported there were elderly people trapped and said he hoped the Army would be rescuing them soon.
He said: "We have been trapped since last night. It's not nice at all but we are trying to keep calm. We have got a few supplies to last a couple of days. There are army trucks at the top of our roads. I know [the emergency services] are overstretched. The whole of town is flooded; it is really extreme – I've never seen anything like this. Half of York is underwater."
York City Council said the River Ouse was expected to peak at more than 5 metres on Monday – close to its highest recorded level of 5.4m.
West Yorkshire Police said it responded to the "worst flooding in 70 years" and declared a major incident with 100 soldiers deployed in the hardest-hit areas of Calderdale and Leeds where the swollen River Aire rose to 3 metres – its highest level ever recorded.
Businesses in Leeds suffered extensive damage as large parts of the city centre became swamped. Main roads in the city remained under water today.
The Leeds Central MP Hilary Benn, Labour's former Environment Secretary, said many businesses in his city had been damaged and, although the torrent of water had slowed, some of his neighbours were asked to leave their homes as a precaution.
Calling for an increase of flood defence investment, he said: "This is the worst we have ever seen. These are the highest levels that have been experienced in the centre of the city."
David Cameron chaired a conference call of the Government's emergency Cobra committee today as ministers worked out how to tackle the problem. The Prime Minister, who is expected to visit some of the flood-affected areas tomorrow, said: "We will do everything we can to help people in this their hour of need… As some areas of the country move from the emergency into the recovery phase, we'll also make sure that the help we have given to Cumbria will be available to other parts of the country."
Emergency services in Greater Manchester were concentrating their efforts on a recovery operation as floodwater caused by the River Irwell bursting its banks began to recede.
Hundreds of homes in Salford were evacuated while thousands of homes in Rochdale – where people were urged to turn off their Christmas lights to help save electricity – and hundreds more in Bury were left without power.
Although engineers restored power to around 14,500 properties in Rochdale, almost 6,000 more remained without electricity, with some homes not having power restored until tomorrow.
The Assistant Chief Constable of Greater Manchester, John O'Hare, said: "There is still a lot of work to be done in some areas so this [recovery] phase may take some time, but the emergency services and local authorities will continue to work tirelessly to help those affected by the floods."
The latest devastation, along with the flooding that hit Cumbria earlier this month, could cost the economy up to £1.5bn according to accountants PricewaterhouseCooper.
The Copeland MP Jamie Reed wrote to the Prime Minister two weeks ago urging the Government to apply for relief funding from the European Union Solidarity Fund to help those affected in Cumbria.
It is understood the Government has not ruled out applying although it believes any support would be limited.
A spokesperson for Defra said: "We are considering all forms of support for those affected by these floods. This is why we have opened the Bellwin scheme for local authorities affected by floods, with 100 per cent of eligible costs to be met by the Government. We have also committed £51m to support households and businesses affected by last weekend's devastating floods in Cumbria, as well as those in Lancashire, taking the total support pledged by the Government to more than £60m."
Register for free to continue reading
Registration is a free and easy way to support our truly independent journalism
By registering, you will also enjoy limited access to Premium articles, exclusive newsletters, commenting, and virtual events with our leading journalists
Already have an account? sign in
Join our new commenting forum
Join thought-provoking conversations, follow other Independent readers and see their replies