Storm Frank: Tadcaster bridge partially collapses as Army drafted in to evacuate homes
Fresh alerts as new storm sweeps in to already deluged areas of UK, as experts call for a complete rethink of flood defence strategy, safety parameters and investment to deal with changed circumstances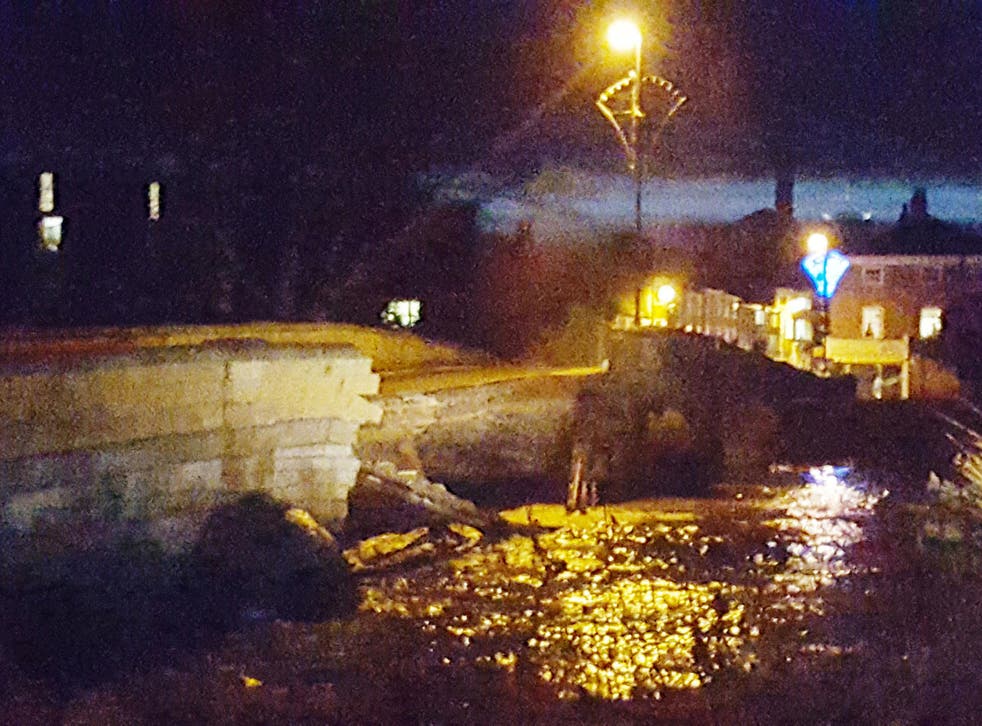 The UK is on high alert in the face of fresh flood warnings and further damage as another Atlantic storm battered the country with torrential rain and gale-force winds.
Flights have been disrupted in Belfast by high winds as Storm Frank hit the UK, while in North Yorkshire, soldiers were drafted in to evacuate homes around a storm-battered bridge after it started to collapse, prompting fears of flooding and a gas explosion.
The bridge, in Tadcaster, had already been closed due to fears over its structural safety, but residents began to gather around it after creaking noises were heard and stones started to fall into the water.
One resident captured the moment the bridge collapsed into the River Wharfe, showing the stone side of the structure give way while leaving the roadway and broken pipes clearly visible.
People ran as the stones fell into the water and caused a wave to roll towards the bank, followed by a strong smell of gas that had begun escaping from the pipes left visible from the gaping hole.
A large number of police and fire service vehicles arrived within 10 minutes and cordoned off a section of the main road either side of the structure.
Tadcaster is 10 miles from York and has been affected by flooding caused by storms in recent days. The bridge is in the middle of the town and has spanned the river for centuries. According to the Tadcaster town council website, the current structure was built around 1700.
People living around the bridge have been told to evacuate from the area immediately, with residents being taken to Tadcaster grammar school, North Yorkshire police said, while the Environment Agency has issued a severe flood warning and instructed further evacuation.
More generally, the Environment Agency (EA) warned of the potential for further significant flooding while floods minister Rory Stewart said a potentially "very bad situation" lay ahead.
In Pictures: Floods hit the UK

Show all 17
The fresh storm and flood warnings came as the Government announced £50m of extra funding for local authorities to help support flood-hit households and businesses in the worst affected areas.
The Communities Secretary Greg Clark said: "We're determined to ensure all those affected get the support they need quickly. As part of this, councils facing clean-up costs can be confident they will get the support they need."
Flooding also caused the collapse of Elland Bridge, between Huddersfield and Halifax in West Yorkshire. Police reported looting in Calderdale, West Yorkshire.
Heavy rain from Storm Frank has begun falling and is forecast to continue on 30 December and New Year's Eve, bringing further potential flooding across parts of northern England, Scotland and Wales.
Cumbria and York, both already badly hit by floods, were warned they could face a fresh deluge. Appleby, Braithwaite, Cockermouth, Egremont, Flimby, Glenridding and Keswick are the main areas of concern in Cumbria, police have said.
Nine "severe" flood warnings – meaning potential loss of life – are in force, mostly centred on York. A further 47 flood warnings and 81 flood alerts are in place across England and Wales. A total of 14 warnings and 30 alerts were issued in Scotland. The chief meteorologist Will Lang warned: "Everyone should be aware of the potential for disruption in places from further flooding and the impacts of the gales to transport."
He said he is "very concerned" as Storm Frank was due to sweep in from the evening of 29 December – with Cumbria and southern and central Scotland most at risk of disruption. They warned the rain would fall on still-saturated ground and that river levels were at record highs.
In York, EA and military engineers reported the flood barrier on the River Foss was fixed following emergency repairs. The barrier was opened on Boxing Day resulting in hundreds of properties in York being flooded. Emergency work was needed to the defence system after high river levels flooded the pump room and hit the power system.
Local authorities across the UK were offering help to those hit. Sandbags and flood defences were among aid offered, the Local Government Association said.
The LGA chairman, Lord Porter, said: "The sense of community spirit across the country and huge efforts of council staff working long hours in the face of this unprecedented emergency has been inspirational."
In the Scottish Borders, 20,000 sandbags are being filled as communities prepare for up to 120mm of rain in some locations.
One of the UK's leading flood experts warned the UK should be planning flood defences 30 years ahead. Jeremy Walker, a former board member at the EA, responsible for flood-risk management, said Britain was seeing more "extreme rainfall events" and it was likely to continue.
"The capital investment programme is better funded than it has been for years but we need to be thinking longer term than that: there's no reason why we shouldn't be looking 30 years ahead."
"You need to think about what level of risk it is you want to defend against. We need to be rethinking the assumptions on which investment is made and defences are built."
He warned many flood and coastal defences built in the 1960s and 1970s were coming to "the end of their lives" and would need increased maintenance. He said the UK needed "hard thinking" about future flood-defence investment.
"If you wanted to protect every community against the kind of record levels of rainfall we saw in Cumbria at the beginning of December then you'd be thinking about a paradigm shift in the level of funding. Lots of things are possible but they can carry an enormous price tag," he said.
The flood expert Professor John Lewin, of Aberystwyth University, said the UK was now playing "protection catch-up for centuries of flood-plain building development."
"Infrastructure can be paralysed all too easily. Even some emergency services have their buildings on our flood plains. Adding to the problem with new builds, without the most stringent control of development, is asking for trouble. Previous flood probability calculations in a changing climate are no longer statistically valid. We must have a rethink about safety limitations," he warned.
Join our new commenting forum
Join thought-provoking conversations, follow other Independent readers and see their replies