4bn litres of water will be wasted this weekend as quarter of British people fill paddling pools
'It's astonishing how much water it takes to fill a super-sized pool just to use for a day'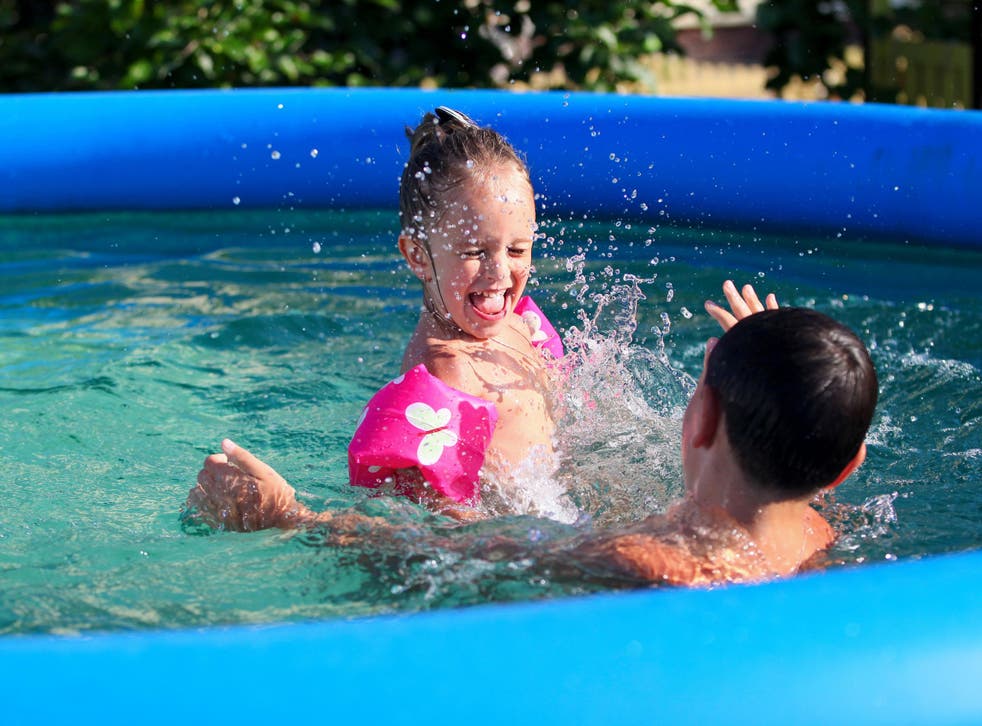 As heatwaves continue to scorch the nation, a quarter of UK households intend to find some relief from the heat by taking a dip in their paddling pools.
The surge in pool use is expected to increase national water usage to nearly 4 billion litres at a time when parts of the nation are drying up and Northern Ireland has already brought in a hosepipe ban.
Environmental group Hubbub has warned the additional pressure from paddling pools in combination with excess showering and garden watering could push the country's water supply to breaking point.
Some households across the nation are likely to experience low water pressure as water companies struggle to keep up with demand, which is equivalent to more than 1,500 Olympic swimming pools.
"It's astonishing how much water it takes to fill a super-sized pool just to use for a day. As well as being a huge drain on water supplies they can add to water bills and take hours to fill," said Trewin Restorick, CEO of Hubbub.
Polling conducted by the group found that a third of households in the UK own a paddling pool, and 27 per cent intend to fill it up over the weekend, as temperatures across the country once again exceed 30C.
UK weather: Temperatures soar as heatwave intensifies

Show all 35
Though Hubbub urged people to be conservative with their pool use, they offered some tactics that will prevent excessive water waste.
Among their suggestions were sharing pools among friends and families, using water sterilising tablets instead of refilling every day and reusing the water to keep the garden hydrated or to wash the car.
They also recommended taking quicker showers or avoiding washing the car if people have a weekend of paddling pool fun ahead of them.
"No one wants to be a killjoy – it's really hot and we're all looking for ways to keep cool and have fun in the sun," said Mr Restorick.
Heatwave causing problems for passengers and operators as rails buckle
The warning comes as throughout the UK the sustained period of high temperatures plays havoc with the nation's agriculture and wildlife.
Hot weather has sparked concerns among British farmers, who are worried about crops ripening too early and the knock-on effects on milk production and winter food supplies for animals.
Britain's animals are also under pressure, especially those that rely on damp habitats, and wildlife groups have called on the public to help by providing water sources and maintaining damp habitats.
Register for free to continue reading
Registration is a free and easy way to support our truly independent journalism
By registering, you will also enjoy limited access to Premium articles, exclusive newsletters, commenting, and virtual events with our leading journalists
Already have an account? sign in
Register for free to continue reading
Registration is a free and easy way to support our truly independent journalism
By registering, you will also enjoy limited access to Premium articles, exclusive newsletters, commenting, and virtual events with our leading journalists
Already have an account? sign in
Join our new commenting forum
Join thought-provoking conversations, follow other Independent readers and see their replies