UK heatwave: Hottest day confirmed for third day in a row as 32.4C heat recorded
Santon Downham, in Norfolk, recorded the highest temperature with 32.7C (90.86F) on Friday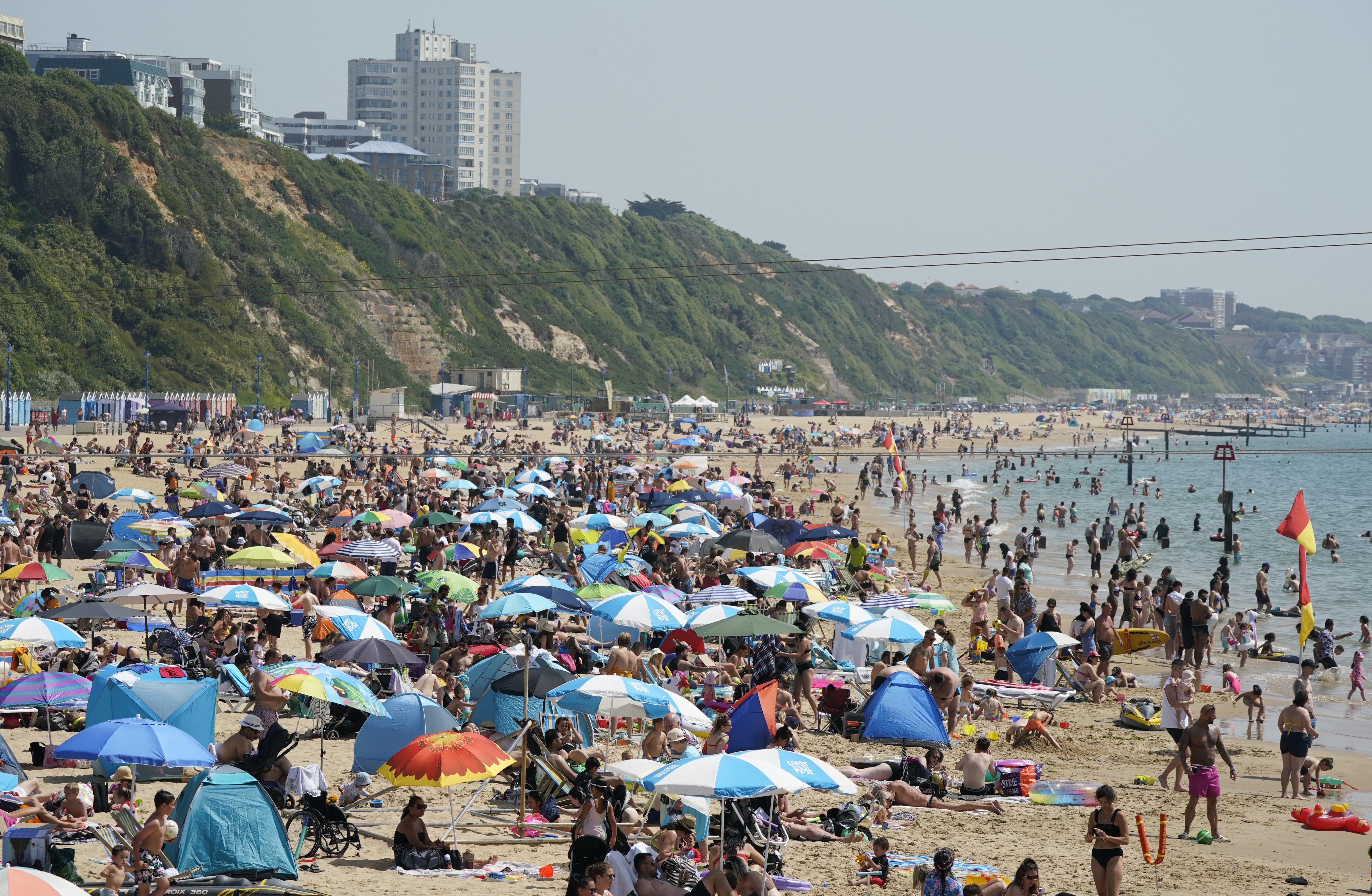 Cooler weather is on the way for all parts of Britain after temperatures soared to 32.7C on Friday – the hottest day of the year so far for the third day in a row.
The Met Office said Santon Downham, in Norfolk, recorded the highest temperature with 32.7C, followed by Heathrow airport and Kew Gardens in west London, which both recorded 32.4C.
However, temperatures are set to fall dramatically over the weekend, with many areas also seeing thunderstorms.
A level 3 heat-health alert was put in place for London, the east of England and the southeast to help protect health services, the UK Health Security Agency (UKHSA) said.
Thanks to the high temperatures, men in all enclosures at Ascot racecourse were allowed to remove their jackets and ties once the traditional royal carriage procession had ended.
Images from Bournemouth beach showed crowds arriving as early as 6am to claim sunbathing spots. Swimming pools, parks and beaches across parts of the south and east of England have been packed.
Network Rail warned that train services could be disrupted due to the impact on infrastructure such as overhead power lines.
Annie Shuttleworth, a forecaster at the Met Office, said: "The weekend is expected to have much cooler temperatures, with parts of the Midlands and central areas of the UK having the most significant changes.
"They'll be closer to 16C or 17C on Saturday, so that's 15 degrees cooler. Across parts of the Midlands there'll be some relatively persistent rain, and we're also expecting that across parts of Wales."
The highest recorded June temperature in the UK was 35.6C, at Southampton Mayflower Park in June 1976, and forecasters do not expect the record to be surpassed this week.
As the weather heats up, a new study commissioned by the Royal National Lifeboat Institution (RNLI), revealed that 35 million people plan to visit the UK's seaside and beaches this summer, between now and September.
Gabbi Batchelor, water safety education manager at the RNLI, said: "With summer arriving and a heatwave forecast, we want to remind everyone to stay safe at the coast.
"It is important that anyone visiting the coast understands the risks of the environment. It can be very unpredictable, particularly during early summer when the risk of cold water shock significantly increases, as air temperatures warm but water temperatures remain dangerously cold.
"If you get into trouble in the water, float to live: lean back, using your arms and legs to stay afloat. Control your breathing, then call for help or swim to safety. In a coastal emergency, call 999 or 112 for the coastguard."
Join our commenting forum
Join thought-provoking conversations, follow other Independent readers and see their replies