People with UK status blocked from visiting dying relatives as Home Office refuses to grant documents
Exclusive: Individuals who want to visit sick relatives abroad are being left 'stranded' in Britain because of 'restrictive' Home Office rules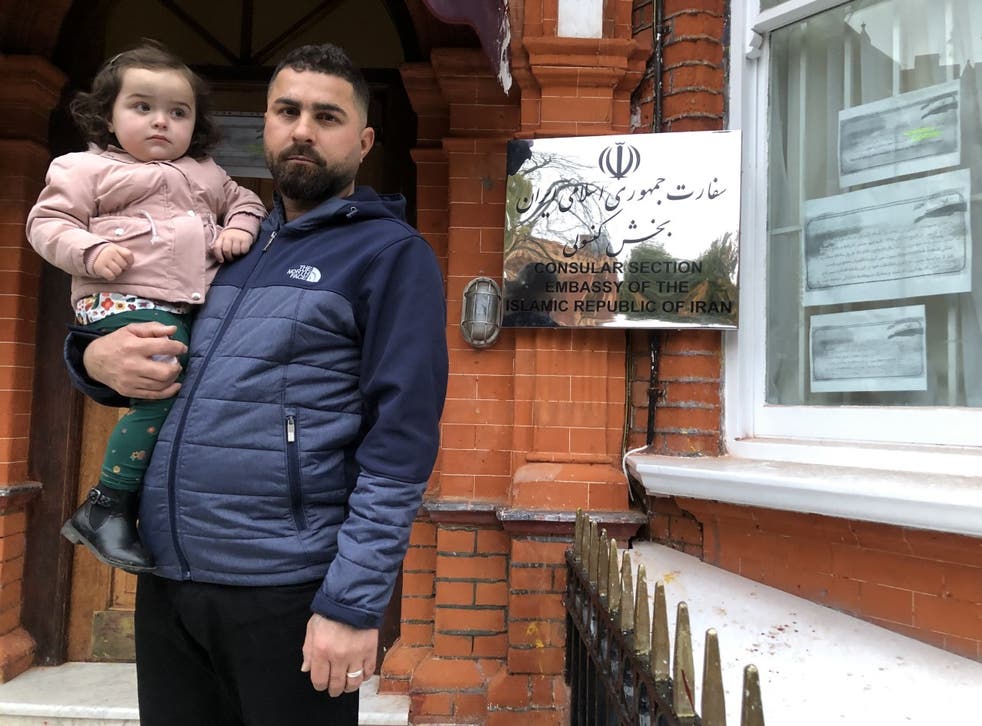 People who have been granted UK status are being blocked from visiting unwell family members abroad due to the Home Office's "remarkably restrictive" approach to issuing travel documents to immigrants.
The Independent has learned that individuals who have fled persecution in their home countries and are subsequently granted UK residency that is not refugee status are being "stranded" in Britain because neither their home country nor the UK government will grant them a passport.
In many cases, people are afraid to approach their embassy because it was persecution by the country's government that they originally fled from. Yet the Home Office insists they obtain "proof" from the foreign government that they have refused to issue them a document.
In other cases, foreign embassies refuse to issue any written proof to people who have been refused requests for passports while, in some instances, the person's country of origin simply does not have an embassy in the UK, making it impossible to appeal to them for a travel document.
Lawyers said the issue was widespread and described it as a "ridiculously unfair" practice by the Home Office, which is placing vulnerable people at the mercy of the governments they fled from while preventing them from seeing their loved ones and attending family emergencies.
One man, Hashar Murad, 34, who has been in the UK for 15 years – after fleeing political persecution in Iran – has had his request for a travel document repeatedly refused by the Home Office, which has prevented him from visiting his last surviving relative.
The Iranian national was refused asylum in 2006, but was later granted leave to remain on the grounds of his marriage to a British wife, Lynsey Murad, with whom he now lives with their four-year-old daughter in Irvine, Scotland – where he works in a car wash.
On first applying for the document, Mr Murad was informed by the Home Office that he must provide proof that the Iranian embassy would not grant him a passport. Although he was afraid to do so, he approached the embassy and said they told him they could not help him but neither would they issue him an official refusal letter as this was not their policy.
The Home Office has therefore denied his five requests for a travel document, leaving him unable to visit his younger sister, who is suffering with second degree burns after being recently caught up in a gas explosion.
"I didn't have the chance to see my father before he died, and I didn't get to see my mother either. Now I'm worried I won't see my sister. She is the only one left from my family. She is crying saying her brother doesn't want to see her. That's killing me," he said.
"I don't understand why the Home Office is doing this to me. I've never done anything wrong in this country. No crimes or anything like that. This is too difficult for someone who's been in this country for 15 years.
"I've been thinking about burning myself outside the Iranian embassy or outside the Home Office. I don't want this life. It's making me crazy."
Mr Hashar said he was shocked that the Home Office had repeatedly told him to go to the Iranian embassy, when the reason he had fled his country was to escape the government there.
"The reason I left my country is because I thought I would be safe. But the Home Office wants me to go to the enemies and beg them. As soon as I open my mouth, they know I'm Kurdish. They tell me to leave they can't do anything for me. I'm scared when I go there. I left my country because of them," he said.
"I came here for safety. They haven't put me in a jail: I'm free, I can walk around, I can work, but inside it's like they're killing me, playing with my mind. Where are the human rights?"
In another case, a Somali woman who has lived in the UK legally for more than three years has not been able to see her parents and siblings – currently asylum claimants in Sweden – because there is no Somali embassy in the UK.
Her lawyer, Marcela Navarrete, partner at Wilson's Socilitors, said the woman would have to wait another three years before she is eligible to apply for British citizenship and obtain a British passport.
Why is the Home Office getting so many immigration decisions wrong?
Human rights lawyer Shoaib Khan said he and other lawyers saw such cases "all the time", often with people who had been in the UK for many years and their home country is unable to verify their identity, or because the individual is afraid to approach their embassy.
He said the Home Office had "remarkably restrictive" situations on which they issue travel documents, without realising that all embassies operate differently and there can be a multitude of genuine reasons, beyond the individual's control, why the embassy would refuse to issue the passport.
"This means they are unable to travel abroad, even where there may be serious family emergencies. People have lost the chance to see dying parents or missed close family members' funerals due to this," he said.
"The Home Office should be looking to assist such people, rather than unnecessarily exploring the embassy's decision and deciding its reasonableness. Such Home Office attitudes leave often vulnerable people further isolated, as they are unable to visit family and maintain relationships."
Mr Khan pointed out that a refusal of an application for a travel document does not attract a right of appeal, meaning refusals were very rarely challenged, forcing people to instead reapply, pay the fee again once they have further evidence – or just give up.
"They end up stranded in the UK, already not having seen their families for decades sometimes. Others fear approaching their embassies, for various reasons, but can't obtain travel documents from the Home Office either," he said.
"Yet others, as here, have evidence but the Home Office just refuses to accept it. Just another facet of the culture of disbelief at the Home Office.
"Such applications usually cost hundreds of pounds, but the Home Office won't even make one phone call or send one email to the embassy to ask if the letter is genuinely issued by them."
Syed Naqvi, head of immigration at ITN Solicitors, said the Home Office's approach to travel documents was "heartless beyond belief", placing vulnerable migrants "at the mercy of some of the most barbaric regimes in the world".
"Many of these people have endured torture and horrific human rights abuses and are terrified of going anywhere near their authorities," he said. "You only have to look at the dreadful consequences in the Jamal Khashoggi case to see that such fears are justified and the dire consequences such needless red-tapism can often have."
Ms Navarrete said: "There are lots of people here as parents of British children, or spouses of British nationals – there are loads of other bases that you can be here legally in the UK that is not a failed asylum claim.
"It's one of the things that seems ridiculously unfair. The Home office has a discretion that they could exercise, and they're not really doing that. There's no good reason for it."
A Home Office spokesperson said the department did not routinely comment on individual cases and that all applications were considered on their individual merits, on the basis of the evidence available and in line with the relevant policies.
Join our new commenting forum
Join thought-provoking conversations, follow other Independent readers and see their replies