UK allows five Islamists linked to same extremist group as 'new Jihadi John' suspect Siddhartha Dhar to slip out of country
Exclusive: Records show known extremists leaving UK in last 20 months despite being on bail or subject to travel bans
Cahal Milmo
Wednesday 06 January 2016 20:09 Comments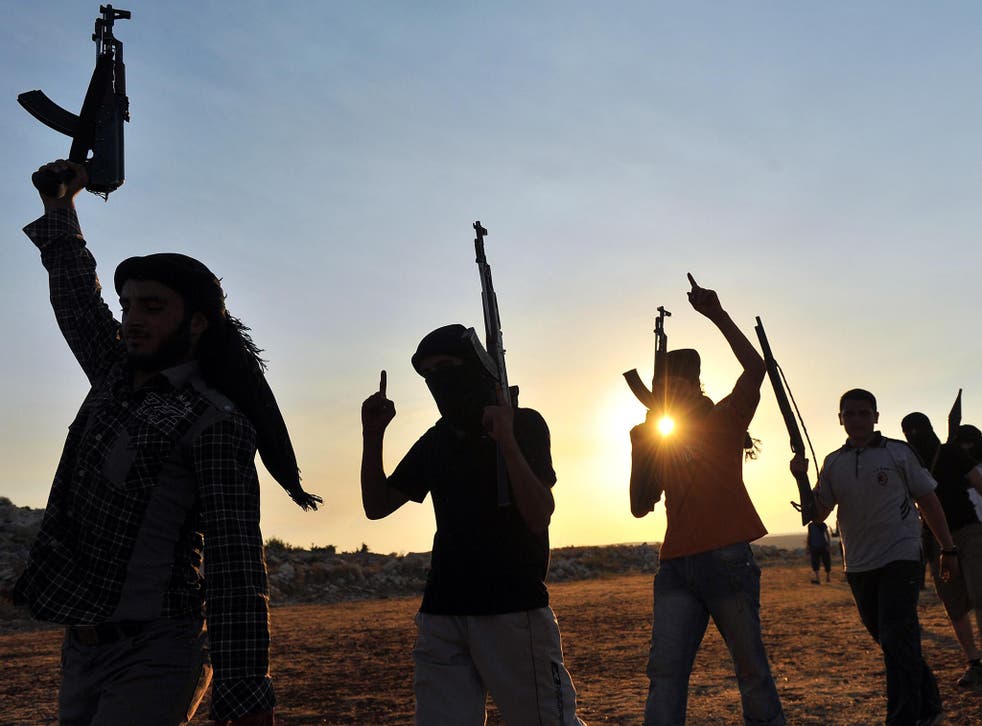 At least five prominent British Islamists linked to the same extremist group frequented by the man suspected of being the new "Jihadi John" executioner left the UK in the last 20 months despite being on bail or subject to travel bans.
Records show that the five men, three of whom have since been killed in drone or air strikes in Syria and Pakistan, all succeeded in evading exit checks despite being on watch lists or having surrendered their passports to the authorities.
The ability of the known extremists to flee under the noses of police and the security services will increase the pressure on the Government to tighten monitoring of individuals known to be at risk of travelling to Syria after Muslim convert Siddhartha Dhar slipped out of Britain to join Isis while on police bail for suspected terror offences.
Father-of-four Dhar, who now goes by the name of Abu Rumaysah, had been ordered by police to surrender his passport hours before he boarded a bus to Paris with his family in September 2014. Scotland Yard remained unaware of his whereabouts until at least a month later.
The British-Indian is now strongly suspected of being the English-accented gunman who oversees the execution of five alleged British spies in an Isis propaganda video released on Sunday.
Labour MP Keith Vaz, chairman of the influential Commons' Home Affairs select committee, described the cases as a "glaring security failure" and vowed to raise the issue with Prime Minister David Cameron.
He said: "The number of cases where extremists and individuals known to the authorities have left the UK after being told to hand in their passports, or who are subject to a travel ban, is astounding.
"There is no point in the government trumpeting their 'achievement' of 100% exit checks when the people of greatest concern are able to leave with ease."
Who is the man in IS video?
The five men were all linked to Al Muhajiroun, the banned Islamist group whose rallies were frequently attended by Dhar, 32, and other associated organisations, including Muslims Against Crusaders, which was banned in 2011 after its members publicly burned poppies on Armistice Day.
The Independent understands that at least two of the men travelled to join Isis in Syria using their own passports, including Luton resident Abu Rahin Aziz, 32, a leading activist in Muslims Against Crusaders who later met up with Dhar, a former bouncy castle salesman, in the Isis nerve centre of Raqqa.
Aziz, who had been facing trial for a violent assault, posted a picture last February of the pair posing beside a crashed fighter jet. A message alongside expressed the hope that the next time the pair met they would be holding the severed head of a British pilot.
Including Dhar, four of the men were able to leave Britain despite being on police or court bail for terror or violence-related offences and known to the security services as prominent figures in Islamist fringe groups. The remaining two - Simon Keeler and Trevor Brooks, Muslim converts with convictions related to terrorist fundraising - were arrested in Hungary in November having left Britain despite both being under travel bans.
Brooks, who along with Keeler may have been trying to reach Syria, had had his passport confiscated last April on national security grounds and was travelling using his driving licence.
Anti-extremist group Hope Not Hate, which revealed the five cases, said the number of prominent radicals succeeding in leaving the country raised serious questions about the state of Britain's counter-terrorism controls.
Timeline: The emergence of Isis

Show all 40
Nick Lowles, co-ordinator for the organisation, said: "We have a situation where at least four individuals who were on active bail and must have been known to the authorities as a flight risk have managed to leave Britain.
"Given all six were linked to banned organisations like Al Muhajiroun, there must be very serious concerns about the apparent ease with which individuals who wish Britain harm are leaving the country."
One of the first men to leave Britain was Mirza Tariq Ali, a 39-year-old NHS surgeon who had been due to stand trial at the Old Bailey for violent disorder after he allegedly struck a bystander during an Al Muhajiroun protest.
Despite having surrendered his passport as part of the proceedings, he was able to leave in April 2014 and reach Pakistan, where he became a leader of the country's Taliban and was killed in a drone strike in March.
Aziz, who was sentenced to 36 months' imprisonment for stabbing football fan in the head with a pen, is thought to have fled Britain via Amsterdam in the company of Junaid Hussain, a Birmingham-based member of a computer hacking group who was on police bail for alleged violence.
Neither man is believed to have been ordered to surrender his passport despite their known views in support of jihad and the imposition of Sharia law.
When Aziz reached Syria he said he was undecided about what to do with his British passport, tweeting "could burn it [or] flush it down the toilet".
Home Secretary Theresa May has been forced to defend the Government's record on controlling terror suspects following the publication of the Isis execution video, acknowledging that more than 800 UK nationals of concern to the intelligence services have travelled to Syria.
Under new powers introduced in February, police can now temporarily seize the passports of individuals suspected of travelling to engage in terrorism abroad. Ms May said the powers had been used more than 20 times and in some cases led to the permanent removal of passports.
But problems remain with ensuring that individuals, such as Dhar and at least two other of his former Al Muhajiroun colleagues, who are ordered to surrender their passports as part of criminal investigations do so.
It emerged this week that Dhar fled Britain within 48 hours of being released on bail following his arrest on suspicion of encouraging terrorism but police were still unaware of his whereabouts at least a month afterwards, when they sent him a letter asking him to report to his nearest police station.
David Anderson QC, the Government's independent reviewer of anti-terror legislation said that while it was impossible for police to monitor every individual, it was concerning that Dhar had been able to travel while under suspicion of a crime.
He told BBC News: " What is unusual about this case is that he managed to make that journey despite being subject to the criminal justice process, despite having been arrested and placed under police bail."
The Home Office declined to comment, pointing out that it cannot discuss individual cases.
Register for free to continue reading
Registration is a free and easy way to support our truly independent journalism
By registering, you will also enjoy limited access to Premium articles, exclusive newsletters, commenting, and virtual events with our leading journalists
Already have an account? sign in
Join our new commenting forum
Join thought-provoking conversations, follow other Independent readers and see their replies