Government under fire for 'outrageous' treatment of modern slavery victims facing deportation from UK
Exclusive: Ministers accused of 'riding roughshod' over needs of trafficking victims as it emerges Vietnamese man forced to work on UK cannabis farm to be forcibly removed this week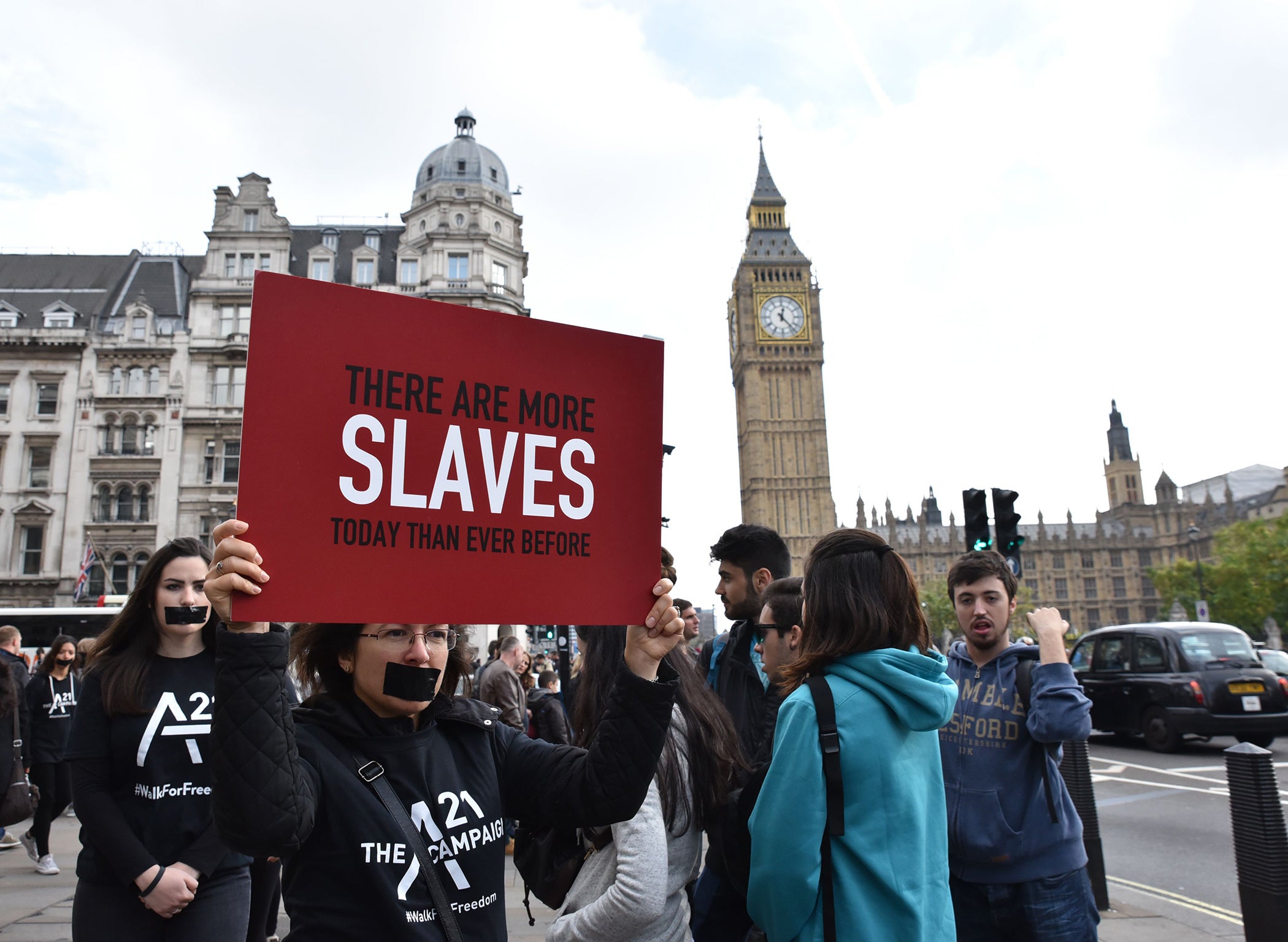 The Government has come under fire for its "outrageous" treatment of victims of modern slavery who face deportation from the UK despite fearing for their lives in their home countries.
Ministers were accused of "riding roughshod" over the needs of trafficking victims, as it emerged that a Vietnamese man who was brought to Britain and forced to work on a cannabis farm by a drugs gang will be forcibly removed from the country this week.
Duc Kien Nguyen, who is in his 40s, fears he will be killed by his traffickers if he returns, but the Home Office claims it would not be "appropriate" to allow him to remain in the UK – despite admitting he was a victim of modern slavery last year.
Campaigners said it was the latest example of Theresa May's hostile environment to migrants, following on from the Windrush scandal that saw British citizens wrongly deported to the Caribbean.
Ms May has repeatedly spoken out against exploitation and pledged to "consign slavery to the history books".

The Independent has battled to combat the modern-day scourge as part of the Slaves on our Streets campaign, which highlights the scale of exploitation taking place across the country.
Yvette Cooper, Labour's chair of the Home Affairs Select Committee, said Mr Nguyen's case highlighted a serious issue with the current system.
"This is the wrong approach. Sending vulnerable victims of trafficking back to the place they were trafficked from risks pushing them straight back into modern slavery," she told The Independent.
"It also means that victims won't come forward or ask for help for fear of being sent straight back again. Instead of tackling modern slavery, this risks strengthening the power of the traffickers."
Labour MP Vernon Coaker, chair of the all-party parliamentary group on human trafficking and modern slavery, said the current policy was "outrageous" and "totally and utterly unacceptable".
"Immigration policy seems to be riding roughshod over the needs of victims of trafficking. With much of this we're talking about confirmed victims. These are not people who are playing the system, they are cases where the Home Office themselves have said these are victims of some of the most serious crimes," he said.
"It's going to put people off coming forward, and it's going to undermine the government's own strategy on cracking down on trafficking and modern slavery. If the government is true to its rhetoric around supporting modern slavery victims, this would not be happening."
The Home Office accepted that Mr Nguyen was a victim of trafficking last August. He was released on bail last year and relocated in Glasgow, where he began volunteering for a number of charities, but he was detained again last Monday and issued the deportation notice.
He is currently being held in Colnbrook detention centre, in Harmondsworth, awaiting deportation on Thursday.
Describing his trafficking ordeal, Mr Nguyen said: "I worked but I had no money. I knew nothing about cannabis. They told me they couldn't sell it because my skills to cultivate it were so poor.
"When I realised it was illegal, in my mind I had a plan to escape but I couldn't because they are gangsters and part of an underground group.
"They would come in and open the door and then leave again. I had to wake up after midnight to turn on and off the lights and to water the cannabis. I often had to stay up overnight.
"I couldn't get out. The house lacked oxygen – all the windows and the doors had live power on them so I would get electric shocks if I tried to open them."
Eight months into the exploitation, police raided the property and Mr Nguyen was arrested and sentenced to 15 months in prison
The Vietnamese national described his imprisonment as "hard, but better than growing cannabis," adding: "I felt more freedom in prison."
Expressing his fear of deportation, the Vietnamese national said: "I feel very nervous. I don't know what will happen to me in the future. I would be scared to go back because the gangsters will be out to get me. If I was to return I fear I will be killed."
Mr Nguyen's situation has prompted a renewed push for changes to legislation to ensure adequate support is provided to modern slavery victims, after a report by the National Audit Office urged there was "much more to do" to ensure victims in the UK are protected.
At present, people who are officially recognised to have been trafficked through the National Referral Mechanism (NRM) – the UK's official framework for identifying victims of human trafficking – receive no long-term support or automatic immigration status in the UK.
Janet Fisher, advocacy manager and a solicitor at anti-slavery charity Hope for Justice, said the number of victims the organisation was seeing being threatened with deportation was "definitely increasing", and claimed the issue was an as yet uncovered element of the hostile environment policies.
She told of one client who was recently taken from their safe house, which is where trafficking victims stay after they are rescued, by immigration enforcement officers in order to carry out their deportation. The removal was later halted after lawyers intervened.
"We've had a number of trafficking victims who have been deported and then been pursued by their captors and fled straight back again. It's a growing problem. It's one of a number of things which are happening in the hostile environment but are only anecdotal at this point because they haven't come to light," said Ms Fisher.
"We know that traffickers are mentioning the threat of deportation when they are exploiting people as a way of keeping control. One man was shown his own house on Google Earth by his trafficker to show they knew where he lived, so didn't want to report the abuse out of fear. There are genuine threats to people.
"The government must focus their immigration efforts on the people doing the trafficking, not the victims. But we know there have been many more victims facing deportation than traffickers."
Bhaveshri Patel-Chandegra, a solicitor from Duncan Lewis who is representing Mr Nguyen, said: "So many people get put off reporting because word gets around and they think if this is how I'm going to be treated, why should I claim?
Modern Slavery in the UK
Show all 13
"There needs to be a change in the policy. People are being recognised as victims but then left without status. They're left with nothing. What's the point in being recognised as a victim if they're not going to have any kind of support?"
Kate Roberts, head of the Human Trafficking Foundation, echoed the concerns, saying: "There is a conflict between the immigration enforcement and the rehabilitation and victims' needs, and supporting people to ensure they have a chance to rebuild their lives and not be re-trafficked.
"It's symptomatic of the huge focus on immigration control and its prevalence above everything else."
A Home Office spokesperson said: "We do not routinely comment on individual cases."
Join our commenting forum
Join thought-provoking conversations, follow other Independent readers and see their replies