UK population grows by half a million in a year to reach 65.1 million
'At this rate, the UK population will increase by 10 million over the next two decades and continue to go up'
Kayleigh Lewis
Thursday 23 June 2016 17:44 Comments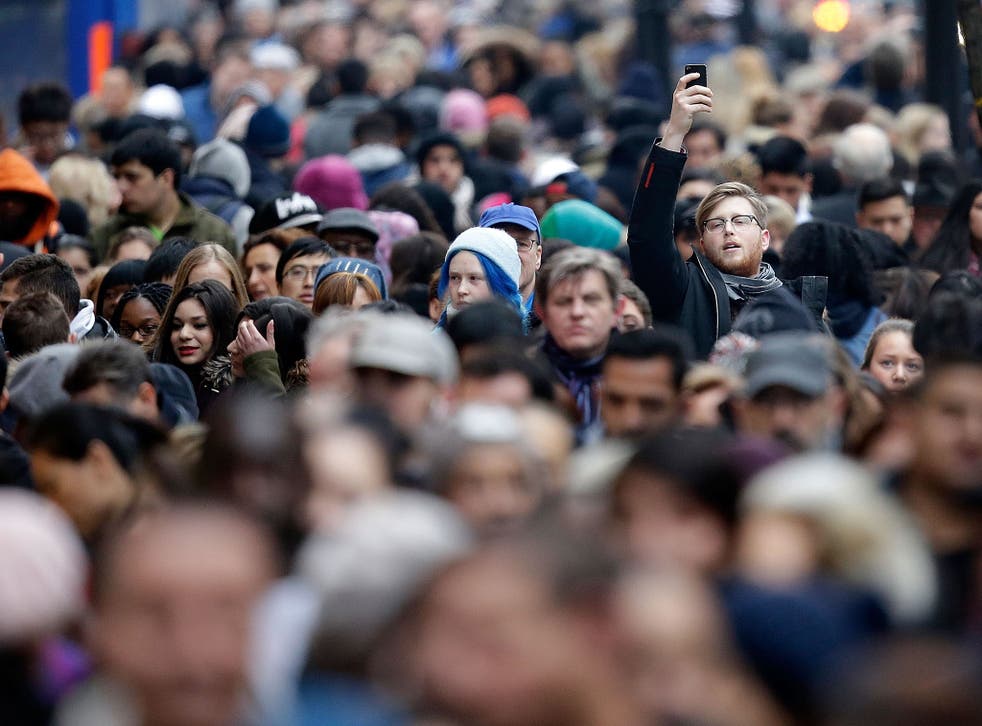 The UK population grew by more than half a million in a year to reach 65.1 million, figures have revealed.
A report published by the Office for National Statistics (ONS) found the 0.8% increase by mid-2015 was similar to the average increase over the past decade.
The ONS suggests natural growth – more births than deaths – of 171,800, and net international migration of 335,600, contributed to the results.
Population change due to the difference between the number of births and deaths was at its lowest since mid-2006.
Meanwhile, an increase in immigration and a decrease in emigration resulted in a net migration increase on the previous year.
"This is caused by a combination of more people arriving to stay in the UK and fewer people leaving the UK on a long-term basis," the report said.
Simon Ross, chief executive of charity Population Matters, said: "The UK population is growing faster than even the concerning trend of recent years.
"Near-record net migration and an excess of births over deaths, to which migration also contributes, are combining to keep the UK near the top of the European population growth league table.
"London and the South East, already two of Europe's most densely populated areas, are growing denser still."
According to the ONS, international migration inflow is at its highest since mid-2007, while outflow is at its lowest since comparable records began in 2002. The figures suggest migration has accounted for just under two-thirds of the annual change.
10 things immigration has done for Britain

Show all 10
The figures were released hours after polls opened across the UK for the EU referendum, following a campaign where immigration has frequently dominated the agenda.
The ONS report said international migration has both direct and indirect effects on the population as it also changes the numbers of births and deaths in the country.
"The number of births has decreased on last year's figure and is below the average for the period, while there was an increase in the number of deaths since last year, partly attributed to flu outbreaks in early 2015," it said.
Overall, the figures mean the number of people living in the UK has increased by around 4.7 million in a decade.
They also show the older population continues to grow, with 17.8% - or 11.6 million people – aged 65 or over and 2.3% - or 1.5 million - aged 85 and over, as of June last year.
Since mid-2005, the population aged 65 and over has increased by 21%, and the population aged 85 and over has increased by 31%.
Press Association contributed to this report.
Register for free to continue reading
Registration is a free and easy way to support our truly independent journalism
By registering, you will also enjoy limited access to Premium articles, exclusive newsletters, commenting, and virtual events with our leading journalists
Already have an account? sign in
Join our new commenting forum
Join thought-provoking conversations, follow other Independent readers and see their replies