UK population set to rise by 3 million in next decade due to net migration increases
And major changes needed to care for ageing citizenry, charity warns
Conrad Duncan
Monday 21 October 2019 15:05 Comments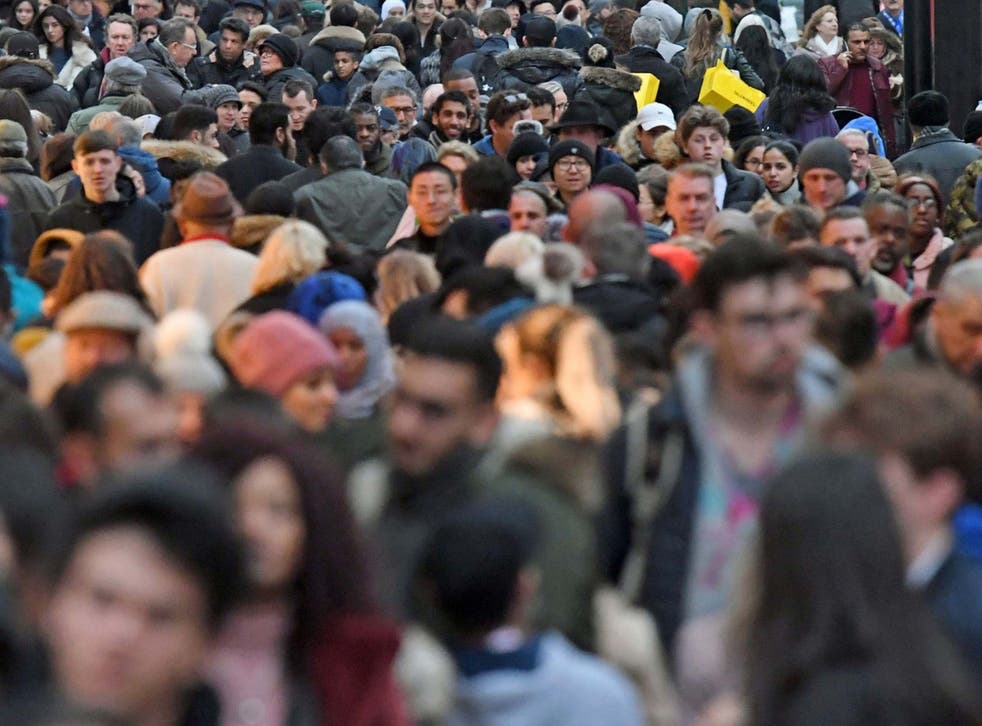 The UK population is set to increase by 3 million within the next 10 years and pass the 70 million mark in the early 2030s, according to government statistics.
The number of people in the UK is expected to rise by 4.5 per cent over the next 10 years, from an estimated 66.4 million in mid-2018 to 69.4 million in mid-2028, the Office for National Statistics (ONS) has said.
By mid-2031, the population is projected to pass 70 million, and by mid-2043, it is predicted to reach 72.4 million.
Net international migration is expected to account for 73 per cent of the UK's population growth, with the ONS predicting 5.4 million people will immigrate long-term to the UK between 2018 and 2028, while 3.3 million people will emigrate long-term from the UK.
During this time, 7.2 million people are predicted to be born and 6.4 million people are expected to die.
UK news in pictures

Show all 50
Alp Mehmet, the chairman of Migration Watch UK, said the projection was "staggering" and warned of pressure on housing, transport, schools and university places from rising numbers.
However, the UK's population growth rate is slower than in projections made in 2016, with the expected population set to be 400,000 less in mid-2028 and 900,000 less in mid-2043 than previously predicted.
The annual population growth rate is predicted to drop from 0.6 per cent in mid-2019 to 0.27 per cent by mid-2043.
This slowdown is based on the expectation that women will have fewer children, based off recent falls in fertility rates, and a slower rate of life expectancy increases.
The UK is also expected to see a growing number of older people, with the proportion of people aged 85 or over predicted to almost double over the next 25 years.
Anna Dixon, the chief executive at the Centre for Ageing Better, said the projection showed the age of the population was "dramatically shifting".
"These longer lives are a huge opportunity, but big changes are needed to our workplaces, homes, health services and communities if we are to ensure that everyone is able to age well," Ms Dixon added.
"We also need to rethink our attitudes to age, and tackle the ageist attitudes which hold back too many people from enjoying a good later life."
England's population is anticipated to grow faster than the other UK nations, increasing by 5 per cent between 2018 and 2028.
The ONS attributed the growth in the older population to "baby boomers" born after the Second World War reaching older age.
"The population is increasingly ageing and this trend will continue," the ONS said.
"However, because of the expected rise in the state pension age to 67 years, it is projected that slightly fewer than one in five people will be of pensionable age in 2028, a similar proportion to today."
Additional reporting by agencies
Register for free to continue reading
Registration is a free and easy way to support our truly independent journalism
By registering, you will also enjoy limited access to Premium articles, exclusive newsletters, commenting, and virtual events with our leading journalists
Already have an account? sign in
Join our new commenting forum
Join thought-provoking conversations, follow other Independent readers and see their replies