Government urged to reduce prison population as conditions reach 'worst ever seen'
Prison Governors Association says jails are 'full to busting' in scathing attack on penal system
May Bulman
Social Affairs Correspondent
Tuesday 10 October 2017 00:11 Comments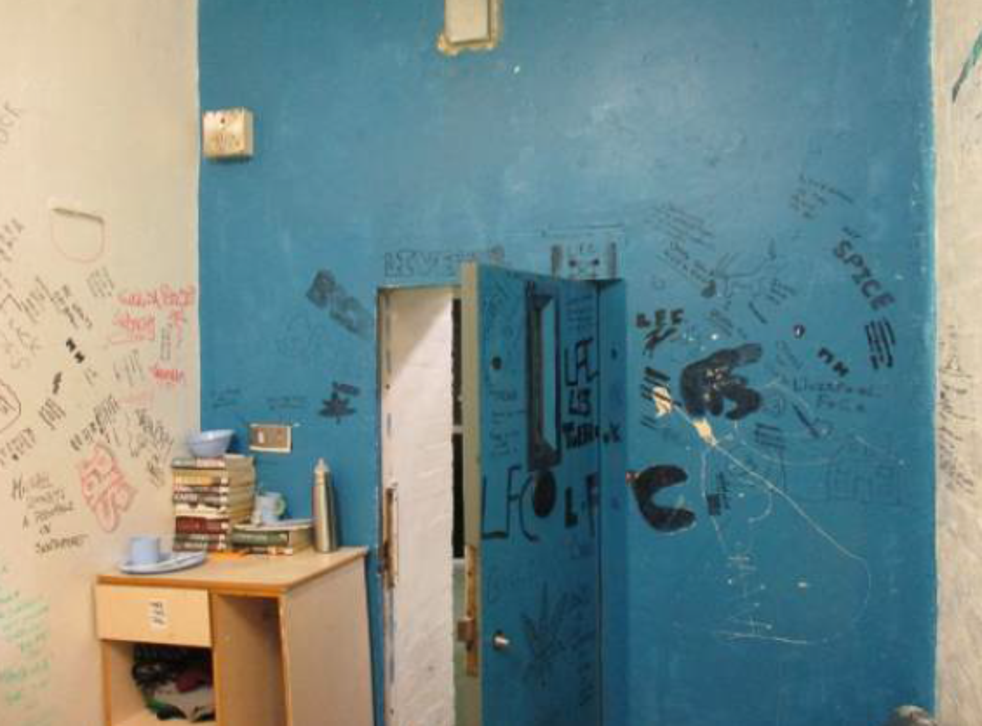 Prisons in the UK are "full to busting" and the Government must "be brave" and reduce the number of people behind bars, the Prison Governors Association (PGA) is to warn in a scathing attack on the penal system.
With violence, suicide and self-harm statistics in jails at "the worst we have ever seen", Andrea Albutt, president of the association, will call on ministers not to "worry about votes" and cut the prison population.
Delivering a highly critical assessment to the PGA's annual conference on Tuesday, Ms Albutt will say a safety and reform drive is "led and predominantly run by generalist civil servants with little or no understanding of the very complex nature of prisons and their inhabitants".
The unusual intervention from the PGA will lead to fresh scrutiny of the politically charged issue of the prison population, which penal reform campaigners have warned must be reduced in order to stabilise the estate.
It comes as the UK's prison watchdog warned in an an alarming report that prisoners are living in insanitary, unhygienic and degrading conditions that threaten their health and can drive them to take drugs.
The report, published today, reveals that 31 per cent of prisoners report being locked in their cells for at least 22 hours a day, with inmates often forced to eat their meals in shared cells next to unscreened or inadequately screened toilets.
Ministers have so far resisted calls for direct measures designed to bring about an immediate cut in the prison population, instead focusing on driving down reoffending rates and improving confidence in non-custodial punishments.
The number of people in prison has almost doubled since the early 1990s and remained around the mid-80,000s mark in recent years. It currently stands at 85,375 – 1,124 below the "useable operational capacity".
Ms Albutt will say: "Currently our prisons are full to bursting. The Government must be brave and reduce the prison population and don't worry about votes. Don't dabble, just do it – because morally it is the right thing to do."
Describing sentences of a year or less as "pointless", she will say: "This cohort must be dealt with in a different way in the community. Executive release is possible. We have prisoners on IPP (imprisonment for public protection) sentences years past their tariff but still in prison."
Jails are holding "old and infirm" inmates who are no longer a danger to society, as well as "far too many mentally ill people where prison is absolutely the worst place for them", she will say.
Ms Albutt will also express doubts over a government commitment to provide 10,000 new prison places by 2020, describing the target as a "distant dream", and is expected to warn that staffing issues mean prisons are unable to deliver a rehabilitative regime.
The Government has launched a drive to add 2,500 new front-line officers and, although Ms Albutt will acknowledge that the picture is improving, she will also flag up the "attrition rate" in staffing levels.
Highlighting the impact of psychoactive substances, she will say they "remain a constant threat to stability, reducing already depleted and sometimes critical staffing levels further as prisoners are taken to A&E suffering from the effects".
Her critical words come as the new report from HM Chief Inspector of Prisons Peter Clarke reveals that just 51 per cent of prisoners aged between 18 and 21 are able to shower every day, and that inmates can only get cleaning materials on a weekly basis in only around half of jails.
Mr Clarke warned that the "insanitary, unhygienic and degrading conditions" inmates are forced to endure can threaten their health and can drive them to take drugs.
"The aspirations of the prison reform programme will not be met if prisoners are confined in conditions that embitter and demoralise, leaving them unable to access rehabilitative activities and, all too often, turning to illicit drugs to break the boredom born of long periods locked in their cells," he said.
In light of both the intervention from the PGA and the Inspectorate's report, Frances Crook, chief executive of the Howard League for Penal Reform, told The Independent the Government must take "bold" action, urging that people were "dying" in jails and said reoffending rates were going up as a result of poor conditions.
"We entirely support the prison governors and other prison staff who are warning the Government that bold and courageous action must be taken," she said.
"Long-term plans to build more and more prisons are the wrong answer at the wrong time – it's not a good use of public money. We cannot go on cramming more and more people into overcrowded jails without any thought for the consequences – and we cannot build our way out of this crisis.
"People are dying, staff are being assaulted and the public are suffering the consequences of this are more people reoffending after they are released from stinking prisons where drug and alcohol addictions are made worse by their terrible experiences in jail.
"This is a national emergency, and ministers need to get a grip. Bold action is needed to reduce the prison population and prevent more people being swept into deeper currents of crime, violence and despair."
Peter Dawson, director of the Prison Reform Trust, meanwhile said: "This is the view from the sharp end, and it's not a call for more prisons. There is an urgent job for the Government, and it's to devise a plan to reduce the number of people in prison.
"That is the relief governors need and the way to a prison system that delivers what the public have a right to expect."
Responding to the PGA comments, a Prison Service spokesperson said: "The Justice Secretary has been clear that our wide-ranging prison reforms will continue unabated and we will tackle the challenges facing the estate head on.
"We have already taken immediate action to stabilise prisons; including investing £1.3bn to modernise the estate and significantly increasing staff numbers by recruiting a net 2,500 extra prison officers. We are on track to meet this target by December 2018.
"In addition; we have empowered Governors so they have more freedom to innovate and make the best decisions for their prisons. By next year, every governor will be able to tailor education and training to the needs of their prisoners, providing offenders the right support and challenge to help turn their backs on crime."
UK news in pictures

Show all 50
On the report about living conditions, a Ministry of Justice spokesperson said: "We are investing £1.3bn to modernise the prison estate, closing older prisons that are not fit for purpose and creating in their place high-quality, modern establishments.
"This will help deliver prisons that are more safe and secure, so our staff can work more closely with offenders to change their lives and turn their back on crime for good.
"Our work in this area is supported by a drive to recruit an extra 2,500 prison officers, who will boost the front line and help turn our prisons into places of reform."
Register for free to continue reading
Registration is a free and easy way to support our truly independent journalism
By registering, you will also enjoy limited access to Premium articles, exclusive newsletters, commenting, and virtual events with our leading journalists
Already have an account? sign in
Join our new commenting forum
Join thought-provoking conversations, follow other Independent readers and see their replies