Self-harm and violent attacks hit record high in prisons across England and Wales
Campaigners demand increases in prison officers and drop in number of people jailed to improve security
Lizzie Dearden
Home Affairs Correspondent
Thursday 26 April 2018 16:58 Comments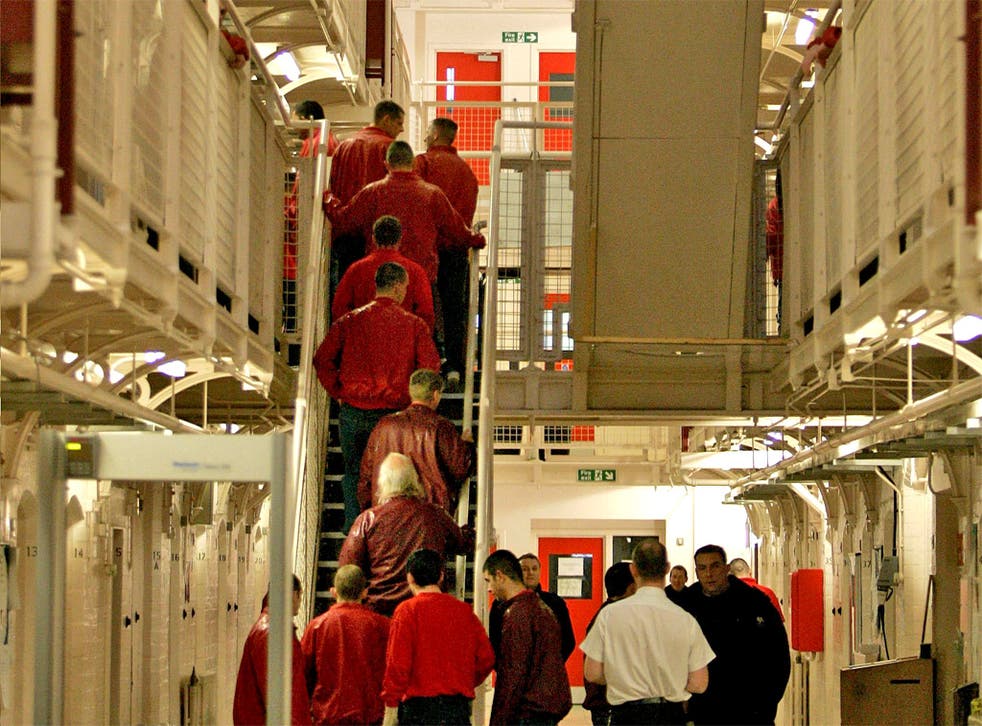 Self-harm and violent attacks have hit record levels in prisons across England and Wales as campaigners warn of a "system in crisis".
More than 11,600 prisoners harmed themselves in 2017 – a record high – and the number of separate incidents rose by 11 per cent to 44,600.
Self-harm is now being recorded every 12 minutes on average and violent assault at 18-minute intervals, with 23 attacks on staff every day.
A statistical bulletin released by the Ministry of Justice revealed that the number of inmates needing hospital treatment for self-inflicted cuts, strangulation and overdoses had risen.
Women are almost five times more likely to self-harm than men and most incidents involve young prisoners between the age of 18 and 20, often near the start of their sentence.
The number of suicides in prison fell from 115 to 69 last year but murders increased to five, from three in 2016, and violence against both inmates and staff surged by 13 per cent.
Of almost 30,000 assaults, 3,800 were deemed serious, including stabbings, sexual assault and beatings.
Prisoner-on-prisoner attacks rose by 11 per cent but assaults on staff rose by a quarter and the total number of assaults has doubled over the past four years.
David Gauke describes shocking videos emerging from UK prisons
There are more than 83,000 people imprisoned in England and Wales, a small decrease on the same point last year, but the population is projected to increase from next year onwards because of longer sentences being handed down by the courts.
The number of freed inmates being recalled to prison has also risen since the government part-privatised probation services, sparking accusations that the public was being put at risk.
The latest figures were released after the former director-general of HM Prison Service blamed huge budget cuts and "poor political decisions" by the Conservatives for worsening conditions since 2010.
Phil Wheatley accused David Gauke, the justice secretary, of attempting to shift blame for violence and disorder from his own government to the spread of former legal highs among prisoners.
Richard Burgon MP, Labour's shadow justice secretary, said: "Cuts have consequences and their damaging impact is clear for all to see in our prisons.
"Despite the government's belated recruitment drive, there are still nearly 4,000 fewer frontline officers than in 2010. The Tories need to go much further in officer recruitment, if they are serious about turning our prisons into places of safety and reform."
Peter Dawson, director of the Prison Reform Trust, said measures of safety were "setting records for all the wrong reasons".
"Record levels of self-harming; record levels of assaults on prisoners; and record levels of assaults on staff show that violence and fear is the daily reality for many people in prison," he added.
"Rebuilding officer numbers is the short-term solution, but if we want to improve safety in the longer term we need to take the pressure off overstretched prisons by reducing prison numbers to a sustainable level."
The Howard League for Penal Reform said the crisis was being worsened by the use of additional days of imprisonment to punish inmates who break the rules.
The practice, which was abolished a decade ago in Scotland, has more than doubled in three years, seeing almost 984 years of extra time imposed in 2017, despite jails reaching "breaking point" amid overcrowding and staff shortages.
Frances Crook, chief executive of the Howard League for Penal Reform, said the statistics were "symptoms of a prison system in crisis".
The end of innocence: Inside Britain's child prisons

Show all 6
"What we need now is political stability and bold action to make prisons safer," she added.
"Ultimately, positive steps to reduce the prison population would save lives, protect staff and stop others being swept into deeper currents of crime, violence and despair."
Statistics released on Thursday showed that almost a third of all prisoners are later caught committing further offences, with the figure standing at 42 per cent for juveniles and 64 per cent for adults serving less than a year.
Staffing shortages have caused some prisons to limit educational activities for inmates and time out of their cells, sparking devastating and costly riots, while inmates are managing to smuggle in drugs and banned mobile phones.
When the coalition government was elected in 2010, there were more than 19,900 prison officers, but the number fell to 14,900 within four years.
It has since increased and the Ministry of Justice announced it had passed its target to recruit an additional 2,500 prison officers seven months ahead of schedule on Sunday.
The justice secretary said more than 3,000 officers were due to be trained and working by the summer, but the Prison Officers' Association warned that the drive has still not returned staffing to former levels.
The body wrote an open letter to Mr Gauke on Thursday, saying there can be "no hiding place for the minister or those failing in the Ministry of Justice and HM Prison Service".
"The levels of violence, suicide and self-harm in our prisons are far too high and we are taking urgent action to address these problems," Mr Gauke said.
"Assaults on our hardworking staff will never be tolerated. We are ensuring prison officers have the tools they need to do the job, rolling out body worn cameras, 'police-style' handcuffs and restraints, and trialling PAVA incapacitant spray (similar to pepper spray).
"Our recruitment drive is vital to ensuring prisons are safe, secure and decent so they can successfully rehabilitate offenders."
Register for free to continue reading
Registration is a free and easy way to support our truly independent journalism
By registering, you will also enjoy limited access to Premium articles, exclusive newsletters, commenting, and virtual events with our leading journalists
Already have an account? sign in
Join our new commenting forum
Join thought-provoking conversations, follow other Independent readers and see their replies