UK rail strikes: RMT union votes in favour of 'most disruptive industrial action in living memory'
60% turnout was four-to-one for a strike over pay and job security
Simon Calder
,
Andrew Grice
Tuesday 12 May 2015 18:04 Comments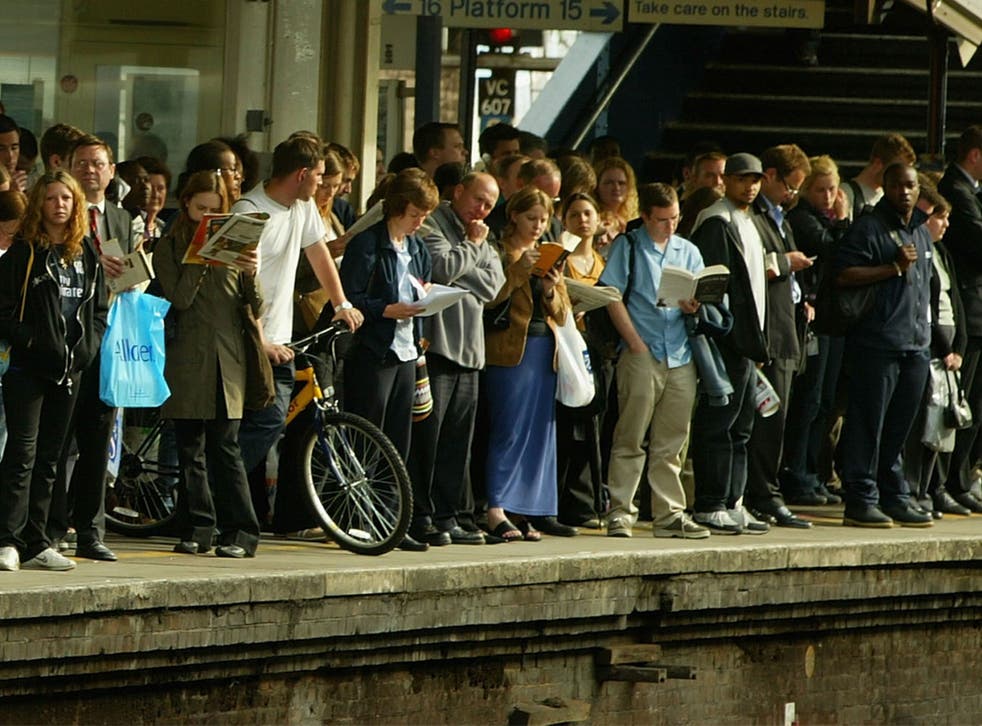 Britain's rail travellers face the prospect of widespread cancellations after members of the RMT union voted four-to-one in favour of a strike in a dispute with Network Rail over pay and job security.
Nearly 10,000 of the 16,000 union members working for Network Rail voted, a turnout of 60 per cent. A vote for "action short of a strike" was 92 per cent in favour.
The result of the vote came on the day the new Government announced early legislation to make strikes harder to call. Sajid Javid, the Business Secretary, said the Queen's Speech on 27 May would include the Tory manifesto plan to allow strikes only if at least 50 per cent of those entitled to vote do so in a ballot. In essential services including rail, strikes would go ahead only with the support of 40 per cent of workers eligible to vote.
Mr Javid said the Government would also lift the ban on employers bringing in agency staff to provide cover during strikes. "We need to update our strike laws and we've never hidden away from the changes we want to make," he added.
Frances O'Grady, the TUC General Secretary, said the proposals would make legal strikes close to impossible. "Union negotiators will be left with no more power than Oliver Twist when he asked for more. After five years of falling living standards the prospects for decent pay rises have just got a whole lot worse," she said.
The RMT general secretary, Mick Cash, called the result "a massive mandate for action".
Network Rail employees are responsible for signalling on passenger and freight lines across Britain, and for maintaining the network.
They are unhappy with a pay package that they say fails to keep pay in line with inflation - in contrast to Network Rail executives' earnings - and the expiry of a guarantee of no compulsory redundancies at the end of 2016.
TSSA and Unite are also in dispute with Network Rail.
Mr Cash said: "Our rail staff deserve a fair reward for the high-pressure, safety-critical work that they undertake day and night and the last thing that we need is a demoralised, burnt-out workforce living in fear for their futures."
The employers believe that staff have fared better in the past five years than other public-sector employees, and that the offer reflects the pressure on Network Rail to improve productivity.
Patrick McLoughlin, who was reappointed as transport secretary just 24 hours before the ballot result, said: "I condemn any industrial action that disrupts the travelling public. I want to see Network Rail and the unions back round the negotiating table, hammering out a deal. Rail passengers will not thank the unions for inflicting this unnecessary disruption."
While individual train operators have seen strikes over the past two decades, this is the first national strike for over 20 years. The last such dispute, in 1994, involved staff at Network Rail's predecessor, Railtrack. Over a series of strike days, about two-thirds of trains were cancelled.
Today, twice as many people are using the network than in the 1990s, which could make a strike the most disruptive in living memory.
On a typical working day, there are more than five million rail journeys. Many passengers affected by a strike would switch to the roads, sharply increasing congestion. The London Tube would also see increased passenger numbers.
Mr Cash urged Network Rail "to come back to the table with an improved package".
Register for free to continue reading
Registration is a free and easy way to support our truly independent journalism
By registering, you will also enjoy limited access to Premium articles, exclusive newsletters, commenting, and virtual events with our leading journalists
Already have an account? sign in
Join our new commenting forum
Join thought-provoking conversations, follow other Independent readers and see their replies