UK restaurants waste 600,000 tons of food a year
Report blames US-style portions and careless kitchen habits as one-third of all wasted food is left on customers' plates.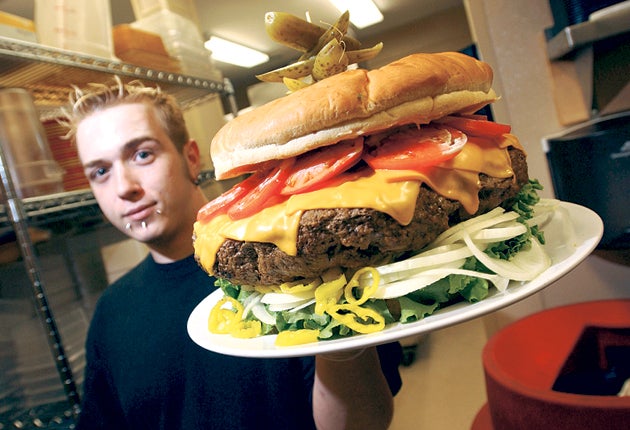 Super-sized restaurant portions are contributing to an annual waste mountain that sees chefs throw away hundreds of thousands of tons of food that is fit to eat, new research has shown.
Britain's restaurants throw away more than 600,000 tons of food each year, or 22 tons per eatery, which means that half a kilo of food is wasted every time someone eats out, according to the first detailed waste snapshot of the sector.
Nearly one-third of all wasted food comes back from customers' plates, suggesting that British restaurateurs are following the lead set by their American counterparts and serving portions that are too large. The bulk of the rest is thrown away during the preparation stage, according to a report published by the Sustainable Restaurant Association (SRA), a new body set up by a clutch of restaurateurs including Henry Dimbleby, of the seasonal fast-food chain Leon, and Mark Sainsbury, co-owner of the Zetter hotel in east London.
Simon Heppner, the SRA's managing director, said not all of the country's 27,000 restaurants were equally careless: "There's definitely a difference between different types of restaurant. Independents want to put more on plates to show they are offering good value." Meanwhile big chains have quietly trimmed back the amount they dish up in an attempt to save money.
Food waste has become a hot issue in recent years. British households throw away 12 million tons every year, at a cost of £12bn. Manufacturers waste a further 5 million tons, with the entire catering industry, including pubs and catering facilities in offices and at sports centres, throwing away 3 million tons, and retailers a further 1.4 tons. Supermarkets have come under pressure to stop Bogofs – buy one get one free offers – because the Government's waste reduction agency, Wrap, believes encouraging customers to buy more than they need exacerbates the problem.
The SRA, which analysed how much food was discarded at 10 London restaurants, said 5 per cent was out of date or unusable. It calculated that if an average restaurant could reduce the amount it throws away by 20 per cent, it would save more than 4 tons of food waste annually and cut its shopping bill by more than £2,000.
Some chains are already trying to cut waste. Pizza Hut, which has more than 700 outlets in the UK but is not one of the SRA's 450 members, is running a pilot scheme to eradicate waste at one of its restaurants. Mr Heppner said it would be good if the rest of the sector could learn from Pizza Hut's example, but added: "Those sorts of resources are not available to independents that are running hard to stand still."
Not everyone in the sector, however, accepts that food waste is a problem. Peter Backman, who heads the food service consultancy Horizons, said: "Caterers are doing a reasonable job. They don't like to throw things away because it costs them money. Plus quite a bit of what is discarded during preparation is things like bones and fat, which you can't use anyway."
And John Torode, who owns Smiths of Smithfield in east London and fronts the BBC's Masterchef, denied that waste was a big problem. "You don't waste food for the sake of it. Any restaurateur or chef who wastes food won't last very long because you can't make money."
But some of the chefs surveyed in the report are already learning from the research. Nitin Padwal, head chef of Petrichor, at the Cavendish Hotel, said he was surprised that so much preparation waste was discarded. "The majority of it was orange skin and potato peelings. Now we are using up the potato peelings still with good potato bits on and doing skin-on chips for the staff canteen and orange marmalade for our breakfast in the restaurant," he said.
Michael Howie, head chef at the Three Stags gastro pub in north London, said: "The numbers from this survey will really help staff to understand how much food waste we produce here, and why it's important to try and reduce it."
Join our commenting forum
Join thought-provoking conversations, follow other Independent readers and see their replies