UK's hoarding habits leave £1,000 of banknotes in circulation for every Briton
Bank of England reveals one-in-six opt for activity chiefly associated with crime
David Connett
Friday 18 September 2015 20:59 Comments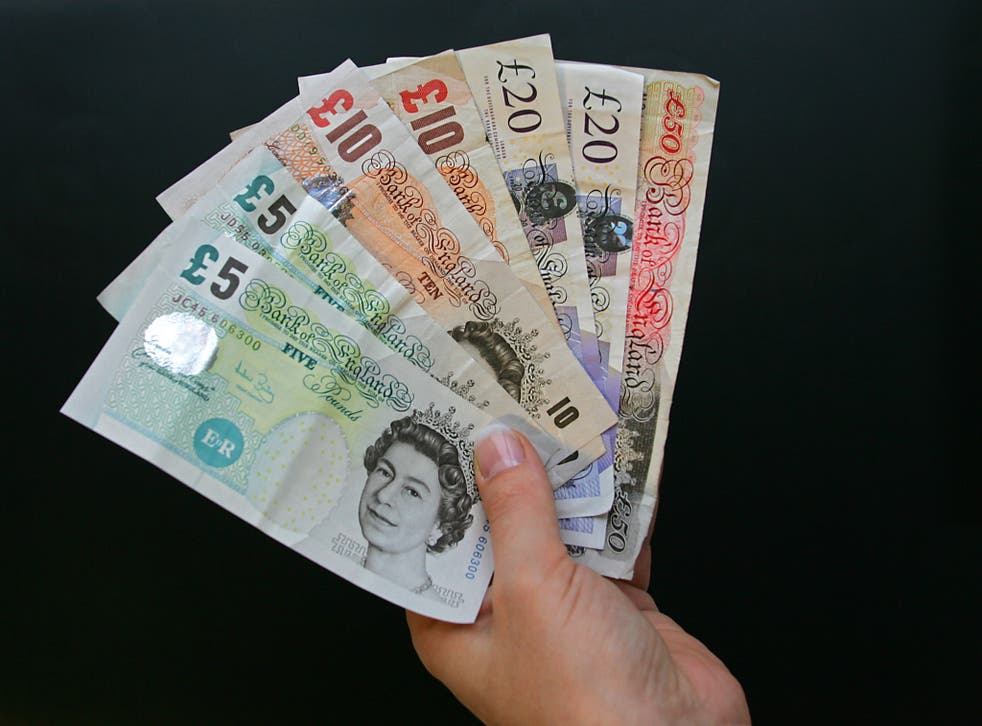 From the fluff-covered coins down the back of the sofa, to wads under the mattress, stuffed in the sock drawer or buried in the back garden, Britons are defying orthodoxy and hoarding cash.
Once the sort of activity chiefly associated with criminals, more than one-in-six Britons are hoarding cash at home according to the Bank of England (BoE).
The Bank estimates as much a £3bn could be hidden indoors – an average of £345 per hoarder – and suggests the real figure could be much higher.
BoE experts believe hoarding, together with its use in what they term the "shadow economy", are among the reasons why demand for banknotes is growing despite reports of its imminent demise at the hands of electronic payment methods, the latest of which is Apple Pay. There is now the equivalent of around £1,000 in banknotes in circulation for everyone in the UK the BoE estimates.
Economic textbooks recommend hoarding when there is no gain from banking the money – either from negative interest rates or a risk of the banks failing. But UK interest rates, while low, still offer a small return and deposits up to £85,000 are protected by the Financial Services Compensation Scheme.
Despite this, hoarding is still happening and was long before the current low interest rate period, according to the reports' authors, Tom Fish and Roy Whymark.
"For such action to be considered as rational, those that are hoarding cash must be gaining a non-financial benefit they value greater than the financial returns and physical security offered by a deposit account." The benefit according to a BoE survey was primarily "to provide comfort against potential emergencies," they conclude.
Richard Jolly, Professor of Organisational Behaviour at the London Business School believes the hoarding highlights people's aversion to loss. "Human beings hate losing and when they do they behave irrationally. Keeping money at home is an absurd thing to do but it is about not wanting to lose it.
"We hate the feeling that we are losing out. It makes us really risk averse.
"It is not rational, it might get stolen and it is not earning any interest but money is like a child's comfort blanket for adults. It might not ward off the monsters but it makes us feel better. It is an emotional feeling of being in control."
At the height of the recent Greek crisis Ian Spreadbury, manager of one of Britain's biggest bond funds, recommended investors keep cash under the mattress.
Fidelity fund manager, Mr Spreadbury said cash at hand was wise given that a threat from a "systemic event" – similar to that caused by the collapse of Northern Rock in 2008 – could shake markets.
Spreading risk into different assets to cope was wise he said, including holding some "physical cash".
Nor is it confined to any specific age group. US research by Bank of America revealed the young, living a with constant fear of unemployment and having already witnessed two stock market crashes, prefer to keep large sums of money at home rather than bank or invest them.
Register for free to continue reading
Registration is a free and easy way to support our truly independent journalism
By registering, you will also enjoy limited access to Premium articles, exclusive newsletters, commenting, and virtual events with our leading journalists
Already have an account? sign in
Join our new commenting forum
Join thought-provoking conversations, follow other Independent readers and see their replies