UK snow - latest updates: London Heathrow airport cancels dozens of flights as ice and extreme weather causes major road accidents
Wintry weather leaves thousands of homes without power and drivers facing travel chaos
Tom Embury-Dennis
Wednesday 27 December 2017 16:56 Comments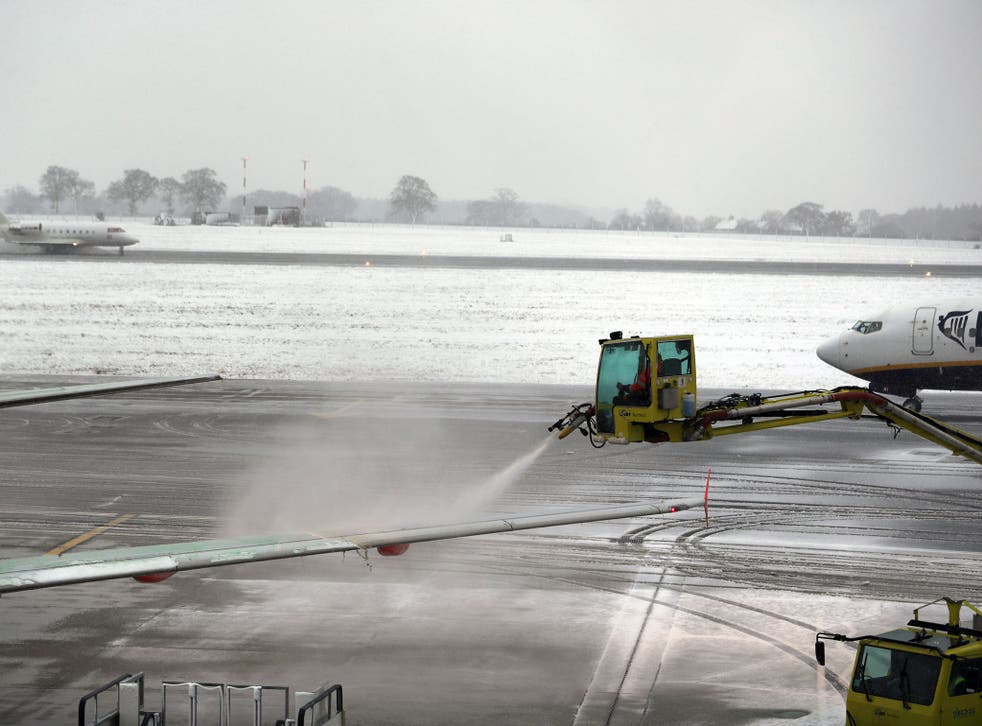 Dozens of flights in and out of Heathrow have been cancelled after snow and ice plunged parts of Britain into a deep freeze.
The wintry weather left thousands of homes without power and drivers facing travel chaos after a string of crashes across the country.
A lorry crash on the M1 closed three southbound lanes and left traffic jams in its wake before a vehicle fire triggered further disruption, while drivers on the A14 in Northamptonshire were stuck in snow for up to five hours.
The RAC said it saw a 15-20 per cent spike in call-outs compared with this time last year, including 12 relating to a pothole causing significant damage to vehicles on a section of the M25 around London.
There were similar stories of disruption, cancellations and delays at the country's travel terminals, with Stansted Airport twice temporarily closing its runway due to ice.
Elsewhere, latest figures from Western Power Distribution (WPD) and Scottish and Southern Electricity Networks (SSEN) showed nearly 13,000 homes remain without electricity.
Some of the worst traffic was on the southbound carriageway of the M1 near Lutterworth in Leicestershire which was closed after an accident involving a lorry.
Highways England also reported "severe conditions" in both directions on the A14 near Kettering, with motorists asked to avoid the area while all available resources were deployed to help move vehicles, some of which had been stuck for several hours, and clear snow from the carriageway.
Snow and sub-zero temperatures hit the UK

Show all 13
Another HGV jack-knifed in heavy snow on the M5 in Gloucestershire, as heavy snowfall overnight into Wednesday affected western parts of central England.
The Met Office predicted rain, sleet and snow would clear late on Wednesday afternoon, with icy patches developing in the evening.
RAC spokesman Pete Williams said the company expected to attend more than 9,000 breakdowns by the end of the day.
He said: "Our patrols are rescuing members who have run into difficulty in snow and ice which is causing treacherous driving conditions resulting in some minor accidents.
"We are also seeing a significant increase in pothole related damage, so punctures, wheel damage, steering and suspension problems.
"The toxic combination of high water levels, ice and snow is causing many road surfaces to crumble causing potholes to open up.
"RAC patrols attended a dozen vehicles alone on the M25 where a large pothole opened up causing a punctures and wheel damage and big delays for many motorists.
"Flat and exhausted batteries are another major cause of breakdown or simply non-start for many as the icy and damp conditions play havoc with vehicles' electrics.
"Many drivers who haven't used their car for several days over Christmas are finding that it doesn't have the charge to turn over the engine and they are left stuck on the drive or in the street.
"With more snow forecast and plummeting temperatures we expect the hazardous driving conditions will get worse tonight."
An AA spokesman said it had dealt with 8,000 breakdowns by lunchtime, which was "significantly more than a normal Wednesday in winter".
He added: "Although weather and traffic conditions out on the open road have been horrendous in places, particularly across the Midlands, the main breakdown hotspots have been in major towns and cities, such as London, Birmingham, Glasgow and Manchester.
"This is primarily down to people heading off to shopping centres for the sales in cars that have often sat idle on driveways over the weekend and the Christmas holiday.
"Up against the cold and bad weather, the demand on heaters, wipers and lights has been terminal for many batteries and other ailing electrics."
Heavy snow between Market Harborough and Kettering resulted in delays, while flooding between Swindon and Chippenham also had an impact on passengers.
The latest snowfall to hit the UK comes around a fortnight after hundreds of schools were closed, homes were left without power, and travellers were stranded or forced to stay indoors when a deep freeze gripped the UK.
Met Office meteorologist Simon Partridge said Thursday will generally be drier with slightly less wind, although it will remain cold.
Additional reporting by PA
Register for free to continue reading
Registration is a free and easy way to support our truly independent journalism
By registering, you will also enjoy limited access to Premium articles, exclusive newsletters, commenting, and virtual events with our leading journalists
Already have an account? sign in
Join our new commenting forum
Join thought-provoking conversations, follow other Independent readers and see their replies