Police warn of terror attack threats as crowds return to potential targets after lockdown
Four terror attack plots have been foiled in Britain since the start of the pandemic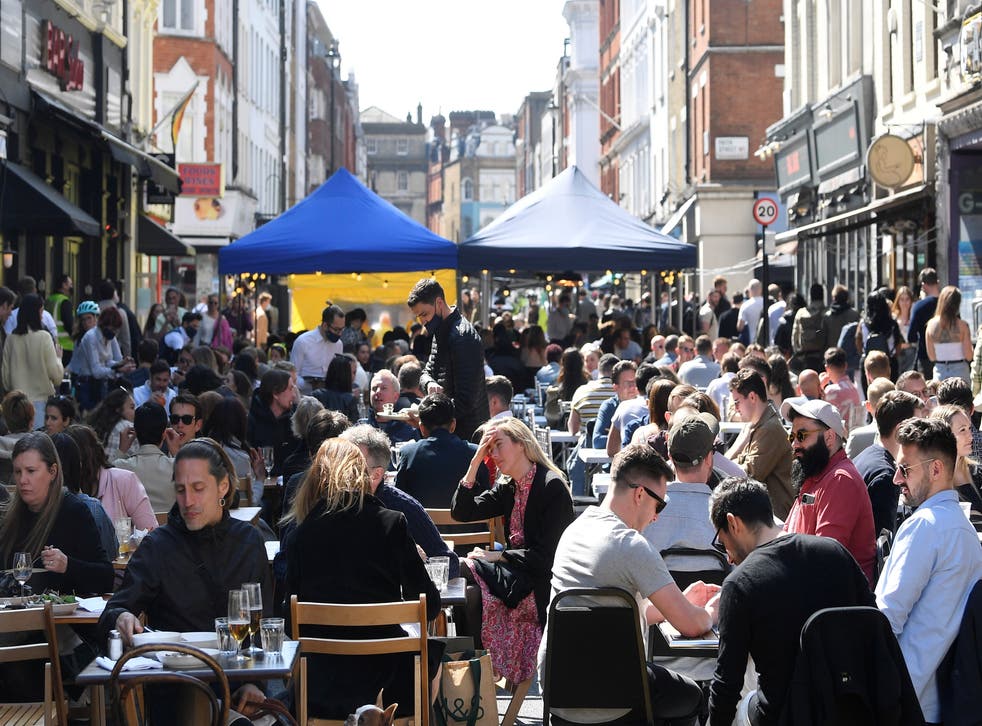 Leer en Español
Police have warned that terrorists' capabilities and intention to commit attacks in the UK "have not changed" during the coronavirus pandemic, as potential targets become more crowded after lockdown.
Four plots, two classified as Islamist and two extreme right-wing, have been foiled since March 2020.
They bring the total number of thwarted attacks in the past four years to 29, with 18 Islamist, 10 extreme right-wing and one classified as "left-wing, anarchist or single-issue terrorism".
A senior counter-terror officer appealed to the public to remain vigilant as restrictions ease.
"During the pandemic and the various lockdowns we've seen, the terrorist intent and capability has remained unchanged and people are becoming increasingly radicalised online," said Metropolitan Police deputy assistant commissioner Matt Twist.
"What has been missing to date is the opportunity for some of those terrorists to transact whatever they might wish to do, because there have been far fewer crowded places … terrorists have not stopped planning attacks or radicalising vulnerable people online, and now we are easing out of lockdown."
The most recent terror attack in the UK, the Reading stabbing on 20 June, saw a knifeman target groups of friends meeting in a popular park.
Khairi Saadallah, a Libyan asylum seeker with multiple criminal convictions, was given a whole-life prison term for murdering three victims in January.
The UK's current terror threat level stands at substantial, meaning further attacks are deemed likely.
It was raised to "severe" in November because terror attacks had hit France and Austria on the eve of national lockdowns, and there were fears that extremists would take their "last opportunity before the streets were cleared" with incoming restrictions in England.
Asked whether coronavirus had changed the tactics terrorists planned to use, Mr Twist said the bulk of the threat was still "focused on crowded spaces and creating mass casualties".
Three people killed in Reading stabbing attack
"We haven't seen a significant shift away from that," he added. "In lockdown there are far fewer venues with a lot of people."
Official figures show that the number of terror arrests made in the UK has dropped to the lowest level in a decade over the past year.
The number of reports to the anti-terrorist hotline and the number of people referred to the Prevent counter-extremism programme have also fallen significantly.
Of 185 terrorism-related arrests in 2020, 55 per cent of suspects were believed to be jihadists, 23 per cent far right and 22 per cent other or unclassified.
A rising proportion of suspects were children as young as 14, with 19 under-18s arrested in the year - and 14 of those classed as extreme right-wing.
Mr Twist said Islamist-inspired terrorism was still judged to pose the greatest threat to the UK, but the number of far right cases continues to grow.
UK news in pictures

Show all 50
He told a press conference on Monday that security officials were concerned that coronavirus had created an environment where "extremists find it easier to identify, target and potentially radicalise vulnerable people".
Mr Twist said the pandemic had exacerbated grievances that extremists prey on, such as economic inequality, stoked distrust in authority and inspired conspiracy theories.
He called on the public to use the ACT Early website and Prevent advice line to seek support for loved ones who may be being radicalised online.
Police are also calling for hospitality venues and businesses to conduct risk assessments on indoor areas and outdoor spaces.
Register for free to continue reading
Registration is a free and easy way to support our truly independent journalism
By registering, you will also enjoy limited access to Premium articles, exclusive newsletters, commenting, and virtual events with our leading journalists
Already have an account? sign in
Register for free to continue reading
Registration is a free and easy way to support our truly independent journalism
By registering, you will also enjoy limited access to Premium articles, exclusive newsletters, commenting, and virtual events with our leading journalists
Already have an account? sign in
Join our new commenting forum
Join thought-provoking conversations, follow other Independent readers and see their replies