UK travel: West Coast Mainline closed due to flooding between England and Scotland, says Network Rail
Five trains trapped between Lockerbie and Carlisle as water levels cover tracks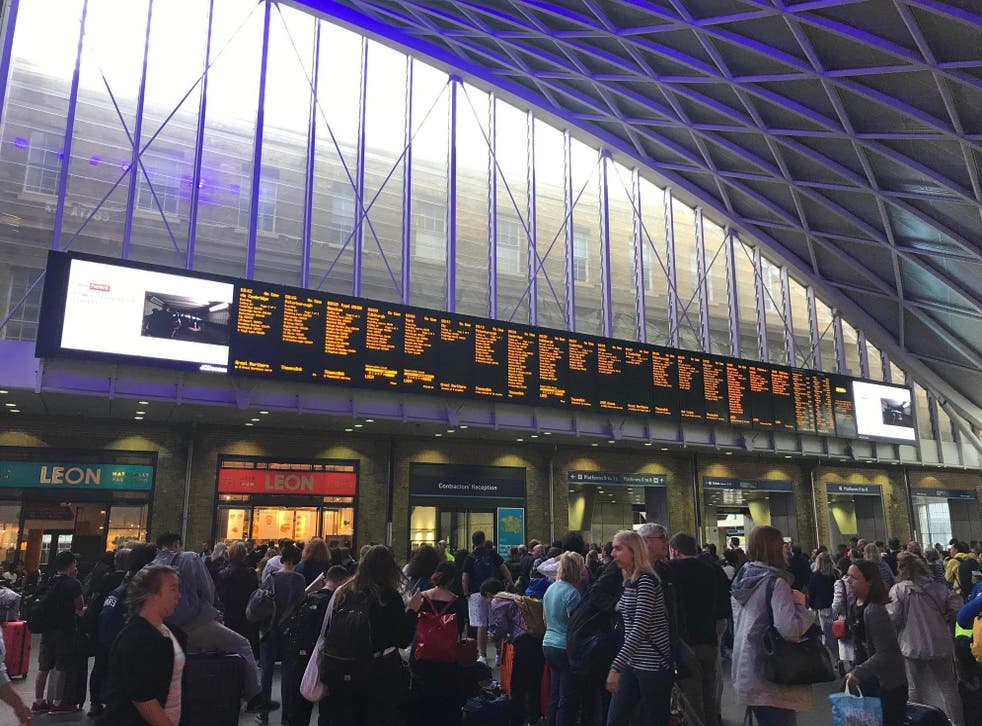 The West Coast Mainline has been closed due to flooding between England and Scotland, Network Rail said, capping 24 hours of severe disruptions on UK trains.
Five trains are currently trapped or blocked between Lockerbie and Carlisle, while other passengers were stranded on trains for hours for a major power cut yesterday night and weather-related incidents caused further disruption across the country.
Network Rail Scotland tweeted pictures of the flooding and said: "Following heavy overnight rain, we have flooding between Carlisle and Lockerbie with water from an adjacent field running onto tracks.
"Water level is about a foot above rails so West Coast Mainline is currently closed."
Network Rail later reopened the south-bound line but imposed a 5mph speed limit. The north-bound line remains closed, with trains heading back to Carlisle.
Heavy rain flooded the West Coast mainline in Cumbria too, between Penrith and Carlisle. "Trains running between these stations may be delayed by up to 45 minutes, revised or cancelled," said National Rail.
UK news in pictures

Show all 50
Network Rail Scotland said it was making arrangements for the trapped trains.
Travellers throughout the UK faced widespread disruption after the Met Office issued yellow weather warnings for thunderstorms, potential floods and strong winds across the whole country.
Passengers were stranded on Britain's railways yesterday night after a major power cut brought widespread disruption to the country.
Some passengers spoke of the "tense" atmosphere after they were stuck on trains outside London for more than eight hours.
Freelance journalist Dayna McAlpine and her fellow passengers were aboard a service that stopped half an hour away from King's Cross around 4pm – and didn't make it to London until about 1am.
"We ran out of food around 7pm - parents were going up and down the train carriages looking for food for their children," she said, adding that some passengers threatened to self-evacuate off the train.
"We could see Hatfield station in the distance, and there was word that other trains behind us and ahead of us had managed to make it to other stations and evacuate," she said. "But there was no way for us to make it to other stations."
She said staff on board the train looked "stressed" and "exhausted" with many passengers sympathetic in the situation.
Ms McAlpine had left Edinburgh at 8:30am to head to Bath. But she was evacuated from the train at Berwick-upon-Tweed due to a breakdown and was later informed to board a train to London at 12:20pm.
Rebeka Dio, from Guildford, also left Edinburgh later on Friday and was supposed to arrive in London around 8pm – but she too did not make it until 2am on Saturday.
"I was on the train for 10-and-a-half hours instead of the four-and-a-half-hour journey. We obviously missed our connecting train to south-east London and had to pay a crazy amount for an Uber," she said.
"For most of the journey we didn't know what was going on, both us and the train crew were clueless."
She said the atmosphere was tense in the beginning but improved as time went on, with passengers "painfully laughing at the situation".
"Our train crew was very honest about their confusion through the speakers, and every time there was an announcement the whole carriage cheered," she said.
Network Rail has imposed speed restrictions on many routes, particularly in coastal areas, where wind speeds are forecast to hit 60mph.
Services were delayed or cancelled on Saturday morning after a tree fell on the line between Ashford International and Hastings, although the obstruction has since been cleared.
Elsewhere, services have resumed between Guildford and Reading after a fallen tree was removed from the line near North Camp.
Thunderstorms and windy, wet weather are expected to grip the UK all weekend, bringing hazardous travel conditions and floods.
Weather warnings have been issued for much of the UK for the next 24 hours, and Network Rail has urged passengers to check for updates before they travel.
Forecaster Craig Snell said: "No matter where you are in the UK, you're at risk of seeing some kind of localised disruption from the wind."
Additional reporting by PA
Support free-thinking journalism and attend Independent events
Register for free to continue reading
Registration is a free and easy way to support our truly independent journalism
By registering, you will also enjoy limited access to Premium articles, exclusive newsletters, commenting, and virtual events with our leading journalists
Already have an account? sign in
Register for free to continue reading
Registration is a free and easy way to support our truly independent journalism
By registering, you will also enjoy limited access to Premium articles, exclusive newsletters, commenting, and virtual events with our leading journalists
Already have an account? sign in
Join our new commenting forum
Join thought-provoking conversations, follow other Independent readers and see their replies