UK weather: As flooding hits the Thames Valley, finger of blame points downstream towards Westminster
Locals in areas affected by the flooding are holding the Environment Agency to account for the devastation caused to their lives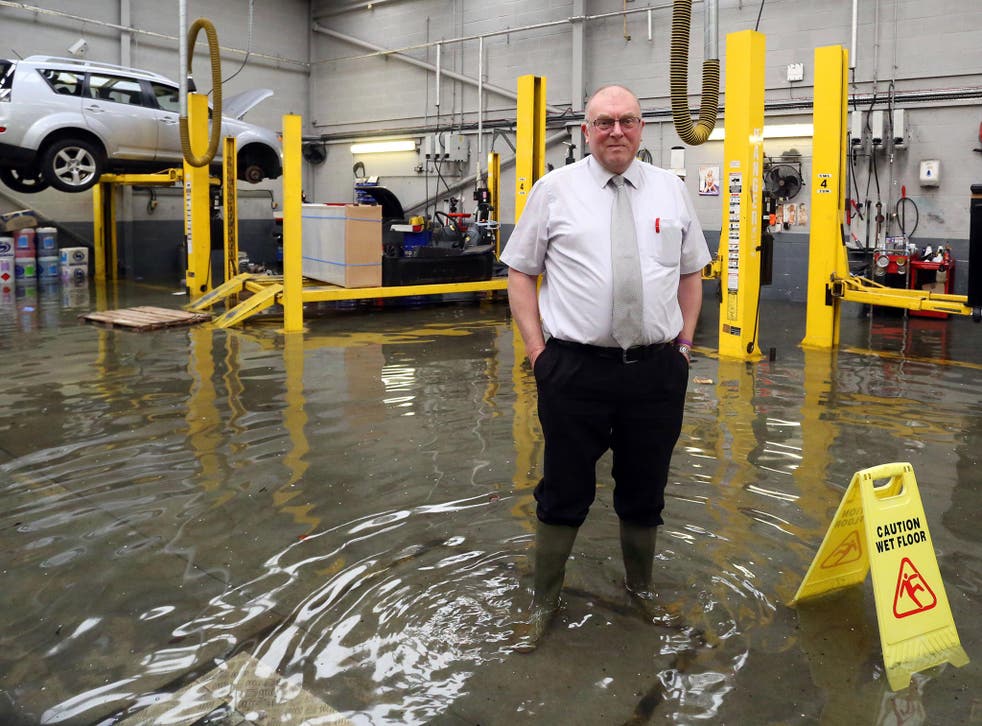 Mick Dummer got a nasty shock when he arrived at work on Monday morning.
His Thameside Mitsubishi car dealership and garage had finally succumbed overnight to the weeks of persistent rain, and its workshop was now submerged under a foot of water.
"We are well and truly under water and there's no way we can operate the workshop like this – the servicing, MOT work, repairs, we can't do anything," said Mr Dummer, the after-sales manager of the outlet, next to the main bridge in Chertsey, Surrey.
"From a business point of view it's annoying. We can't afford not to operate for too long but there's more rain coming in and the water is rising all the time. If this goes on for too long, we'll have to shut the site down and disperse the team to our garages in Reading, Putney and Chessington," Mr Dummer added.
Mr Dummer acknowledges that politicians appear to be stepping up their campaign against flooding as the problems spread from Somerset towards London. By the same token, he says there is a strong feeling among some in the community that Westminster is more committed to protecting "that end of the Thames" than them.
Nine miles north, a funeral procession in the Berkshire village of Datchet was unable to pick up mourners, prompting the local Ford garage to use its four-by-by four to pick them up and transport them to the cortege.
Four miles east of Chertsey the fire brigade was finishing off an evacuation programme ferrying the final members of a housing community across by boat after they were inundated with water.
In pictures: Flooding in Somerset

Show all 45
Around the corner, in a riverside cul-de-sac near the Surrey village of Shepperton, John and Judy Hickey were preparing for the inevitable, as they braced for the water to enter their riverside living room.
Standing knee-deep in water outside their home on Dunalley Park, Mr Hickey pointed the finger of blame firmly at the Environment Agency's failure to dredge the build-up of silt from the Thames and speed the river's flow.
"I'm pretty cross because they've not done their job – dredging the rivers would sort it but it's been at least ten years since they were dredged," said Mr Hickey.
"[Agency chairman] Chris Smith is completely useless and should resign – what does he know about flooding? What are his engineering qualifications?," said Mr Hickey, as his neighbours waded to and fro in green wellies, attempting to go about their everyday business.
"We're completely surrounded. The water is just 20 centimetres away from entering our home and I think we will be flooded in the next two days," Mr Hickey said.
"We've put the furniture upstairs and everything that's downstairs is on scaffolding," Mrs Hickey added.
Jillian Lampkin, a neighbour of theirs, wades past. "I'm watching the water creep up but what can you do? I've been here 30 years and the house was built in 1926 and it's never been flooded. But it quite possibly could be soon," Mrs Lampkin said.
Back over by the main Chertsey bridge, Clive and Debbie Milne-Buckley said extensive development in the area has exacerbated the flooding.
"I find it amusing that they keep building on the flood plains. There's a big development just down the road that was built about 10 years ago, which is under water," said Debbie.
"And they're still at it – they're building a bungalow near here that is all flooded, right on The Thames – it's a laugh a minute," added Clive.
True enough, a few hundred yards down the road the foundations of a bungalow-in-progess poke out of the top of the water, alongside bags of cement, wheelbarrows, cement mixers and breeze blocks in a scene of frozen construction.
A little way down, on the opposite side of the river to the house of 7-year old Zane Gbangbola, who tragically lost his life over the weekend, David Bishop is feeling frustrated at the Environment Agency's lack of action.
"I almost feel like kidnapping them and dragging them by the scruff of their neck and saying 'look'," said Mr Bishop, in reference to the Environment Agency. His living room is standing in 2 inches of water.
"They do not do enough and they don't listen to people – they are smug almost," he added.
Mr Bishop was standing next to a group of emergency services staff and vehicles, as the South East ambulance service had set up a temporary camp by the river and was waiting on standby.
A hundred yards down the river, a United Emirates-based Briton was watching as the water inched toward a first-floor apartment that he is thinking about buying.
"It has certainly put a bit of doubt in my mind," he said.
A few hundred metres "inland", the playground of St Anne's Catholic primary school was almost completely submerged.
Ann Colman, the school's headmistress, put a brave face on the situation. "The only impact is that we've had to stagger the playtime because we have less space. It's also caused a lot of excitement – the fields next door are very picturesque with birds and swans and seagulls and that has caused a lot of excitement among the children."
As Chertsey remained the subject of a severe flood warning – meaning risk of death – last night, it looks likely that things are going to get worse in the village before they get better. And with 14 severe flood warnings issued along The Thames, it seems as those the problem is going to inch closer to Westminster.
Register for free to continue reading
Registration is a free and easy way to support our truly independent journalism
By registering, you will also enjoy limited access to Premium articles, exclusive newsletters, commenting, and virtual events with our leading journalists
Already have an account? sign in
Register for free to continue reading
Registration is a free and easy way to support our truly independent journalism
By registering, you will also enjoy limited access to Premium articles, exclusive newsletters, commenting, and virtual events with our leading journalists
Already have an account? sign in
Join our new commenting forum
Join thought-provoking conversations, follow other Independent readers and see their replies