UK weather: Experts forecast big freeze and Storm Emma could cost UK economy £1bn a day
Flood alerts issued across UK as snow starts to melt and drivers warned to beware black ice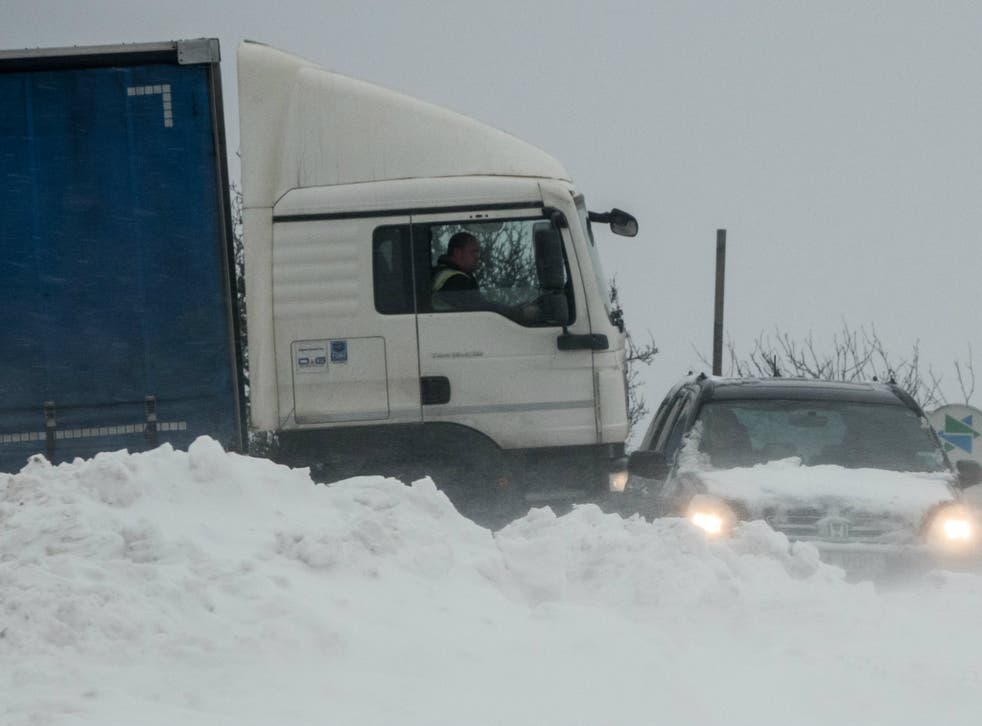 Disruption caused by the heavy snowfall and sub-zero temperatures of the past week could cost the UK economy £1bn a day, experts have forecast.
The big freeze may even halve Britain's GDP growth in the first three months of the year, it has been claimed.
Economists fear it could become the most expensive weather chaos since 2010, when bad weather at Christmas tripped up businesses.
Blizzards and snow over the past seven days led to drivers being stranded on motorways, rail passengers facing cancellations or stuck on non-moving trains, and builders being unable to work. Shops and restaurants lost trade, while salespeople were unable to reach new customers.
"It is possible that the severe weather could lead to GDP growth being reduced by 0.1 percentage points in Q1 2018 and possible 0.2 percentage points if the severe weather persists," Howard Archer of the forecasting group EY ITEM Club told The Observer.
A GDP growth rate of 0.2 per cent would be half the expected 0.4 per cent rate.
As the snow melted and temperatures rose above freezing over the weekend, weather forecasters fear many areas could be hit by floods.
A yellow weather warning for even more snow and ice is still in place for parts of northern England and Scotland, but a thaw is starting to set in across the rest of Britain - albeit with bitter winds.
Some roads were still closed on Sunday morning, and drivers were warned that black ice could make routes dangerous. The A66 in Cumbria, which was blocked by snowdrifts, finally reopened this morning after two days.
Temperatures in most places are due to gradually return to normal by tomorrow, with highs of 9C forecast in the South-West.
More than a dozen flood warnings were issued on Saturday at coastal spots across the UK, including at Whitley Bay in Tyne and Wear, and in Devon and Cornwall. The Met Office warned of fog, frost and ice overnight in the next few days.
"There is quite a lot of snow in some places across the south," Met Office forecaster Becky Mitchell said. "So it's going to be some time before all that snow melts away but temperature-wise over the next few days it's definitely going to help things.
"The main point is it's gradually turning milder so we are seeing an end to widespread cold conditions from this weekend onwards."
On Saturday, freezing rain and high winds left hundreds of homes without power, while the thawing conditions caused a number of pipes to burst on the Isle of Wight, Southern Water said.
A spokesman for the water company said: "Although we are doing as much as we can, it's still possible that customers around the Newport area may experience either a loss of supply or low pressure in the early hours of Sunday morning."
Icicles caused damage to overhead cables in Bishopton tunnel in Scotland, while North Yorkshire Fire and Rescue knocked down dangerous shards of ice overhanging a footpath.
A plan is being put together for a clean-up operation after Holyhead Marina, in Angelesy, North Wales, was battered by Storm Emma.
The weather conditions over the past few days damaged a large number of vessels berthed in the marina, and there was a low risk of pollution.
Airports are beginning reopen and train routes resume, but some operators have warned of reduced or altered timetables.
Additional reporting by PA
Join our new commenting forum
Join thought-provoking conversations, follow other Independent readers and see their replies