UK weather: Cold snap on the way as southwest continues to face flooding risk
Yesterday the Environment Secretary said Somerset Levels residents were 'right to be angry'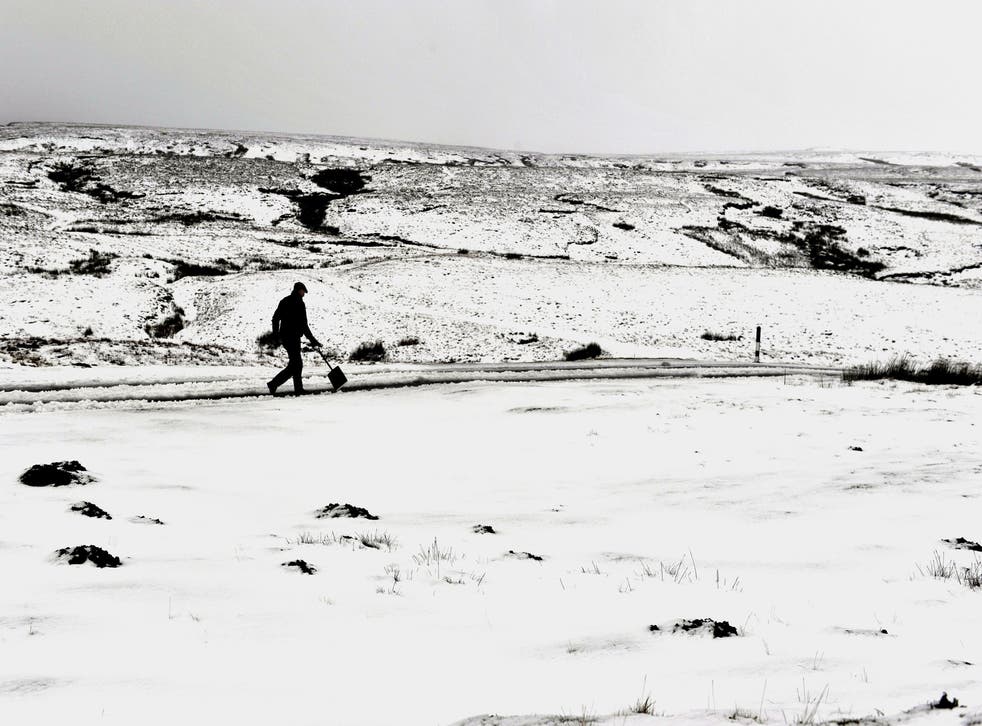 The UK is set for a cold snap this week, with forecasters warning of temperatures that will feel significantly colder those experienced recently, and snow showers spreading across the country.
Severe weather warnings for ice and rain have been issued by the Met Office, and the Environment Agency has flood warnings in place for the south and southwest going into Wednesday.
Forecasters from MeteoGroup said the unsettled start to the week will give way to a "cold and gloomy day" tomorrow, while Thursday is expected to be "less breezy but very cold".
While significant snowfalls have been forecast for higher ground across Scotland throughout the week, a band of rain and occasional snow showers will affect most of the east of Britain tomorrow and Thursday.
Temperatures are set to drop below freezing on Wednesday night, and the mercury is unlikely to climb above 5C even in the warmest regions during Thursday.
With winds picking up towards the end of the week, some parts of Scotland and northern England could feel as cold as -7C on Friday morning.
Despite the more settled, colder conditions, some persistent rain is still expected in southern regions. Yesterday, the Environment Secretary Owen Paterson visited the heavily flooded Somerset Levels and said residents there were "quite right to be angry" about the situation.
This morning Jean Venables, the chief executive of the Association of Drainage Authorities, blamed a lack of investment in flood defences for turning the Levels into a "disaster area".
Speaking on BBC Radio 4's Today Programme, she said: "It's a disaster area down there and it could have been avoided if we had actually kept up with maintenance on the rivers.
"We've got a 20-year backlog of inactivity down there and it is actually very, very urgent that those rivers are dredged."
Ms Venables said that properly maintained flood plains would have drained away the excess water "within a matter of days", and added that "we've got to manage it better than we are at the moment".
During Mr Paterson's visit, furious residents described living in "third world" conditions - with "overflowing" septic tanks and water in their homes.
Mr Paterson promised that a new plan to deal with flooding in the region would be drawn up within six weeks, "almost certainly" involving a project to clear the Parrett and Tone rivers.
"They are quite right to be angry," Mr Paterson told Sky News. "It's absolutely legitimate and that's how our political system works and that's why the two local MPs have brought this to my attention, that's why I convened the meeting of the experts, that's why I led the meeting with the local councils and that's why I hope we will have a very clear action plan presented to me in six weeks' time so that I can make a categoric decision once and for all.
Hampshire, Dorset and Somerset remain at medium risk of flooding, the Met Office said, while the Environment Agency currently has more than 143 flood alerts and 14 more serious flood warnings in place across England and Wales.
In pictures: Severe weather batters UK

Show all 60
Register for free to continue reading
Registration is a free and easy way to support our truly independent journalism
By registering, you will also enjoy limited access to Premium articles, exclusive newsletters, commenting, and virtual events with our leading journalists
Already have an account? sign in
Register for free to continue reading
Registration is a free and easy way to support our truly independent journalism
By registering, you will also enjoy limited access to Premium articles, exclusive newsletters, commenting, and virtual events with our leading journalists
Already have an account? sign in
Join our new commenting forum
Join thought-provoking conversations, follow other Independent readers and see their replies