UK weather: December second wettest on record as storms cause widespread flooding
Across the the country, an average of 211mm of rain fell during the month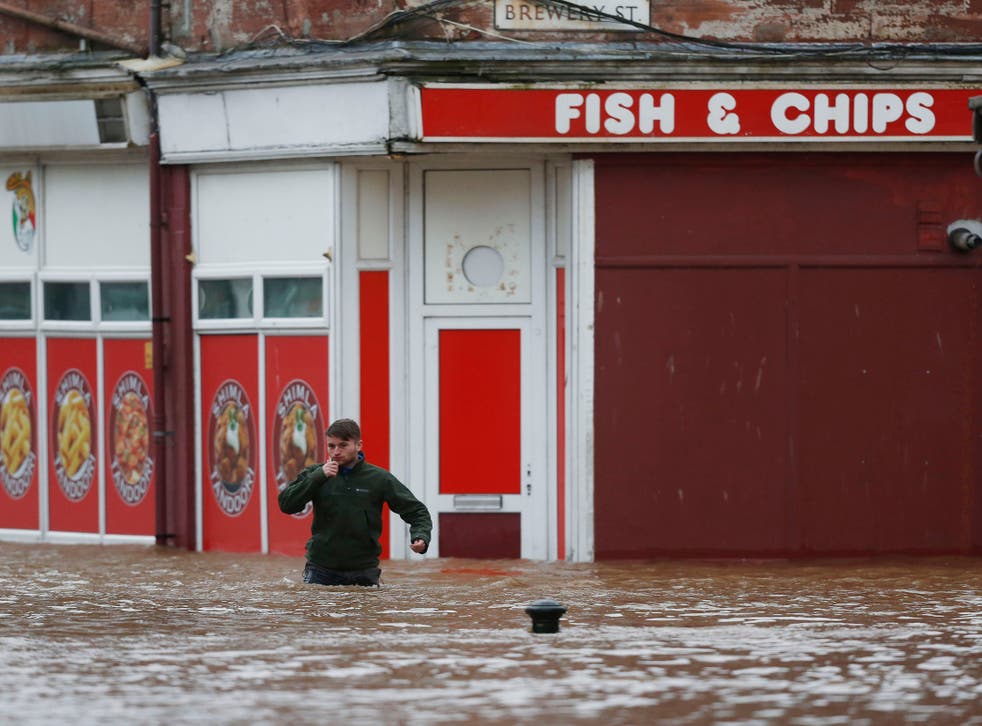 The lashings of rain that have caused widespread flooding across northern parts of Britain made the final month of 2015 the second wettest December in more than 100 years, the Met Office has confirmed.
Across the the country, an average of 211mm of rain fell during the month. Only December 1929 was wetter, with 213mm of rain. Scotland and Wales both had their wettest December since 1910, the earliest year on record – 333.1mm and 321mm respectively.
This year is on course for being one of the 10 wettest on record in the UK. The wettest year was 2000, when 1,337mm of rain fell across the country. Provisional figures for the year up to December 29 show 1,270mm of rain.
Storm Desmond was largely responsible for making December a record-breaking month, say the experts. Storm Eva brought more gales and heavy rain to many northern areas on Christmas Eve, then Storm Frank moved in to cause more mayhem, with Scotland and Northern Ireland bearing the brunt.
It was also the warmest December on record, according to the latest figures. Average temperatures for the whole of the UK reached 8C, which is 4.1C above the long-term average. The previous record was 6.9C, set in 1934.
The Met Office said: "This means the temperatures this December 2015 were closer to those normally experienced during April or May."
Climate scientist Professor Piers Forster, from the University of Leeds, said: "There is no doubt in my mind that climate change is partly responsible for the flooding across the north of England. These floods are in part due to greenhouse gas emissions." He said the high temperatures resulted from the combined effect of a strong El Nino ocean-warming system in the Pacific and a man-made global warming trend.
Meteorologist Dr Paul Williams, from the University of Reading, said "simple physics" showed that warmer air holds more water vapour. He added: "The global warming that we have experienced so far has increased the atmosphere's moisture storage capacity by about 7 per cent. This is undisputed science."
PA
Register for free to continue reading
Registration is a free and easy way to support our truly independent journalism
By registering, you will also enjoy limited access to Premium articles, exclusive newsletters, commenting, and virtual events with our leading journalists
Already have an account? sign in
Register for free to continue reading
Registration is a free and easy way to support our truly independent journalism
By registering, you will also enjoy limited access to Premium articles, exclusive newsletters, commenting, and virtual events with our leading journalists
Already have an account? sign in
Join our new commenting forum
Join thought-provoking conversations, follow other Independent readers and see their replies