UK weather: Flooding in Worcester causes River Severn to hit highest level on record
Jamie Merrill
Thursday 13 February 2014 19:42 Comments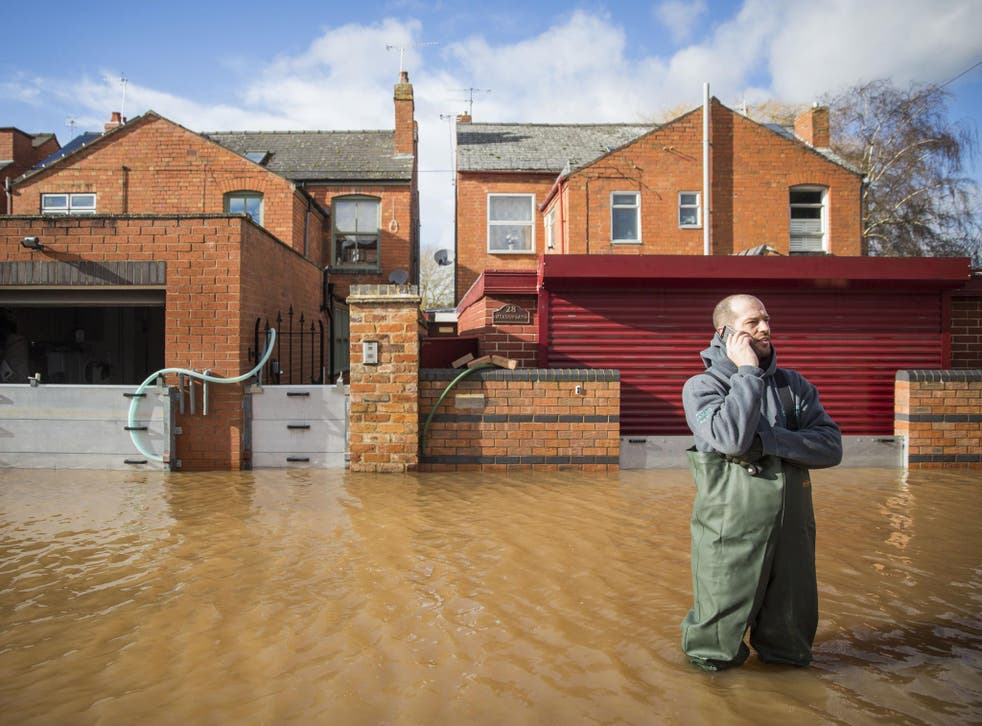 The residents of the cathedral city of Worcester are used to flooding – as any cricket fan will remember, the local county cricket ground was so badly affected in 2007 that it didn't host a match until late June.
But with the River Severn hitting its highest level since records began on Thursday, pushing 500 tonnes of water a second under the city's historic bridge, residents were beginning to wonder if 2014 could be the worst yet.
With river levels of up to 5.67 metres recorded by the Environment Agency Thursday morning, the only vehicles allowed over the crossing were driven by emergency and council workers, as hundreds of locals used their lunch hours to stand in awe in front of the engorged flow of water now splitting the town partially in two.
Though they were causing no problems, Thames Valley Police has warned people to avoid "flood sightseeing", saying that 4x4 drivers trying to catch a glimpse of the scene were damaging properties by creating waves with their cars.
On the bridge in Worcester, the onlooking Environment Agency's area manager David Throup said: "It is a colossal flow of water and it has to go somewhere. Every flood defence we own is out along the River Severn but despite our best efforts around 40 homes have flooded in the last 48 hours and many more are surrounded by water."
In Pictures: 2014 Winter floods

Show all 60
The next 48 hours could be just as bad, with storms forecast for Friday expected to be even worse than those on Wednesday, when 100mph winds cut off electricity in many areas, leaving around 56,000 properties across the country still without power Thursday night.
The Met Office is forecasting between 30 and 40mm of rain in just six hours on Friday morning in West Dorset, South Somerset, Devon and Cornwall.
A falling tree was also blamed for the death of a 33-year-old man in a car crash in Macclesfield on Thursday, while a pensioner believed to have been electrocuted while trying to move a tree that had brought down power cables was named as Roger Hayward from Bremhill, Wiltshire.
Fire and rescue workers from across England and Wales are descending on the flood-ravaged south of the country in what amounts to the largest deployment of fire brigade assets since the Second World War, officials have said.
Nearly three-quarters of the 49 fire brigades across England and Wales' are participating in the fight against flooding, sending staff and equipment to Somerset, Thames Valley and Cornwall.
Meanwhile panic about rising waters led to a row in Christchurch, where the Dorset town's borough council asked locals to pay £30 for a "flood pack" of four standard sandbags and one to protect doorways. The Prime Minister, David Cameron, insisted that local authorities should not be charging residents in flood-hit areas for sandbags. But Christchurch council responded by saying they would only provide the sandbags in emergencies, and as yet there were no alerts.
Back in Worcester, one mile upstream at Waterworks Road, motorbike salesman Christian Gander was waist-deep in water but still phlegmatic about it seeping up from the ground into his home. He was also full of praise for the Environment Agency and particularly Mr Throup, saying: "I'd like to buy him a pint when this is all over."
Pointing to the £20,000 of flood barriers and pumps he was using to keep his Victorian home as dry as possible, Mr Gander told The Independent: "We live by the river so we expect to see swans in the garden and to be flooded during wet winters. We are ready for it and thankfully our barrier has kept most of the water out. The concern though is Friday and the weekend, when we expect the water levels to rise again."
The army responded to the "phenomenal water levels" in the local area with 100 soldiers from the First Battalion of the Royal Irish arriving on Thursday. Along with soldiers from The Rifles elsewhere in the county and Herefordshire, they will use specialist vehicles capable to travelling through flood water 1.5 metre deep to provide assistance to more remote flood-hit communities. Many small hamlets have been cut off, including the village of Holme Lacy on the bloated River Wye.
Register for free to continue reading
Registration is a free and easy way to support our truly independent journalism
By registering, you will also enjoy limited access to Premium articles, exclusive newsletters, commenting, and virtual events with our leading journalists
Already have an account? sign in
Join our new commenting forum
Join thought-provoking conversations, follow other Independent readers and see their replies