UK weather forecast: Rainbows predicted across UK as Manchester and Cardiff hold Pride celebrations on mixed bank holiday weekend
Sunshine and showers expected over most parts of Britain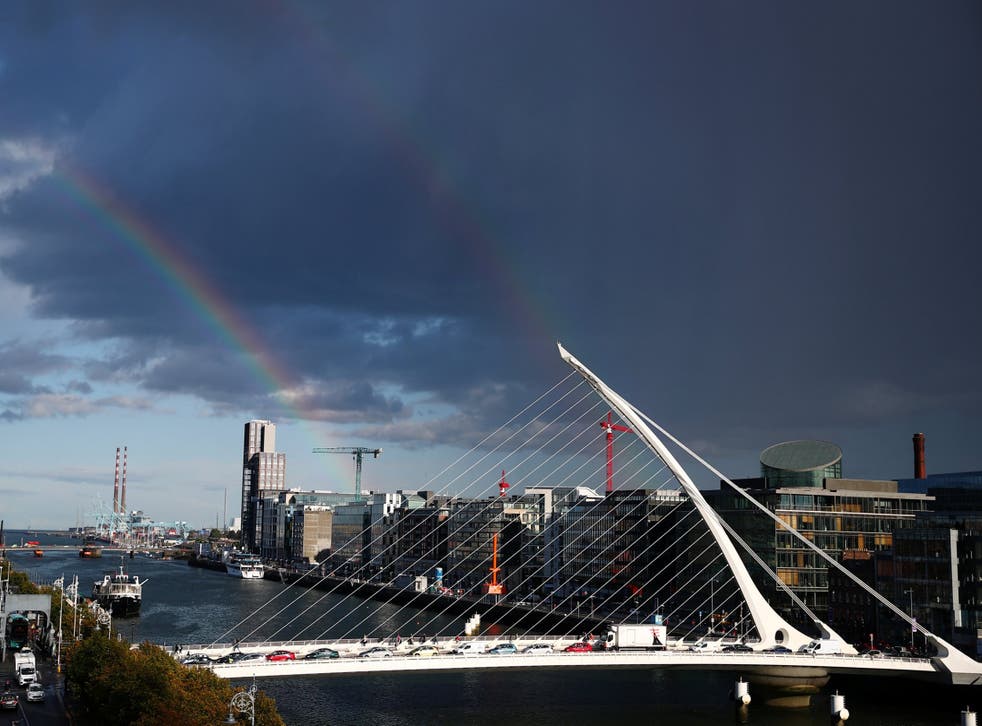 Weather forecasters are predicting an outbreak of rainbows across the UK as sunshine and showers combine over the bank holiday weekend.
The meteorological phenomenon caused by the reflection and refraction of light in water droplets has already been spotted in Manchester as it kicks off a four-day Pride celebration.
Further sightings are highly likely as rain sweeps from the northeast down to eastern areas throughout Saturday, according to the Met Office.
"It is too tricky to forecast where rainbows will occur but you know if you have sunshine and showers there are going to be rainbows," said spokesman Greg Dewhurst.
"You also need the right direction of the sunshine. The best way to see a rainbow is to have the sun behind your back and then raining ahead of the sunshine so you are looking into the rain or under the rain.
"If the sun and rain are in front of you the angle of light is not in the right direction."
The Met Office has also issued its top five unusual rainbows, including the double rainbow, the full circle rainbow and the "fogbow", which is caused by very fine water droplets.
Their list is topped by fire rainbows - caused when light travels through ice droplets - and monochrome rainbows, which are common at sunrise and sunset.
A double rainbow was seen over the river Liffey ahead of the Pope's visit to Dublin.
Rainbow pictures have already been posted on social media by weather enthusiasts ranging from Donegal in Ireland and Midlothian in Scotland to Stanbury in Yorkshire and Manchester. Cardiff is also holding Pride Cymru celebrations over the weekend.
The sunshine is expected to be replaced by dark clouds and heavy rain on Sunday before returning on bank holiday Monday, when temperatures are expected to reach up to 22C in the southeast of England.
Warmer weather is forecast for Thursday onwards, with autumn officially beginning – according to the meteorological calendar – on 1 September.
The second week of September is set to bring "a good deal of dry, warm and settled weather", according to the Met Office.
Forecasters said there was a "good chance" southern parts of the UK may become "very warm", but added another heatwave was "looking less likely".
Historic sites across UK exposed by heatwave

Show all 15
The Met Office said summer 2018 was still likely to be one of the hottest ever in the UK even if it does not beat the record set in 1976.
"It's going to be very close," said Mr Dewhurst. "When we looked at it in mid-August it was joint hottest, but temperatures have dropped recently. 1976 may just beat it"
Register for free to continue reading
Registration is a free and easy way to support our truly independent journalism
By registering, you will also enjoy limited access to Premium articles, exclusive newsletters, commenting, and virtual events with our leading journalists
Already have an account? sign in
Register for free to continue reading
Registration is a free and easy way to support our truly independent journalism
By registering, you will also enjoy limited access to Premium articles, exclusive newsletters, commenting, and virtual events with our leading journalists
Already have an account? sign in
Join our new commenting forum
Join thought-provoking conversations, follow other Independent readers and see their replies