After Storm Brendan battered the UK on Tuesday – blowing a roof off a block of flats in Slough and frightening passengers on a bumpy flight to Belfast – the UK will have a short reprieve before heavy rain and strong winds are set to hit again.
Most of the UK will have drier and brighter conditions throughout Wednesday, but the evening will turn windy and rainy overnight in the far north.
Met Office forecaster Bonnie Diamond said: "The settled sunny spell today isn't going to last, as winds will increase in strength and gales could be severe at times as we head into Thursday."
The unsettled weather will spread across Northern Ireland and Scotland from dawn on Thursday, before hitting England and Wales.
Forecasters warn of heavy rain in the west of England with coastal gales of up to 60mph in Devon, Cornwall and Plymouth, and winds of up to 45mph inland. Winds are expected to ease by Thursday evening, said Ms Diamond
Weather photographer of the year, 2019

Show all 24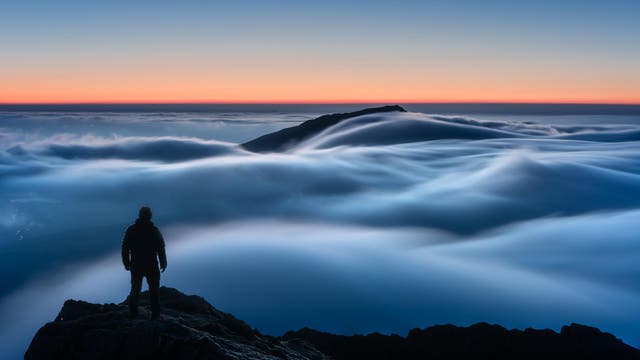 The Environment Agency has dozens of red flood warnings in place throughout the south coast and north-eastern parts of England, as well as some parts of the Midlands.
People living in or visiting the south coast have been warned to take extra care while walking along the coast as large waves pose serious danger.
EA flood duty manager Sarah Cook said: "Strong winds and high tides could lead to large waves and localised flooding along parts of the south coast of England over the coming days."
Heavy showers and sunny spells are predicted on Friday, with the north and west of the UK experiencing the brunt of the showers. Very strong winds are expected in the far north of Scotland.
"But the weekend is looking very different – much more settled with fine and dry weather, but it will get quite a bit colder," said Ms Diamond.
A high pressure system moving in over the weekend will see temperatures overnight dropping to freezing or below freezing, with highs of around 8C – average for this time of year.
Storm Brendan wreaked havoc as it disrupted ferries and trains in Scotland and the Irish sea and speed restrictions were imposed on railways throughout the UK. Seven flights were diverted from Gatwick Airport due to gales.
In Slough, Berkshire, winds of up to 50mph in the area blew a roof clean off a building and on to a high street on Tuesday evening. No one was injured in the incident.
The strongest gust recorded in the UK was 87mph on Monday, when the storm first hit in South Uist, in the Western Isles of Scotland.
Join our new commenting forum
Join thought-provoking conversations, follow other Independent readers and see their replies