UK weather: Ice, rain and fears of more flooding as six-week plan for flooded areas is announced by Owen Paterson
Unsettled weather looks set to continue across parts of the UK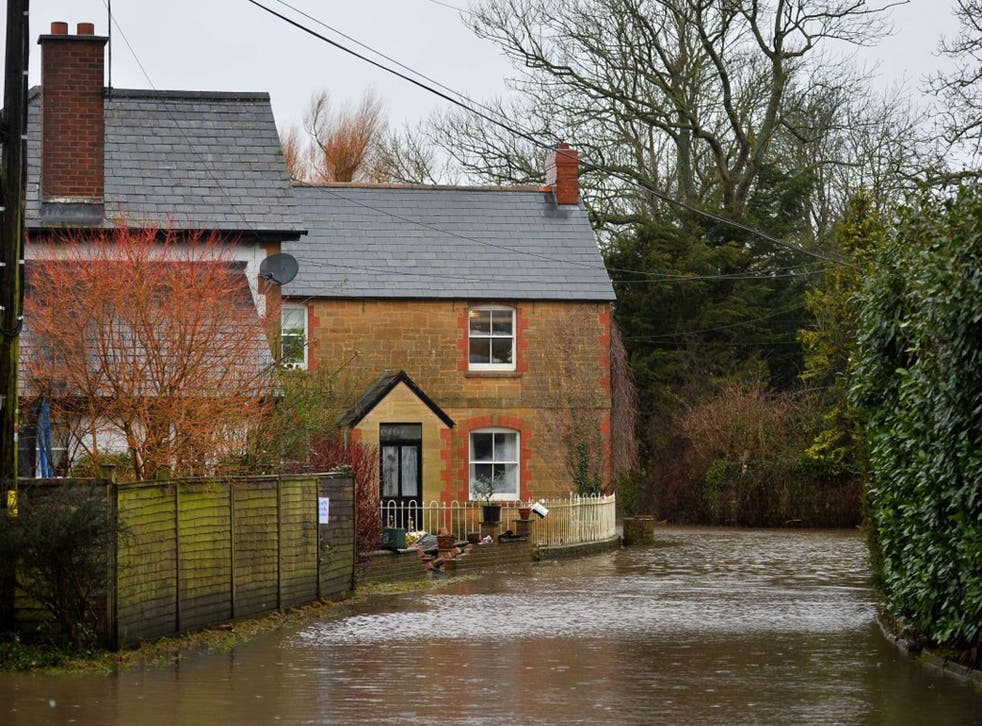 More ice and rain is expected to hit the UK today as temperatures plummet to around freezing and communities in the south west continue to tackle flooding.
The counties of Hampshire, Dorset and Somerset remain at risk of flooding as another day of rain hits the regions, and parts of Scotland and the far north of England could see sleet and some snow later today.
The Met Office has also issued yellow 'be aware' warnings for Grampian, Central, Tayside and Fife.
Environment Secretary Owen Paterson faced tough questions when he visited the Somerset Levels today, where boats are now the only method of transport between some villages, which residents have dubbed "islands".
Mr Paterson told angered residents at the Northmoor Pumping Site, near Bridgwater, a new plan to deal with a flood-hit area of south-west England will be drawn up within six weeks. Locals from the area said they were living in "third world" conditions - with "overflowing" septic tanks and water in their homes.
During the visit, Mr Paterson acknowledged that there was legitimate anger felt among politicians, farmers and residents on the Somerset Levels, who have claimed the lack of dredging of local rivers by the Environment Agency has exacerbated the problems they have faced.
Mr Paterson said the Environment Agency and local councils would produce a new plan, which would "almost certainly" involve a project to clear the Parrett and Tone rivers.
He told Sky News: "They are quite right to be angry, it's absolutely legitimate and that's how our political system works and that's why the two local MPs have brought this to my attention, that's why I convened the meeting of the experts last night, that's why I led the meeting this morning with the local councils and that's why I hope we will have a very clear action plan presented to me in six weeks time so that I can make a categoric decision once and for all."
The Environment Agency was criticised by Bridgwater and West Somerset MP Ian Liddel-Grainger over the lack of dredging on the river system.
He told the BBC Radio 4 Today programme: "Once it's dredged we can then maintain it but the Environment Agency has to stop this mucking around and get on with it."
Speaking at Northmoor Pumping Station, Councillor Julian Taylor, of Sedgemoor District Council, called the lack of dredging a "self-fulfilling prophesy".
"We've been having a lot of concern for at least 20 years saying the river should be dredged and put back to its original condition," Cllr Taylor said.
"We've had conspicuous neglect for 20 years where they have not maintained the rivers properly. If you do not maintain the rivers properly, you'll get water more quickly off the moors.
"It's a self-fulfilling prophesy. We are asking the minister to invest now for the future so that this doesn't happen again."
The Environment Agency has issued 137 flood alerts and 14 flood warnings - which mean immediate action is required - in the south west, two in the south east and one in the north east.
Temperatures could fall to around freezing resulting in a risk of icy stretches on roads and the potential for travel disruption.
Yesterday, residents in Chobham, Surrey, told BBC News a storm which swept across Kent, Sussex and Surrey whipped up a tornado so powerful that it "shattered" buildings and "lifted" feral cats off the ground.
Meanwhile, Somerset County Council has declared a "major incident" for all areas affected by flooding in the county.
Many communities are still coming to terms with the flooding that hit Somerset at the beginning of January and now face further problems.
Somerset County Council deputy chief executive Pat Flaherty said: "Our priority has to be to keep people safe.
"We are doing everything we can to do this and we believe that declaring a major incident shows just how urgent the situation is for many of our residents and communities.
"The reason we are taking this action is the long-term nature of the issues we are facing and to enable a consistent approach to the way that we deal with them."
Additional reporting by Press Association
Register for free to continue reading
Registration is a free and easy way to support our truly independent journalism
By registering, you will also enjoy limited access to Premium articles, exclusive newsletters, commenting, and virtual events with our leading journalists
Already have an account? sign in
Register for free to continue reading
Registration is a free and easy way to support our truly independent journalism
By registering, you will also enjoy limited access to Premium articles, exclusive newsletters, commenting, and virtual events with our leading journalists
Already have an account? sign in
Join our new commenting forum
Join thought-provoking conversations, follow other Independent readers and see their replies