UK weather latest update: Storm Doris set to bring gale-force winds and blizzard-like conditions
Damage to buildings, power cuts and travel disruption likely, warns Met office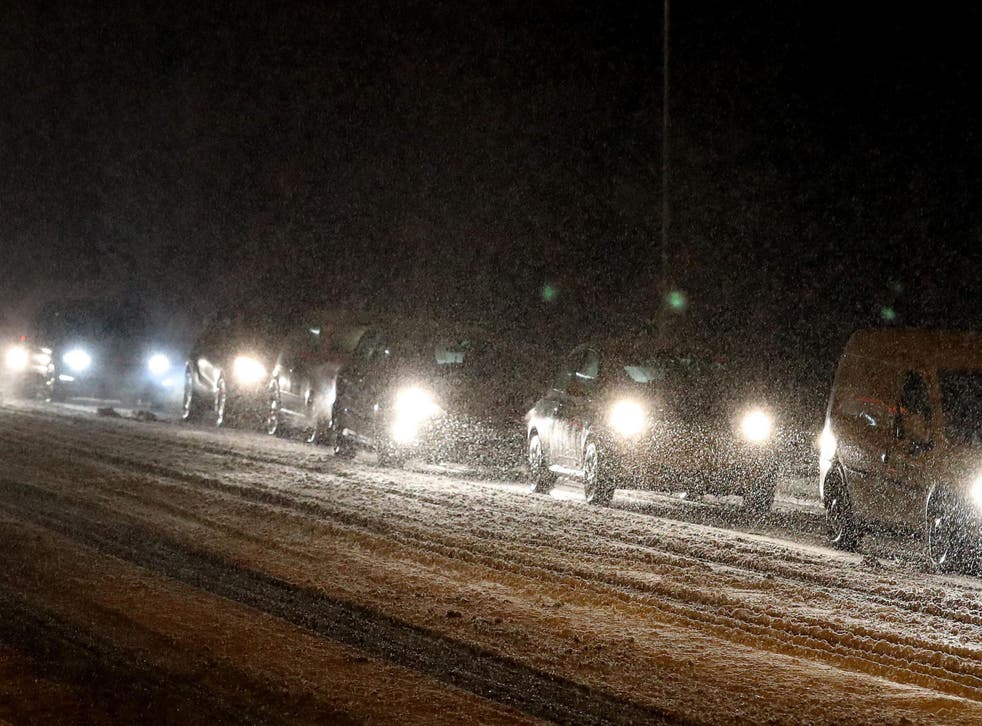 The worst storm of winter is set to bear down on the UK, bringing with it gales and blizzard-like conditions.
Winds of up to 80mph and heavy snow were likely to disrupt travel, damage buildings and send debris flying, forecasters warn.
Severe weather warnings have been put in place for much of the UK, and amber alerts – telling people to "be prepared" – stretched across the much of the North and the Midlands.
More snow than initially expected is forecast for Scotland and northern England, with accumulations of up to 15cm predicted in many areas.
Northern Scotland was set to be hit by winds of up to 80mph on Wednesday before Doris arrives from the Atlantic on Thursday, the Met Office said.
Further south, blustery gales overnight will subside over the course of the day, before picking up again in the evening.
Amber warnings predicted gales and heavy rain in parts of North Wales, the Midlands, and east and north-west England, while winds as fast as 60mph were also expected to batter southern England.
"We have got a fairly active area of low pressure coming in from the Atlantic," said Met Office forecaster Emma Sharples.
"It is strengthening as it moves eastwards to the UK."
The Met Office's amber weather warning alerts people that "whilst the strongest winds look to be only short-lived, damage to structures, interruptions to power supplies and widespread disruption to travel networks are likely, with a danger of injury from flying debris".
A weather warning for snow is also in place for Scotland, which could see treacherous blizzard-like conditions.
Storm Doris is expected to move on quickly, with the worst of the weather gone by Thursday evening.
While further Atlantic gusts will bring more rain and wind through the weekend and into next week, they are not expected to reach the heights of Doris.
Storms with the potential to cause substantial impact are named by the Met Office and Met Eireann, moving through the alphabet.
The first was named Abigail in November 2015, after members of the public suggested monikers for the "name our storms" project.
UK news in pictures

Show all 50
Storm Doris contrasts with Monday's temperatures, where visitors to Kew Gardens, west London, enjoyed the warmest day of the winter so far, at 18.3C.
Parts of London and the south of England had temperatures warmer than Ibiza, southern Spain and Menorca.
Press Association contributed to this report
Join our new commenting forum
Join thought-provoking conversations, follow other Independent readers and see their replies