UK weather: Roads 'melt' in heatwave as Britain set to experience hottest June day since 1976
Cambridgeshire council sends gritters out to save roads from blistering heat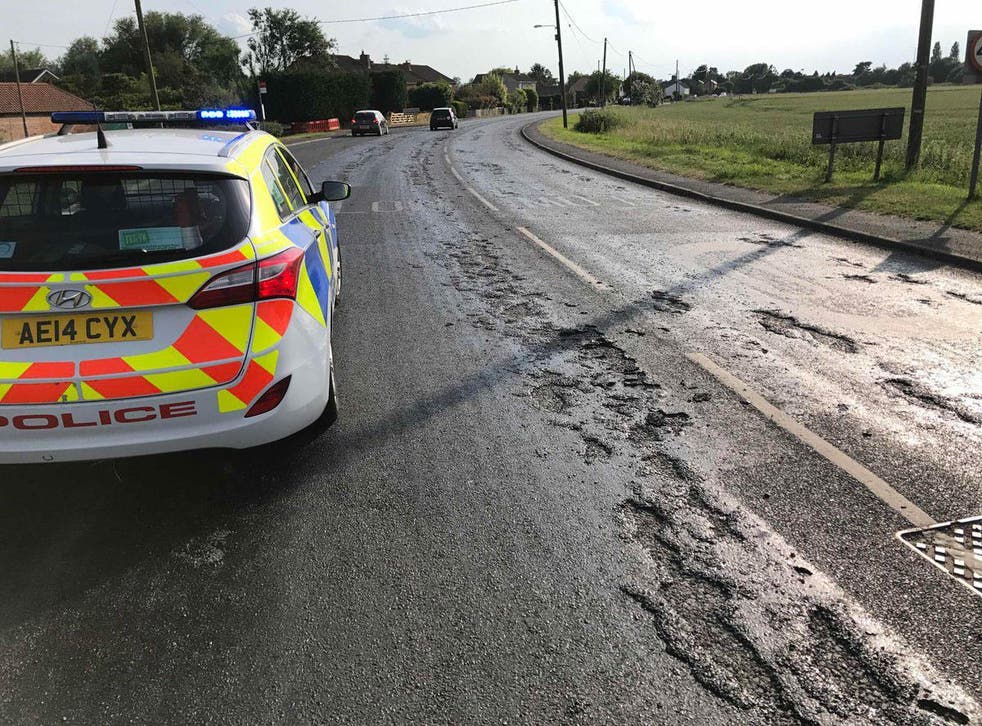 The UK is forecast to have its hottest June day in over 40 years amid a heatwave so intense it has melted roads, causing police to issue warnings to drivers and council staff to send out gritters.
Britain has been basking in its longest continuous spell of high temperatures in June since 1995, with the mercury hitting 30C and above for five days in a row.
Today could see temperatures hit as high as 34C, marking the hottest June day since 1976.
But while people have been enjoying the continuous sunshine, the hot weather has caused havoc for drivers.
Cambridgeshire council was forced to put gritters on the roads after surfaces started to melt in the heat on Tuesday.
​Fenland police warned drivers about specific roads that appeared to be melting, tweeting images where they had come across the danger.
Agnes Owen, who works at a service station in Cambridge, said cars' tyres were "literally ripping the tarmac off the road".
She told the Cambridge News the situation appeared "quite dangerous" and the melted roads meant it "sounded like cars were driving on water" when they travelled across them.
A spokesperson from Cambridgeshire council told the newspaper road surfaces had reached 40C, but the gritters helped to settle the surface by laying granite dust.
Drivers in Surrey received a similar warning from police about "extreme heat melting tarmac" near Guildford, and were told the local authority had been made aware of the situation.
One driver joked on Twitter that it looked as though Surrey Council had used chocolate company Cadbury to resurface the A31 Hogs Back. "I have a fair amount of 'road' on the underside of my car!" he added.
Britain basks in sunshine as heatwave hits UK

Show all 6
In Manchester, some materials on the roads became sufficiently pliable for one person to be able to scrawl the word 'hot' between a set of double yellow lines on Duke Street in Castleford, the Manchester Evening News reported.
In the south, sand has been put on the tram tracks in West Croydon as a flexible sealant has softened in the heat, causing the black substance to appear near the tracks, the Croydon Advertiser reported.
Join our new commenting forum
Join thought-provoking conversations, follow other Independent readers and see their replies