UK weather: Rain and flood warnings extended after 'Winter Storm Hercules' brings 27ft waves to Land's End and flood sirens in Dorset
Met Office severe weather warnings now in place for Thursday morning
Adam Withnall
Tuesday 07 January 2014 15:00 Comments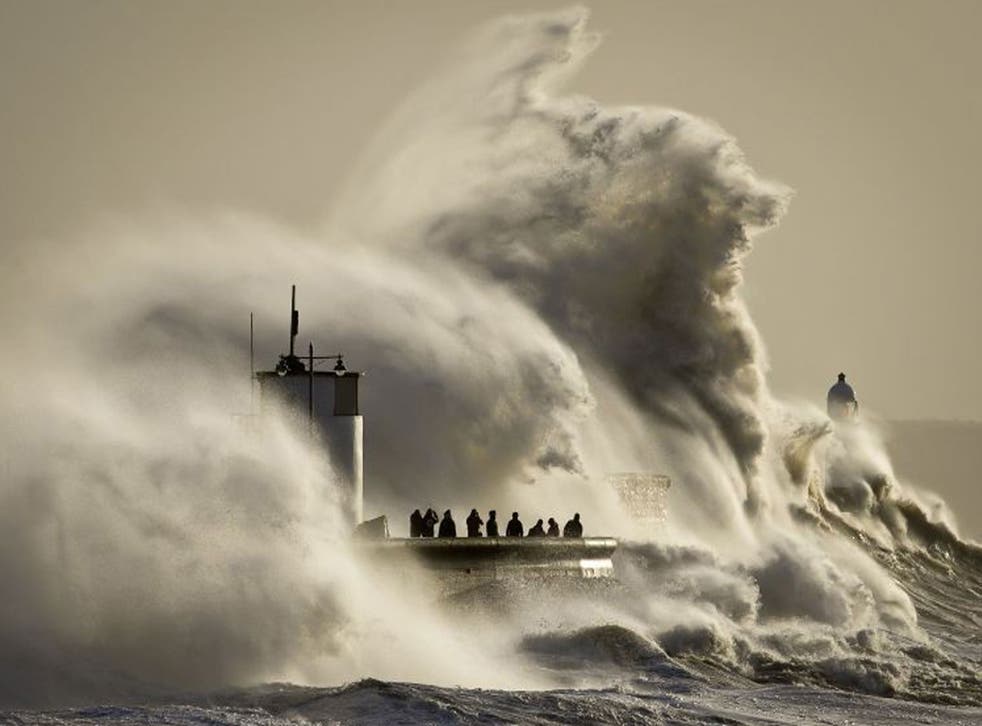 The UK was today warned to expect at least three more days of heavy rain and flooding as the west coast counted its losses following the arrival of "Winter Storm Hercules", the system which has left behind a record-breaking deep freeze in the US.
Last night a flood siren warning of extreme danger to people and property was sounded in Dorset, as gales and tidal surges battered the coast.
The Environment Agency raised the alarm after its sea defences were breached at Chiswell Beach in Portland last night, following on from a severe flood warning in the area.
Dorset Police told families to move to an upstairs room facing away from the sea and arm themselves with flood kits.
While evacuated residents in Aberystwyth were told they could return to their homes today, flood warnings remained in place across every region of England and Wales.
The Met Office said a further band of heavy showers was passing northeastwards across the country, and extended its severe weather warnings for rain into Thursday morning.
This was reflected by the Environment Agency's flooding forecast, which said 45 counties would still be at risk as we head into the end of the week.
In addition to the severe flood warning at Chiswell, two others remained in place today - meaning there is also a real "danger to life and property" at nearby Preston Beach and the Lower Stour in Dorset.
Around 105 less serious flood warnings are in place across the country, including in Dorset, Oxfordshire, south Wiltshire, Hampshire and along the river Thames, while the number of low-level "flooding is possible" alerts dropped just under 200.
Read more:
Owen Paterson's climate change scepticism 'has blinded him to future flooding risks'
Yesterday waves were recorded as high as 27ft at Land's End, and reports on surfing forecast websites suggested scores of professional "big wave chasers" had followed Hercules' movements across the Atlantic.
The British big wave surfer Andrew Cotton wrote on his official Facebook page on Monday: "With the 'biggest swell ever' on the charts for Europe I'm packing all my equipment and hitting the road."
He told the action sports news outlet Grind TV: "We left for Ireland on Saturday, getting on the last ferry before they were all cancelled."
The Met Office's chief forecaster said a "large, deep depression" was whipping up waves out to sea as a system of low pressures moved northeastwards across the Atlantic.
Nicola Maxey, a spokesperson for the Met Office, confirmed that Britain was feeling the effects of the same system that had led to such extraordinary conditions in the US over the past week.
She told The Independent the storm was "a different beast" after moving across the ocean, picking up water but also gaining heat. It passed to the west of Scotland later on Monday, but left behind a trail of devastation and took visible chunks out of much of the coastline.
Meanwhile, the transport networks were still reeling from the widespread disruption yesterday as commuters tried to return to work after the Christmas and New Year holidays.
The storms were believed to have claimed three lives over the course of the past week. In Oxford, a 47-year-old man died when his mobility scooter fell from a flooded path into a river.
A 27-year-old man from Surrey was found on Porthleven Sands beach in Cornwall after he was swept out to sea on New Year's Eve night and a woman died after being rescued from the sea in Croyde Bay, north Devon.
In pictures: Severe weather batters UK

Show all 60
Searches were still going on over the weekend in south Devon for missing 18-year-old university student Harry Martin, who was last seen leaving his home to take photographs of the weather - with more than 100 people volunteering to look for him.
Devon and Cornwall Police said a 20-mile stretch of coastline - 10 miles either side of the 18-year-old's home at Newton Ferrers - has been extensively searched as well as inland areas with the help of a range of groups and emergency services.
Jonathan Day, flood risk manager at the Environment Agency, warned at the weekend that the risk of flooding could continue throughout this week.
He said: "Although high tides are now falling, there remains a risk of coastal flooding, especially on the south and west coasts.
"In addition, wet conditions have left the ground saturated in many areas, increasing the risk of river and surface water flooding.
"We would urge people to be prepared by checking their flood risk, signing up to free flood warnings and keeping an eye on the latest flood updates," Mr Day said.
Register for free to continue reading
Registration is a free and easy way to support our truly independent journalism
By registering, you will also enjoy limited access to Premium articles, exclusive newsletters, commenting, and virtual events with our leading journalists
Already have an account? sign in
Join our new commenting forum
Join thought-provoking conversations, follow other Independent readers and see their replies