British women left in 'precarious position' by near decade of austerity, says Amnesty
Women are 'at the forefront of the battle of human rights', report says
Zamira Rahim
Monday 10 December 2018 18:01 Comments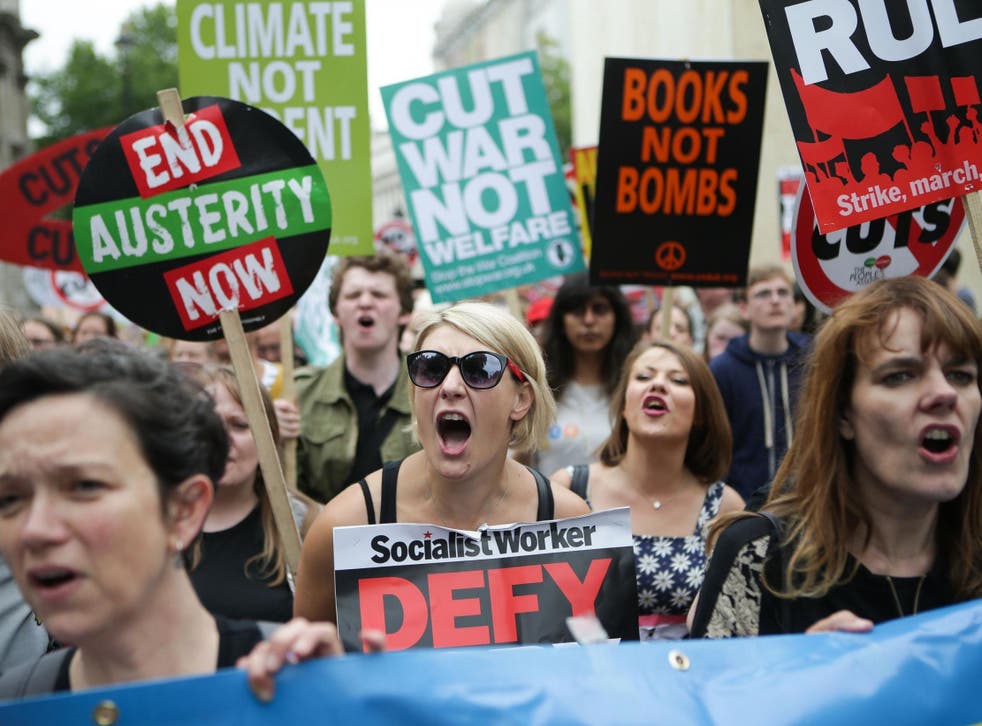 The burden of a near-decade of austerity in Britain has left women in an increasingly "precarious" position, Amnesty International has said.
Researchers from the organisation criticised the UK's cuts to public services, which it said had a "disproportionate impact" on women.
"Women have reportedly shouldered 86 per cent of the burden of austerity measures put in place since 2010, due to their reliance on social security benefits," the human rights group said.
According to Amnesty, single mothers and women from ethnic minority backgrounds have been hit particularly badly by the policy.
Black and Asian households are expected to see drops in living standards of around 19.2 per cent and 20.1 per cent, respectively, from 2010 to 2020.
For the same period single mothers will see a drop in income of 18 per cent.
Amnesty collected the figures for Rights Today, a new global report released on Monday.
"Women's rights have consistently been placed a rung below other rights and freedoms by governments, who believe they can pay lip service to these issues while doing little in reality to protect the rights of half the population," said Kumi Naidoo, Amnesty International's Secretary General.
The group also criticised cuts to legal aid in the UK, which were enforced from 2013.
"[Legal aid cuts] are still disproportionately affecting women, BAME people and disabled people today," Amnesty said.
Cuts to public spending have been in place in Britain since 2010.
Theresa May, the prime minister, recently promised an end to the unpopular policy of austerity.
But in response, the Labour Party said that there would be no end to austerity while a Conservative leader was in power.
Ms Naidoo also took aim at unnamed "tough guy leaders" around the world who were "trying to undermine the very principle of equality – the bedrock of human rights law."
"Many of the current crop of leaders in the world have launched fresh attacks on women's rights with their misogynistic and divisive narratives," she said.
"These leaders try to argue that they are protecting traditional values that represent family interests but, the truth is, they are pushing an agenda that denies women basic equality."
Support free-thinking journalism and attend Independent events
Despite Amnesty's criticisms of British policy, the report struck a brief optimistic note when hailing women women across the world for "fighting back" against oppressive policies.
"Activism and protest are growing," the rights group said. "A groundswell of ordinary people with extraordinary passion are speaking out for justice and equality."
Amnesty added that women around the world were "at the forefront of the battle of human rights in 2018" and highlighted the activists who helped bring about a landslide vote in Ireland, which overturned the country's ban on abortion in May.
It also praised the #MeToo movement and the tens of thousands of women in India and South Africa who took to the streets in 2018 to protest endemic sexual violence.
"The burgeoning power of women's voices cannot be overstated," the human rights group said.
"Yet we cannot celebrate the stratospheric rise of women's activism without recognising why women need to fight so hard."
"The stark reality is that, in 2018, many governments openly support policies and laws that subjugate and suppress women."
Register for free to continue reading
Registration is a free and easy way to support our truly independent journalism
By registering, you will also enjoy limited access to Premium articles, exclusive newsletters, commenting, and virtual events with our leading journalists
Already have an account? sign in
Join our new commenting forum
Join thought-provoking conversations, follow other Independent readers and see their replies