UKIP supporter who left London to fight Islamic State in Iraq speaks out about Lee Rigby's killers
Tom Locke has joined a Christian militia called the Dwekh Nawsha and is currently fighting terrorists known for beheading hostages in Iraq
James Dunn
Sunday 22 February 2015 16:11 Comments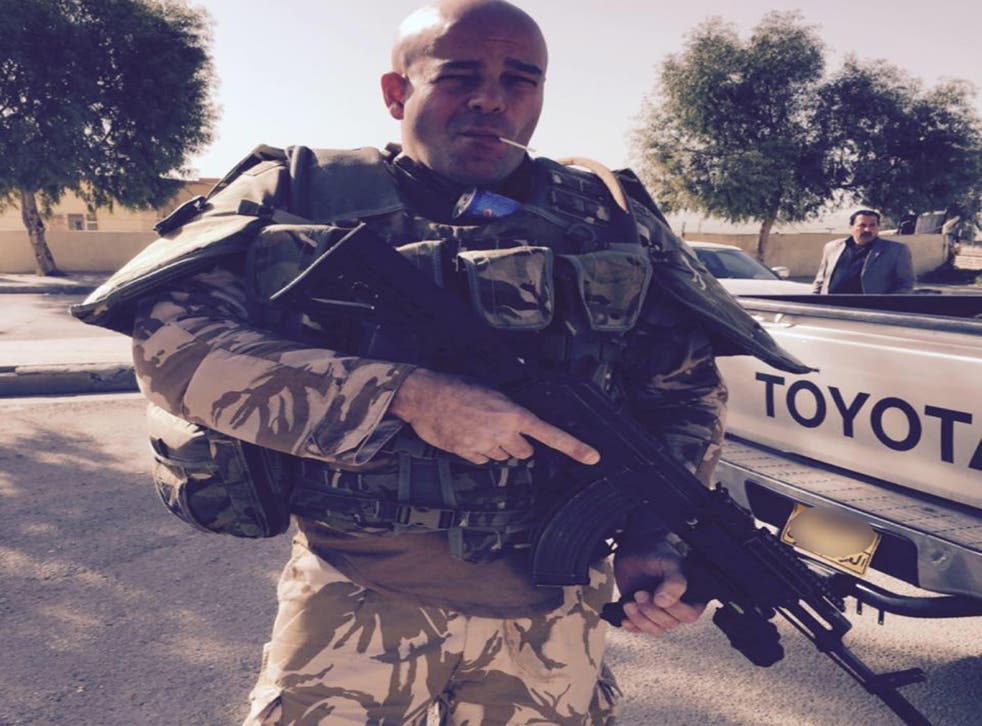 A British former bouncer who left his "fantastic, privileged" life in the UK to fight Islamic forces abroad said he "refused to bury his head in the sand" over the situation in Britain before beginning his journey to Iraq.
Tim Locks, 38, has joined a Christian militia called the Dwekh Nawsha – which translates from Assyrian as self-sacrificers – and is currently fighting terrorists known for beheading hostages in Iraq.
He previously told The Mail that he made the decision to sell his house and join the fight against fundamentalist ideology in August after watching news reports on the plight of the Yazidis on Mount Sinjar.
During what has become known as The Sinjar Massacre, 500 men and women, and 70 fleeing children were killed by advancing Isis forces.
He told The Mail: "I had no specific wishes to join a specific group. I just wanted to help people out here. Any society which kills people, cuts people's heads off needs to be challenged.
"I put my home on the market and started to talk with a guy online. My house sold quickly and I met up en route with my friend from online."
But Mr Locks' social media profile reveals that his frustration with Islamic ideology began long before the massacre in August.
The former bouncer was a vociferous supporter of the British Armed Forces and had planned to do a charity 100 km walk from London to Brighton in June last year to raise money for Blind Veterans UK. He appealed for sponsors, setting a £1,000 fundraising target in January but it's not known if he saw the event through.
After that post, the body builder posted a number of pictures and videos – including one of a massive 400 kg leg press he was about to attempt – and others about his daily life.
But on 26 February, he posted a news story about the jailing of Lee Rigby's killers, Michael Adebolayo and Michael Adebowale, who drove into the soldier outside his barracks in Woolwich, London, before hacking him to death with a large knife.
With it, he wrote: "One word. Good."
After this, Locks continued to post pictures of his life, going to the gym, drinking with friends, and going out for dinner. And in May, he posted about his "fantastic, privileged and totally awesome life", adding "there's not one thing I would change".
But in May, he shocked some friends by posting a picture of UKIP leader Nigel Farage drinking a pint, with the caption "cheers".
Some of his friends were supporters, but others questioned Locks on the picture.
In response, Locks said: "I suppose like a lot of people I stuck my head in the sand. I thought that nothing was ever going to change. But I got to the point where enough was enough and thought 'right, if I don't stand up for what I think is right how can I expect others to and ultimately try and change something'. I really, really hope this is actually the start of something."
He had already been to Bodrum, Turkey, once in April, posting "this s**t is getting real", and visited twice more last year. He has a number of Turkish friends, some of whom have left messages of support since he went to Iraq.
In October, he posted a picture of his house for sale, saying "no going back now", and he's now in Iraq, fighting for a Christian militia.
Locks has also received friend requests from all over the world since his stories hit the headlines, with posts giving him "respect" from all over Europe, including Poland, Spain and Denmark, to name just a few.
People have also started donating to a Paypal account published on his profile - with the name 'solidierofchrist' – for military equipment. Pictures of guns, ammunition and an armoured vest were posted on Locks' timeline.
He's world's away from his comfortable life in England, but believes the switch was the right thing to do. Just days ago, he posted : "I realise that you can survive with very little in life. Back home I had a TV in every room, a pool, 6 to 8 holidays abroad a year. I did what I wanted, pretty much when I wanted.
"Now I'm here helping people with next to nothing, with a group of guys I've known less than a couple of weeks but who feel like family already.
"Yes it's dangerous, yes it's tough and yes I could still be at home pretending that all is good with the world, but I can honestly say I've not been this happy in my life and what I'm doing in a long long while.
"It's the little things in life that count. That being said, I did manage to get hold of a boxing bag, some gloves and some weights today - my world is now complete.
"Stay safe all my brothers and sisters out here."
Register for free to continue reading
Registration is a free and easy way to support our truly independent journalism
By registering, you will also enjoy limited access to Premium articles, exclusive newsletters, commenting, and virtual events with our leading journalists
Already have an account? sign in
Join our new commenting forum
Join thought-provoking conversations, follow other Independent readers and see their replies