Ukraine crisis: David Cameron attacks Crimea vote 'under barrel of a Kalashnikov'
James Legge
Friday 21 March 2014 10:06 Comments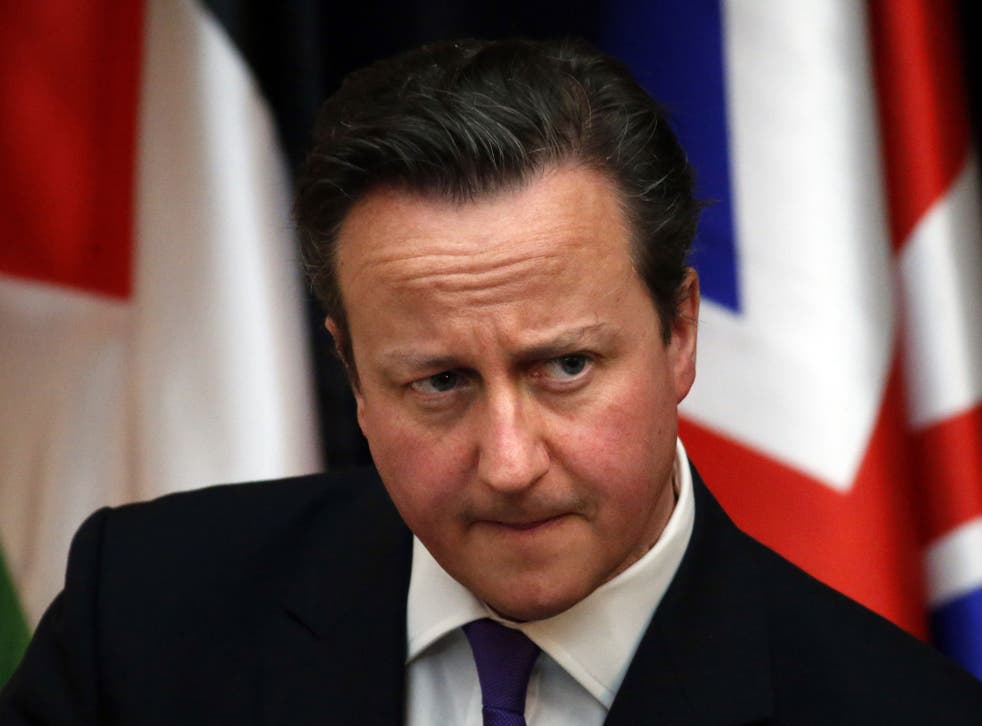 David Cameron warned Russia today that it faces international isolation and tighter sanctions unless Moscow takes steps to de-escalate the crisis in Ukraine.
At a press conference following the summit in Brussels Mr Cameron said: "Our message to Russia is clear: choose the path to diplomacy and de-escalation or face increasing isolation and tighter and tighter sanctions."
He condemned the "sham and illegal referendum" in Crimea, which "has taken place at the barrel of a Kalashnikov"."Russia has sought to annex Crimea," he said. "This is a flagrant breach of international law and something we will not recognise. This behaviour belongs to the Europe of the last century not this one. It cannot be ignored or we risk more serious problems in the future.
"So it was very important that the European democracies represented here should send a strong and united message that Russia should face further consequences, and that is what we have done.
"We have subjected 12 more individuals to travel bans and asset freezes, bringing the total to 33. We have cancelled the EU-Russia summit, agreed not to hold bilateral summits and we'll block Russian membership of the Organisation for Economic Co-operation and Development and the International Energy Agency.
"We have agreed to rapidly implement economic, trade and financial restrictions on occupied Crimea. We will only accept Crimean goods in the EU if they come from the Ukraine and not Russia."
His comments came after the European Union added to the pressure on Vladimir Putin over Russia's Crimea takeover, with leaders talking late into last night to agree sanctions against 12 members of the President's inner circle.
The 28 leaders also agreed that the European Commission should draw up a set of "wide-ranging" measures targeting Russia's economy which could be put into effect if Moscow escalates the crisis further.
The action comes as the Russian parliament's upper house unanimously endorsed the annexation of Crimea from Ukraine, and a day after US President Barack Obama unleashed stronger sanctions against a long list of Putin's close associates, including his chief of staff and his personal banker. Obama also pledged that Russia's key oil and energy sectors would be targeted next if it goes any further into Ukraine.
Russia responded with sanctions of its own against American lawmakers, including travel bans against former presidential nominee John McCain and Speaker of the House of Representatives John Boehner.
But Putin today suggested there would be no more retaliation from Russia. During televised remarks at Friday's session of the presidential Security Council, he said: "We must refrain from retaliatory steps for now."
Russian pposition leader Alexey Navalny - a former candidate for Moscow mayor - said there should also be Western sanctions against Russian oligarchs who have made a home in the West, like Chelsea FC owner Roman Abramovich.
He wrote in the New York Times: "Real sanctions, such as blocking access to their plush London apartments, will show that Mr Putin's folly comes with serious costs."
The EU is today expected to sign elements of a trade deal with Ukraine, similar to the one which former president Victor Yanukovych pulled out of in November, precipitating violent unrest, his deposition and eventually Russia's moves on Crimea.
Herman van Rompuy, European Council president, announced the decision to extend sanctions against Russian officials and politicians beyond the 21 subjected to travel bans and asset freezes earlier this week, and said that a planned EU-Russia summit in June had been cancelled.
He said: "Russia's annexation of Crimea and of Sevastopol is a clear violation of Ukrainian sovereignty and of international law.
"We strongly condemn the unconstitutional referendum in Crimea. We will not recognise the annexation, nor will we recognise it in the future."
.
The blacklist of 20 individuals unveiled by Mr Obama in Washington also included prominent businessman Gennady Timchenko and billionaire brothers Arkady and Boris Rotenberg, who were judo sparring partners of the Russian president, as well as Mr Putin's chief of staff Sergei Ivanov, Duma Speaker Sergei Naryshkin and Russian Railways chairman Vladimir Yakunin.
Mr Obama is due to meet other G7 states - the UK, France, Germany, Italy, Canada and Japan - to discuss Ukraine on the margins of a nuclear security summit in the Netherlands next week, when proposals to eject Russia from the wider G8 group of world powers will be discussed.
The ratings agency Standard & Poor's downgraded Russia's credit rating outlook from stable to negative, saying the economy is threatened by the sanctions.
S&P affirmed Russia's ranking at BBB, the second-lowest investment grade, on par with Brazil, South Africa and Italy. The rating company said "heightened geopolitical risk" could accelerate capital flight and weaken the economy further.
Register for free to continue reading
Registration is a free and easy way to support our truly independent journalism
By registering, you will also enjoy limited access to Premium articles, exclusive newsletters, commenting, and virtual events with our leading journalists
Already have an account? sign in
Join our new commenting forum
Join thought-provoking conversations, follow other Independent readers and see their replies