Universal credit claimants 'six times more likely' to fall into rent arrears despite government reforms
Exclusive: More than half of all council tenants who started claiming new welfare benefit since reforms to cut rent arrears took effect at least a month behind on their rent, figures show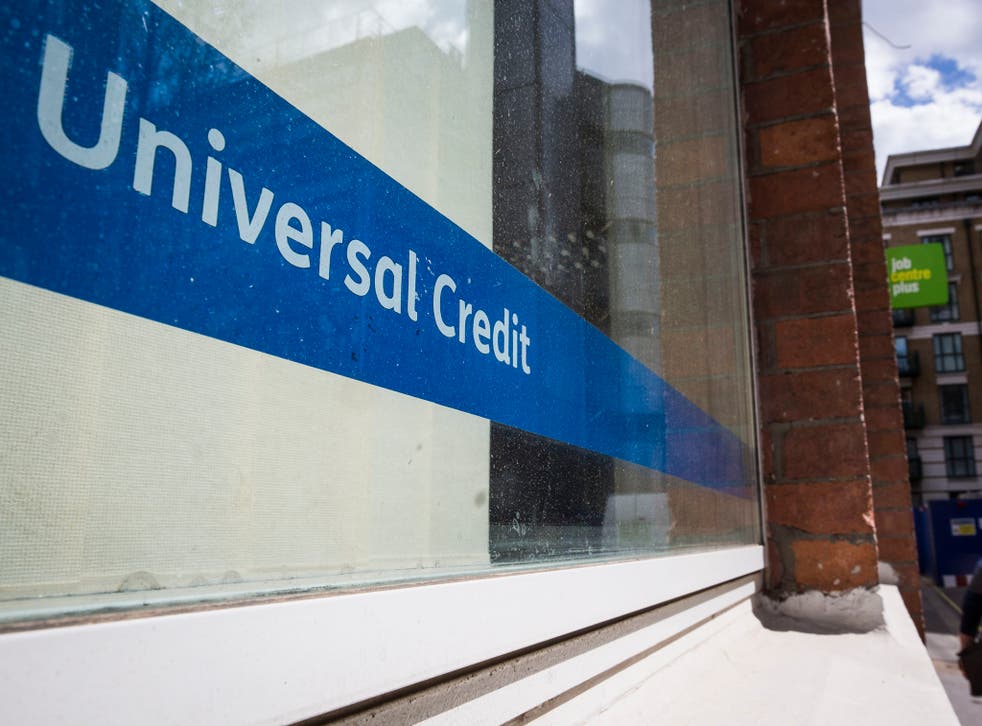 Tenants on universal credit are six times more likely to fall behind on rent than other benefit claimants – and government moves to address the problem are failing, The Independent can reveal.
Ministers have been accused of failing to address flaws in the new benefit system as figures reveal more than half of all council tenants who started claiming universal credit since reforms to cut rent arrears took effect are at least a month behind on their rent.
By contrast, just 8 per cent of tenants on the old housing benefit system are at least a month behind on rent, with one in 20 at least two months behind, according to freedom of information requests from local councils across the UK.
Separate research by Citizens Advice shows half of universal credit claimants are in rent arrears or falling behind on their mortgage payments – the same number as before the reforms took effect.
The government introduced a series of measures last year to address concerns that universal credit was pushing tenants into arrears. These included more generous advance loans for new claimants and an additional two weeks of housing benefit while they wait for universal credit payments to start.
But the measures appear to have had little effect. More than half (54 per cent) of council tenants who started claiming universal credit after the changes were brought in last April are at least a month behind on rent, including a third who are at least two months behind.
This is barely different to the figures for all council tenants on universal credit, half of whom are at least a month in arrears and a third at least two months behind.
One woman was forced to wait for five weeks to receive her first payment after switching onto the new benefit system. Joanne Harrison, 43 from Leeds, said she feared she and her son would become homeless during the Christmas period after she was left unable to pay her rent.
Ms Harrison, who hadn't previously had problems paying the rent on time, said she was out of money and falling into arrears after two and a half weeks of waiting for her universal credit to come through.
"I was worried because this universal credit, if anything goes wrong with it you get sanctioned or they're not paying your rent. I was worried about being made homeless," she said.
"I got a letter from the council when it reached £200 saying that they wanted payment right now. I had already phoned them and told them I were going onto universal credit ... because obviously I didn't have money, that's why my rent wasn't getting paid."
Assisted by charity Christians Against Poverty, Ms Harrison applied for an advance loan from the Department for Work and Pensions (DWP) to tide her over – but she used it to stock up on essentials, knowing she wouldn't have any other money for a month.
"It was a case of buying food, stocking up - toilet rolls, baby wipes, sanitary stuff, and filling my freezer up ... I spent it all within two days," she said.
"I didn't want to be having to ask people for toilet rolls and baby wipes and stuff like that. During that time, nobody was getting paid - no electric, no council tax, no nowt."
One of the worst hit local authorities is Angus in Scotland, where 94 per cent of council tenants on universal credit are at least a month behind on rent – more than 15 times higher than Housing Benefit claimants – and more than 80 percent are at least two months behind. Angus council did not respond to a request for comment.
In Bristol, eight out of ten council tenants on the new benefit are at least a month in arrears, with four out of ten at least two months behind. Bristol council said this was because a large proportion of their tenants only recently started claiming universal credit, and have yet to recover from the initial five-week delay.
New Citizens Advice research, based on analysis of 190,000 universal credit claimants the charity has helped, shows 60 per cent of people it helped were having to take out advances while they waited for payment.
It also found that debt problems were more common for universal credit claimants than those claiming benefits under the previous system, with 24 per cent of people in the news system also seeking debt advice.
Shadow welfare secretary Margaret Greenwood said the data provided "yet more evidence of how universal credit is failing the very people it should be helping".
She added: "Nobody should be pushed into rent arrears and left at risk of eviction because they have to wait to receive a payment. Offering loans to people who have been pushed into debt as a direct result of flaws in the system is not the answer.
"Tinkering is not enough. The government must stop the roll out of universal credit."
A spokesperson for Christians Against Poverty, which is helping people struggling with universal credit, said rent arrears remained a "big issue" among universal credit claimants.
"To lose your income for five weeks means you are going to have to prioritise who you give your money to and sadly that is a decision that many have to face," they added.
UK news in pictures

Show all 50
In the 2018 Budget, the government announced that certain existing benefit claims would soon roll on for two weeks during the initial five-week wait for universal credit payments.
A spokesman for the Local Government Association (LGA), which represents councils, said: "The evidence indicates that arrears increase significantly for households on universal credit.
"The government was right to have announced measures in the Budget to partly address this, but it is vital that they work closely with councils to make sure that they are as effective as possible."
A DWP spokesperson said: "Our research shows that many people join Universal Credit with pre-existing arrears, but that number falls by a third after four months."
Register for free to continue reading
Registration is a free and easy way to support our truly independent journalism
By registering, you will also enjoy limited access to Premium articles, exclusive newsletters, commenting, and virtual events with our leading journalists
Already have an account? sign in
Register for free to continue reading
Registration is a free and easy way to support our truly independent journalism
By registering, you will also enjoy limited access to Premium articles, exclusive newsletters, commenting, and virtual events with our leading journalists
Already have an account? sign in
Join our new commenting forum
Join thought-provoking conversations, follow other Independent readers and see their replies