Two-thirds of young single parents to lose out under universal credit, think tank warns
'Reduction in generosity' for under 25-year-olds with children prompts fears already soaring child poverty rates will only increase further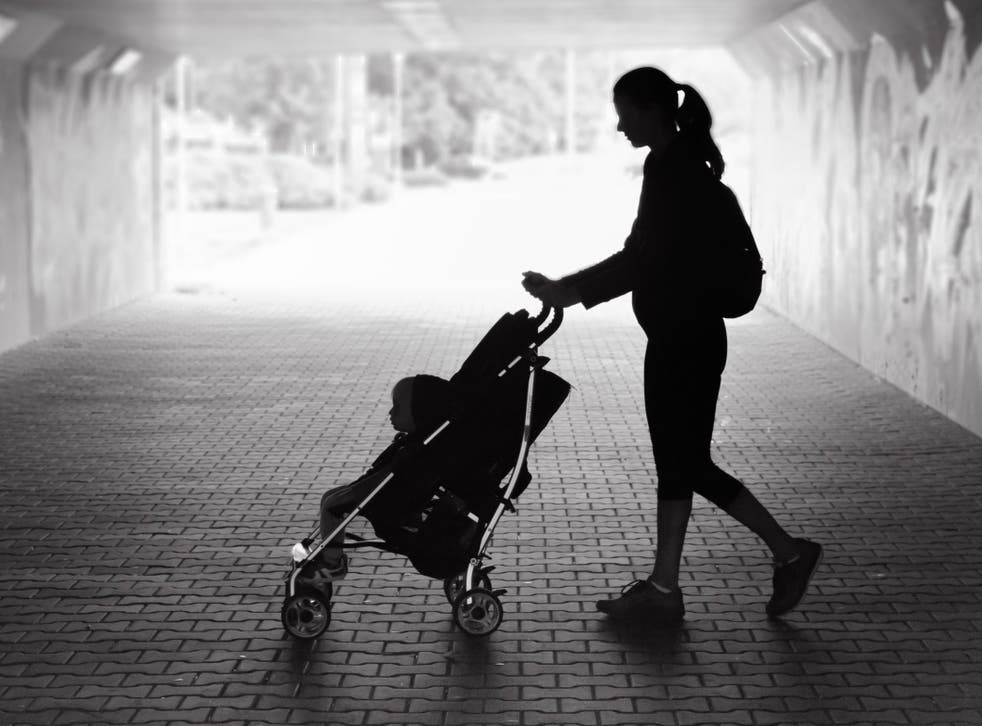 Two-thirds of young single parents are set to lose welfare support under universal credit, according to a new report which raises concerns that soaring child poverty rates are set to increase further.
Research by the Resolution Foundation has found that parents under the age of 25 are more than twice as likely to lose out than to gain when moving over from the old benefit system, creating what it called a "young parents' penalty".
The report described a "specific reduction in generosity" for young people transferring to universal credit, predicting that 16- to 24-year-olds would lose out by an average of £100 a year, with those who are parents set to be paid £15.20 per week less than otherwise identical but older claimants.
This change particularly affects younger single parents, with two in three experiencing a fall in income as a result of switching to the new benefit, while only 32 per cent get an income boost, according to the findings.
By contrast, 56 per cent of older single-parent recipients, aged 25 and over, lose money while 41 per cent gain, as a result of the switch to universal credit.
The Resolution Foundation warned that with child poverty rates were on course to reach their highest level since records began 60 years ago. Ministers must reform and strengthen the social security safety net for young adults, and young parents in particular, it said.
Official figures published in March revealed that the number of children living in absolute poverty across the UK has increased by 200,000 in a year – to a total of 3.7 million.
Margaret Greenwood, shadow work and pensions secretary, said the report showed "clearly how disgracefully" young single parents were being treated under universal credit.
She added: "There isn't a separate aisle in shops where food, clothes and nappies for babies cost less if a parent is under 25. The government is simply punishing families by setting a lower rate in universal credit for young parents."
The Resolution Foundation said the reduction in support for under-25s under universal credit fitted into a wider pattern of cuts in support for young people across the past 20 years.
This has included reductions in housing benefit to those under-25 – and the under-35s since 2012 – as well as a reduced rate for those aged 16 to 24 on out-of-work benefits, all of which the think tank said had left a "fraying social safety net for young adults".
The think tank recommended awarding young single parents (those aged 18 to 24) the same basic allowance under universal credit as parents aged over 25, acknowledging that their responsibility for a child or children effectively placed them in the same life-stage bracket as older adults.
Fahmida Rahman, research and policy analyst at the Resolution Foundation, said: "Over the past 20 years, successive governments have chipped away at the social safety net for young adults, despite that group being more reliant on benefits than other working-age groups.
"Universal credit should be an opportunity to address this problem. But instead its design has created a 'young parents' penalty, with young single parents twice as likely to lose out under the new benefit system as they are to benefit from it. This harsh treatment comes at a time when child poverty is already projected to rise."
Jo Bibby, director of health at the Health Foundation, who commissioned the policy analysis and recommendations, said the "tremendous" impact having a safety net to fall back on had on the futures of young people "should not be underestimated".
She added: "These recommendations clearly set out where the government can take action now to secure the health of our young people for the future."
UK news in pictures

Show all 50
A DWP spokesperson said: "As this report acknowledges, universal credit is a simpler system that incentivises work and represents a positive step for many young adults.
"Parents on universal credit can claim back up to 85 per cent of their childcare costs and since April working parents have been able to earn an extra £1,000 a year before their payments start to reduce.
"There are near-record numbers of single parents in work, but we spend more than £95bn a year on benefits for families who need more support."
Register for free to continue reading
Registration is a free and easy way to support our truly independent journalism
By registering, you will also enjoy limited access to Premium articles, exclusive newsletters, commenting, and virtual events with our leading journalists
Already have an account? sign in
Register for free to continue reading
Registration is a free and easy way to support our truly independent journalism
By registering, you will also enjoy limited access to Premium articles, exclusive newsletters, commenting, and virtual events with our leading journalists
Already have an account? sign in
Join our new commenting forum
Join thought-provoking conversations, follow other Independent readers and see their replies