University of Leicester criticised over 'destructive tests' on remains of Richard III
Paul Gallagher
Tuesday 04 March 2014 19:46 Comments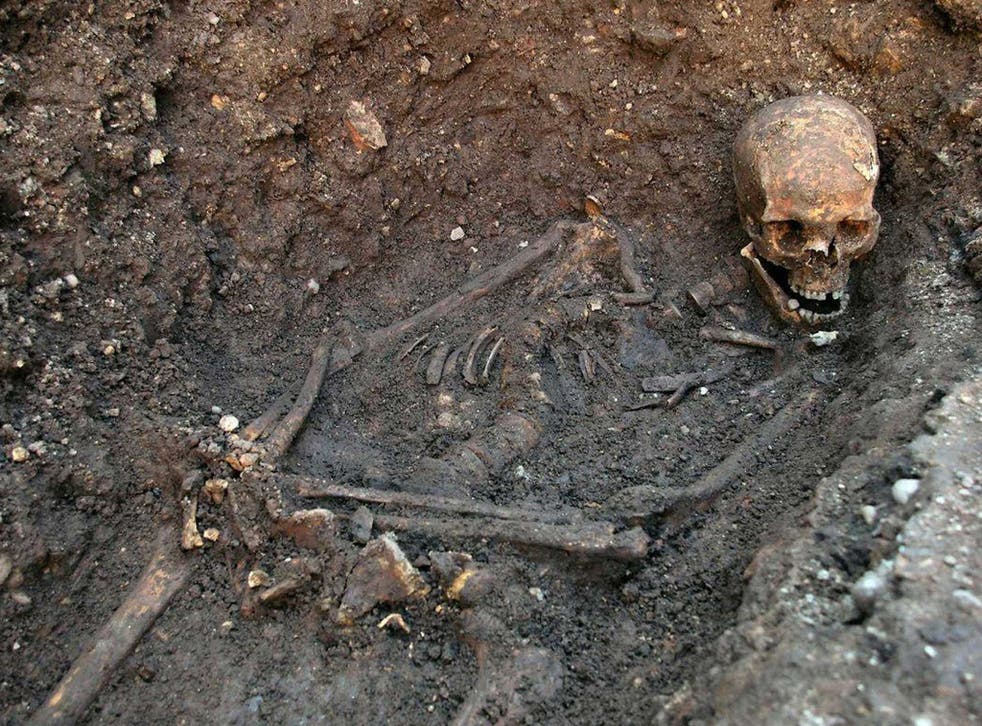 Another battle in the ongoing war of words over the final resting place of Richard III has broken out with the University of Leicester criticised for conducting "further destructive tests" on the Plantagenet king's mortal remains.
In a letter to The Independent published on Wednesday, the "Looking for Richard Project" slams the "cavalier disregard of the legal process" over the university's desire to sequence the king's genome. The group, part of the Richard III Society, which in 2012 began the search for his remains in conjunction with the university and Leicester City council, said the tests "raise serious questions of propriety and ethics".
The authors add: "There has been no independent verification that these tests are either ethical or necessary. Indeed, the university has, in effect, authorised itself to conduct tests that are far from essential and will add very little to our useful knowledge of England's last Plantagenet king."
The project's Phillipa Langley, who led the search two years ago and co-authored the letter, also accuses the university of not honouring her contract with the University of Leicester Archaeological Services(ULAS). The letter said that "any remains positively identified as Richard III would be transferred to her as custodian to be placed in a prayerful environment to await reburial".
In September 2012 ULAS experts identified the lost site of the city's Greyfriars Church and a skeleton was discovered under what would have been the choir. It was confirmed as the last king of the House of York through DNA analysis in February last year.
However, the decision to re-inter Richard III at Leicester Cathedral has been challenged by a group of the king's descendants, calling itself the Plantagenet Alliance, among others who claim the king himself wished to be buried in York and custodianship of the remains is still under legal challenge.
A spokesperson for the University of Leicester said: "All research involving human remains is subject to strict ethical codes and procedures. It is essential that in the short window of opportunity that exists before reinterment, that thorough research is conducted that will be of academic and public benefit, and for posterity.
"King Richard III is a figure of immense historical and cultural significance and the information that we hope to obtain from sequencing his genome will provide insights into the health and ancestry of the king and his historical environment.
"The University of Leicester, along with our partners, are committed to treating the mortal remains with dignity and respect as we work together for a reinterment at Leicester Cathedral as soon as the legal process allows."
Register for free to continue reading
Registration is a free and easy way to support our truly independent journalism
By registering, you will also enjoy limited access to Premium articles, exclusive newsletters, commenting, and virtual events with our leading journalists
Already have an account? sign in
Join our new commenting forum
Join thought-provoking conversations, follow other Independent readers and see their replies