US embassy tries to sell 1,200 toilet rolls and a second hand car
The 'better than bog standard' loo rolls are the first lot in an online auction of the London embassy's unwanted stock
Adam Lusher
Tuesday 31 July 2018 15:12 Comments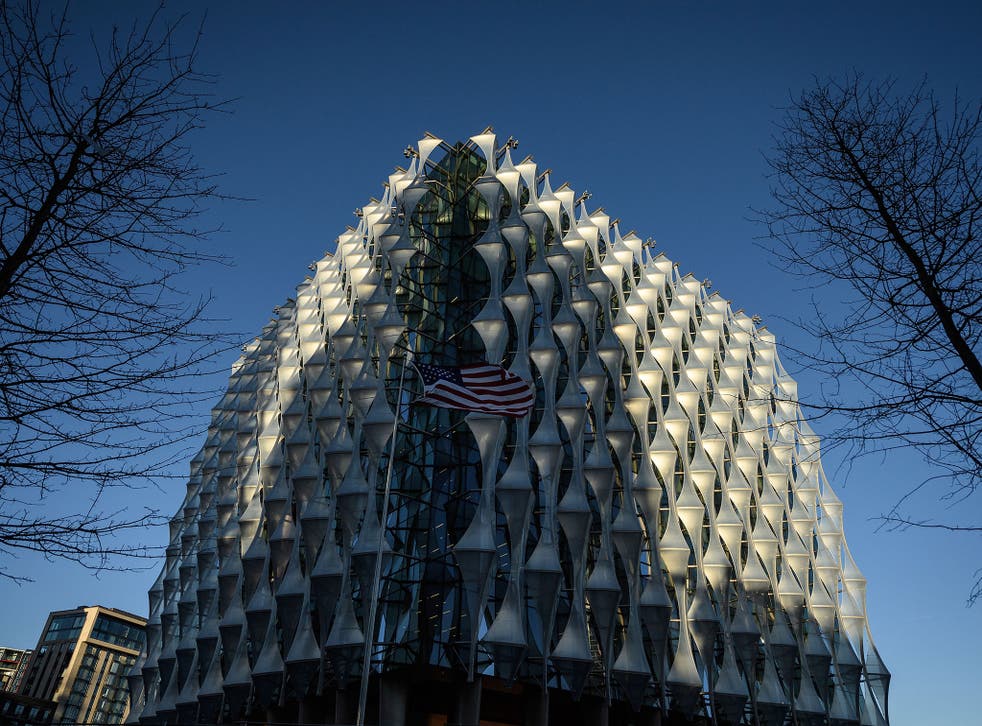 The US embassy in London is selling 1,200 second hand loo rolls in an online auction.
The 100 packs of mini jumbo toilet paper are being offered as new and unused. They were described by an embassy spokesman as "probably a bit above bog standard".
Despite their slightly superior status, however, they are of plain white design and do not have any markings linking them to Donald Trump, Barack Obama, or the US government.
The Desna toilet rolls are lot one in the embassy's auction of its unwanted stock. Other items in the 41-lot auction offer the chance to buy a second hand car from the US government, or a possibly broken camera.
An embassy spokesman explained to The Independent that the auction was an annual event and allowed diplomats to obey State Department rules about financial prudence by getting money for items that are "no longer needed, or have been damaged, or refreshed".
The loo rolls, it was explained, are being sold as a result of the London embassy's recent move from Grosvenor Square in Mayfair to Nine Elms in Battersea. The toilet paper dispensers in the new embassy are of different dimensions and the old loo rolls don't fit in them.
It is not clear whether Donald Trump would approve of the loo roll deal currently being offered by the US embassy.
In January, the US president claimed he had cancelled a trip to London because: "I am not a big fan of the Obama administration having sold perhaps the best located and finest embassy in London for "peanuts," only to build a new one in an off location for 1.2 billion dollars."
The current price on the loo rolls also looks below market rate. By the start of Tuesday afternoon, after 21 bids, the highest price offered was £152. A similar quantity of loo rolls would cost at least £485 from normal online retailers.
There is, however, still plenty of bidding to go with the auction ending on Wednesday 8 August.
The best anti-Trump placards from the London protests

Show all 14
Other lots in the auction include a barcode scanner set, (highest bid so far £60), a Bosch circular saw, a ceramic lamp without a shade, five Dyson vacuum cleaners, and 22 plastic stacking chairs with wheels (top bid by Tuesday morning £66).
Probably the biggest ticket item, however, is the 11-year-old black Volvo S80 with automatic gearbox. With an MOT valid until June 2019 and 21,300 miles on the clock, the car had attracted 32 bids by midday Tuesday, with the highest offer so far being £6,394.
There was markedly less enthusiasm for the embassy's old Sony Mavica camera. Its condition was described as "scrap" and it was offered to be "sold as seen" with no charger, and "working condition unknown".
By noon on Tuesday it had attracted 10 bids, the highest being £24.
The London embassy is not the only US diplomatic posting auctioning its unwanted possessions. A total of nine embassies appear to be having clear-outs, with most selling their old furniture, domestic appliances, computers and mobiles.
More eclectic items, however, can also be found.
The US embassy in Tirana, Albania, is selling a job lot of tyres and a "repairable" forklift truck. With bidding just hours away from closing, it looked like the forklift was going to go for 702,000 Albanian Lek (£4,969).
Meanwhile, perhaps in the hope of appealing to the country's conspiracy theorists, diplomats in Yerevan, Armenia, are selling a used but broken US embassy shredding machine.
Register for free to continue reading
Registration is a free and easy way to support our truly independent journalism
By registering, you will also enjoy limited access to Premium articles, exclusive newsletters, commenting, and virtual events with our leading journalists
Already have an account? sign in
Join our new commenting forum
Join thought-provoking conversations, follow other Independent readers and see their replies