US vessel stranded in ocean with millions of litres of diesel and petrol on board
Turbulent waters are hampering the rescue effort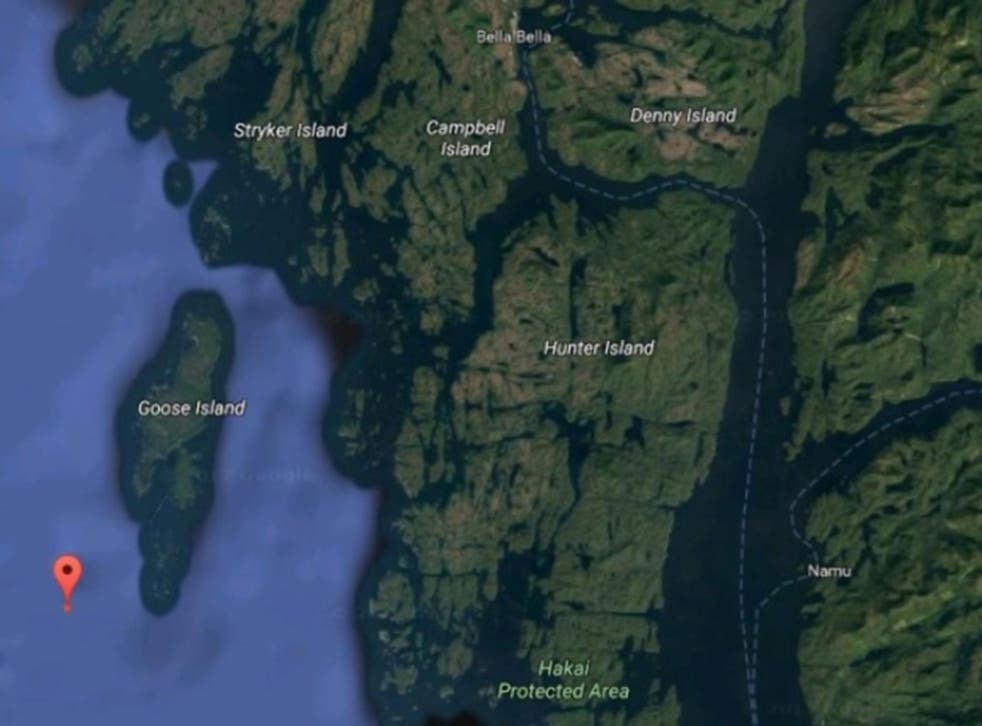 An American barge with 3.5 million litres of oil is reportedly in distress off the coast of the Canadian province of British Columbia, posing a potentially huge threat to the areas indigenous lands and wildlife were it to spill.
The Jake Shearer was sailing in turbulent waters near Bella Bella and Goose Island, when two of its three tug boats broke free and the barge dropped its anchor.
It is carrying millions of litres of diesel and 468,000 litres of gasoline, according to the Canadian Broadcasting Corporation (CBC), although at the time of publication there was no indication that any of the fuel had spilled.
The vessel is anchored about 1.6km from Goose Island in a "pretty exposed area", said Katelyn Moores, spokeswoman for the Joint Rescue Coordination Centre.
Two Canadian coastguard vessels are trying to help and additional resources were being sent to the location, according to officials.
"Rescue tug en route. CCG teams working throughout the night to ensure barge remains in place and the safety of those onboard," the Canadian Coast Guard tweeted, adding that the safety of the two crew members on board the barge was the "highest concern".
Boat with containment box at US oil spill site

Show all 1
Officials said they were devising a plan to rescue the ship once the tugboats arrive to attach a tow line, but strong westerly winds of 45 knots are slowing down efforts.
The situation is also being monitored by members of the Heiltsuk First Nation, who live near the distressed vessel.
The incident comes one year after vessel Nathan E Stewart ran aground in the same area and prompted a massive oil spill of 110,000 litres and devastating marine life.
"Nathan E Stewart's replacement, Jake Shearer appears to have lost power and is drifting toward the Goose Islands," tweeted Greanpeace Canada. "McInnes Island is blowing 35S and gusting. Unlike the Nathan E Stewart, this barge is full of fuel."
Jess Housty, a member of the First Nation community in Bella Bella, said: "Last time I was glued to the VHF like this it was the start of six weeks of emergency phase hell with NES. my heart can't take a repeat."
The Heiltsuk people have called for an Indigenous Marine Response Centre.
"This incident highlights the desperate need for Indigenous-led response capacity on the central coast," said Marilyn Slett, chief councillor of the Heitsuk Tribal Council in Bella Bella.
Environmentalist group Sierra Club BC tweeted: "Not again. Our thoughts are with the Heiltsuk tonight."
Join our new commenting forum
Join thought-provoking conversations, follow other Independent readers and see their replies