Panorama investigation reveals medical company failed to fully inform doctors of vaginal mesh risks
Investigation also discovers leading mesh product only tested in 31 women – and on sheep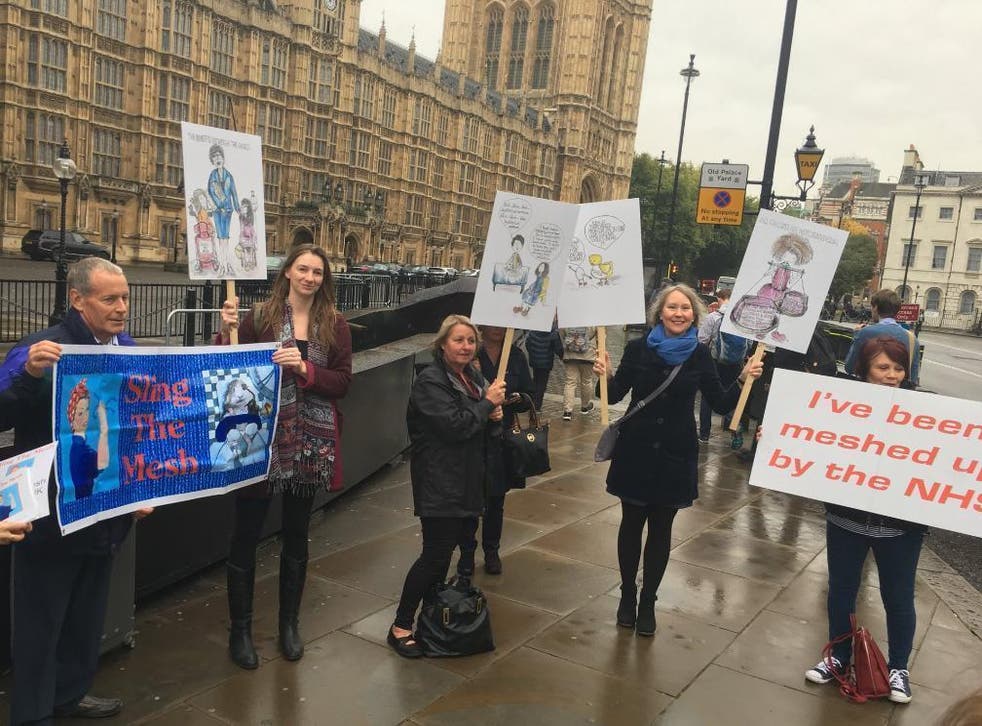 A global medical company failed to fully inform doctors of the risks of vaginal mesh implants, a BBC Panorama investigation is set to reveal.
The programme, which will air on Monday night, documents the conflicts of interest, improper trialling and weak regulatory system behind the vaginal mesh scandal, as reported in The Independent this year.
The Panorama investigation reveals that Ethicon, which markets mesh in the UK under brand name Gynecare TVT, did not update doctors with the extent of risks for its leading mesh device.
It also discovered that the product was only tested in 31 women – and on sheep – before being used in patients.
It comes just over a week after the death of Chrissy Brajcic, the first woman reported to have died from mesh complications, and the publication of a study on vaginal mesh in BMJ open revealing the failures of the regulatory system and "weak evidence" used to support device approval.
The transvaginal mesh procedure, which involves implanting a polypropylene netted device into the vaginal wall, is performed on at least 10,000 women in the UK every year to treat prolapse and incontinence.
However, mounting evidence of higher risks, severe side effects and insufficient trialling, as well as allegations of corruption and whitewashing, have culminated in what's been branded "the biggest health scandal since thalidomide".
Hundreds of thousands of women in the UK, US and Australia are currently involved in lawsuits against mesh producers; at least 800 in the UK are suing the NHS. Ethicon is a wholly-owned subsidiary of multibillion-dollar Johnson and Johnson, one of the main producers of mesh implants and currently the subject of multiple class-action lawsuits.
The company produces "Instructions for Use" (IFU) leaflets to accompany mesh products, designed to explain to doctors how to insert the implants. They also explain the "adverse reactions", or risks, associated with surgery, to help doctors explain these to patients.
In 2009, Panorama will reveal, an associate medical director at Ethicon warned, that the statements about side effects in the IFU leaflets were not sufficient, as side effects were described as "transitory".
However, thousands of women have suffered permanent or chronic complications, sometimes manifesting years after the implant.
In an email in January 2009, the associate medical director suggested that the wording be changed for three Ethicon Gynecare TVT mesh implants, explaining: "From what I see each day, these patient experiences are not 'transitory' at all."
But Ethicon admits it did not update the IFUs at the time. The company's latest IFUs, updated in 2015, do make clear some effects may be permanent, but use incomplete and insufficient risk assessment data to do so.
Dr Wael Agur, a consultant urogynaecologist, told Panorama: "It's so important for me as a surgeon to understand the full risks of a medical device I'm about to implant ... and my first resource would be the IFU.
"I would expect the manufacturer to have a comprehensive list of the adverse events and the risks within the instructions for use so I fully understand these and communicate them."
The investigation also revealed that Ethicon's TVT-Secur implant – sold worldwide, and designed to be the company's safest mesh product – was launched in 2006 after only being tested on 31 women for five weeks, and some sheep. The product was withdrawn from the market in 2012.
Ella Ebaugh, from Pennsylvania, was fitted with a TVT-Secur device in May 2007 to help cure mild incontinence. It was one of two mesh implants she had fitted; she later had surgery to try to remove them.
She suffered chronic pain that left her needing a walking stick and mobility scooter. She sued Ethicon, and in September 2017 was awarded $57m (£42.6m) by the court – which Ethicon is currently appealing.
In her first UK interview, she told Panorama: "If I was told that I would need a wheelchair to get around, if I was told that I was going to live with permanent disabilities for the rest of my life, I wouldn't have had a surgery for a simple stress urinary incontinence problem."
She added: "The pain that I have I will have to live with for the rest of my life. There's nothing they can do to help me."
Figures compiled for Panorama by NHS Digital and NHS Wales show that the NHS has implanted more than 130,000 mesh devices in the last decade.
In that same period (2006-7 to 2016-17), there have been 6,000 procedures to remove or partially remove the implants.
However, the real number could be much higher: these figures only relate to the NHS in England and Wales, and do not include women who have paid to have the device removed privately, or who received "partial snips" to stop the mesh cutting through the vagina.
Doreen Day, aged 70, for example, had a TVT implanted in 2007 to treat pelvic organ prolapse. The surgery left her in acute pain, needing morphine and painkillers to function: "I was in sheer agony, as if I had a cheese grater inside me."
In 2015 she travelled to Los Angeles to have her mesh partially removed at a cost of £22,000, which she paid for out of her personal savings. She is still suffering from pelvic nerve damage.
Mesh implants for prolapse have led to higher complication rates than mesh implants for incontinence.
A spokesperson for Ethicon said: "While we empathise with those who have experienced complications, the vast majority of women with pelvic mesh see an improvement in their day-to-day lives.
"All surgical pelvic floor procedures – with and without mesh – come with the risk of developing complications."
Dr Linda Cardozo, from the Royal College of Obstetricians and Gynaecologists, echoed this, telling Panorama: "You cannot operate without complications occurring in a small minority of cases. You are never aware of complications that may occur years later, and that doesn't just occur with these tapes and meshes."
She has previously described a ban as a "retrograde step", arguing: "If mesh is banned, there will be no more clinical trials. We will go back to how we were a century ago when we couldn't offer women a range of options."
But Kath Sansom, founder of prominent anti-TVM campaign group Sling the Mesh, claims that Dr Cardozo speaks with "a heavy bias".
She commented to The Independent: "It is a shame that Linda Cardozo has spoken out on this issue to Panorama without declaring her ties to industry."
Dr Cardozo has previously admitted her ties to Ethicon, and also accepts research monies from Pfizer.
Cross-party call to end mesh procedure ends in disappointment
In a 2012 study assessing colposuspensions for women with stress incontinence, which she co-authored, the "Conflicts of interests" section lists Dr Cardazo as a consultant for AdvaMed, Astellas, Ethicon and Pfizer, as well as a speaker honorarium and trial participant for Pfizer.
According to Ms Sansom: "Dr Cardozo should have made it very clear that she is a consultant to four industry giants, and a consultant to a UK company that promotes pharmaceutical products and medical devices to the NHS. That means she speaks with a heavy bias."
The MHRA, the UK medical devices regulator, told Panorama it recognises that some women develop serious complications, but maintains that many women gain benefit from these surgical procedures.
It said: "We continue to work closely with NHS England, Nice and professional bodies, and we are all committed to helping address the serious concerns raised by women who have experienced complications.
"Currently, from a regulatory perspective, these devices are acceptably safe when used as intended and as part of an appropriate treatment pathway."
In October, a cross-party group took a debate to Parliament calling for a suspension pending full inquiry into the scandal, which the Government refused.
Later this month, England's National Institute for Health and Care Excellence (Nice) are expected to recommend banning the mesh devices.
BBC Panorama: The Operation That Ruined My Life airs today on BBC One at 7.30pm
Join our new commenting forum
Join thought-provoking conversations, follow other Independent readers and see their replies