Vaginal mesh to treat organ prolapse should be suspended, says UK health watchdog
An estimated 40 per cent of women who have been treated for prolapse with scandal-hit mesh implants suffer severe side effects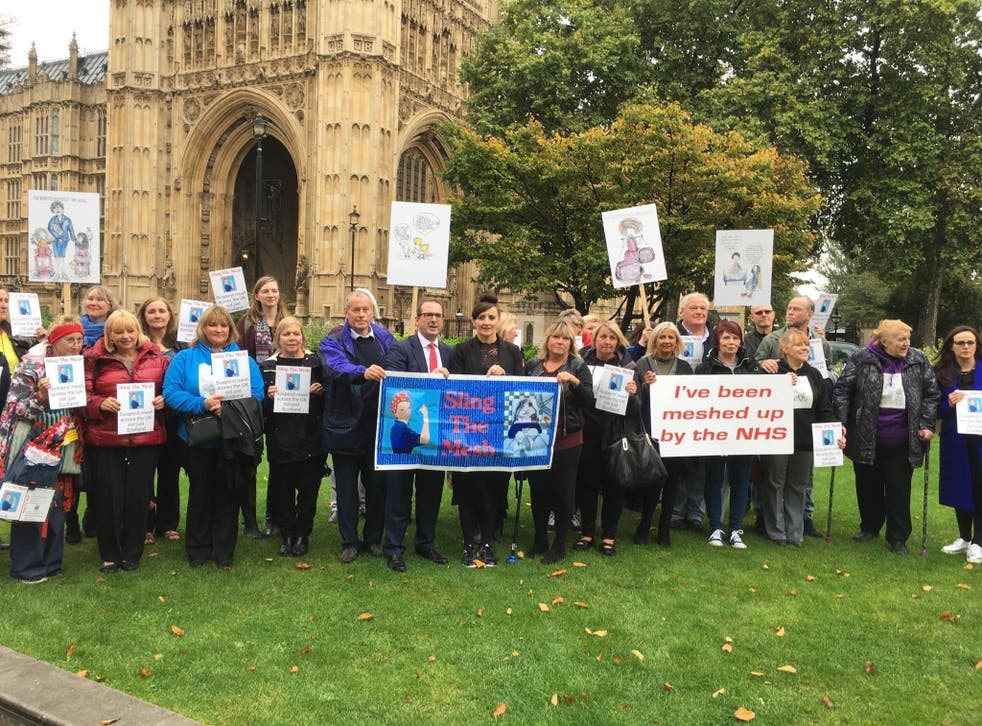 The UK's health watchdog has recommended against vaginal mesh as a treatment for pelvic organ prolapse.
The National Institute for Health and Care Excellence (Nice) ruled that evidence for the long-term efficacy of the treatment is "inadequate in quality and quantity".
It mirrors Australia's recent decision to ban mesh implants specifically to treat prolapse, declaring them "too risky".
The new Nice guidelines state that, while the devices can still be used to treat stress-urinary incontinence (SUI) and to repair hernias in men or women, mesh repair for pelvic organ prolapse (POP) should only be used for research purposes.
While the NHS is not compelled to act on these guidelines, device expert Professor Carl Heneghan believes it will amount to a de facto ban – but says it comes too late.
Around 10,000 UK women a year are implanted with a plastic mesh device, which is inserted into the walls of the vagina to treat incontinence and prolapse – common side effects following childbirth. Both men and women have also received mesh implants to treat hernias.
The Nice statement reads: "Current evidence on the safety of transvaginal mesh repair of anterior or posterior vaginal wall prolapse shows there are serious but well-recognised safety concerns.
"Evidence of long-term efficacy is inadequate in quality and quantity. Therefore, this procedure should only be used in the context of research."
This falls short of the updated guidelines in New Zealand, which this week became the first country to ban all vaginal mesh procedures.
​Nice has also published eight interventional procedure guidelines (IPGs) on mesh, which state that a further five procedures should only be offered with special measures in place for patient consent.
It is the latest development in the vaginal mesh scandal, a treatment that has been called "the new thalidomide".
An estimated 10-20 per cent of women with mesh implants have suffered severe side effects. The plastic is known to erode and disintegrate, and can slice through organs and vaginal walls.
Some women are unable to walk or stand properly, and almost all affected report chronic pain, infections and loss of sex life.
At least one woman has died following complications from her mesh implant. 42-year-old Chrissy Brajcic, of Ontario, Canada, was left bedridden and in constant pain after the procedure, which was to treat minor incontinence.
Brajcic eventually became resistant to antibiotics used to treat her recurrent infections. She contracted sepsis and died of organ failure.
The risk rate of mesh to treat prolapse has been shown to be far higher than for incontinence or hernia: around 40 per cent.
Evidence has also shown that the devices were inadequately trialled and insufficiently regulated. A recent BBC Panorama investigation discovered that one device was only trialled on 31 woman and some sheep.
It also revealed that doctors were not fully informed of risks by mesh providers Ethicon – a subsidiary of multinational firm Johnson & Johnson, which is currently being sued by thousands of women with mesh complications.
Nice recommended that any side effects should be reported to the Medicines and Healthcare products Regulatory Agency (MHRA). The MHRA still maintains that only 1-2 per cent of women with mesh implants suffer side effects.
Christian Beadell, a senior solicitor at Fletchers Solicitors, a medical negligence law firm that has been dealing with many mesh claims, told The Independent the new guidelines "send a clear message".
"Uncertainty over the outcome of these types of procedures is an important factor that patients are often not being made aware of," he said.
"A move to reclassify these procedures as 'research' sends a clear message that certain mesh use must be seen as experimental, and that the relative pros and cons may be indeterminable at this stage."
Dr Sohier Elneil, urogynaecologist, mesh expert and former Nice board member, told Sky News: "The recommendations by Nice are highly significant, as I think they will make us all re-evaluate the way we use mesh.
"I think there will be a snowball effect because people will look very carefully at the product per se rather than the application, because we know the product has its own problems; it's a foreign substance and obviously reacts with the tissue around it."
But the updated guidelines will not satisfy campaigners or the All Party Parliamentary Group on Surgical Mesh Implants, chaired by MP Owen Smith, which has been pushing for a full suspension of mesh procedures.
Mr Smith told The Independent that while he's pleased that Nice has "listened to women, looked at the emerging evidence and changed their mind about the risk associated with the use of mesh in treating prolapse", they should have gone further and followed New Zealand in banning it altogether for pelvic operations.
"Nice now need to take notice of that decision and speed up their guidelines on use of mesh to treat incontinence," he added.
"It just isn't reasonable of them to say they can't produce that guideline for another 18 months."
Prominent campaigner Kath Sansom, founder of the group Sling the Mesh, said: "By restricting the use of prolapse mesh to research only, it's effectively a backdoor ban.
"But it needs to go further to include the hundreds of women who suffer everyday from mesh used to treat stress incontinence. They need to be taken seriously."
In October, the group took the issue to Parliament, calling for a suspension pending a full inquiry into the scandal. However, the Government refused both.
Ms Sansom told The Independent: "The media train keeps rolling, and slowly this scandal is being unravelled. It is a convoluted mess of aggressive marketing, surgeons having ties to industry and an NHS who thought it was the quick, cheap-fix dream.
"In fact, it creates a long-term nightmare of ruined lives and expensive fixes for women who are on medication for life, in a constant search to try to ease the debilitating pain and infections."
Former Scottish health secretary Alex Neil, who pushed for a full ban back in 2014, recently described the vaginal mesh scandal as "a global catastrophe".
In response to the new guidelines, a Department of Health spokesperson said: "We recognise that some women are suffering from very serious and debilitating complications as a result of this treatment; therefore, we support the updated guidelines from Nice.
"We also want to offer reassurance to the thousands of women who have been helped by these implants and we make sure that any concerns raised are acted on swiftly and effectively by the NHS."
The Independent has contacted NHS England for comment.
Join our new commenting forum
Join thought-provoking conversations, follow other Independent readers and see their replies