Finsbury Park attack - what we know so far
Finsbury Park attack: Counter-terror police investigating after man killed in van attack near London mosque
Police say 48-year-old man in custody after being detained by members of the public
One man has died and several more are injured after being hit by a van in a suspected terror attack near a mosque in London.
Counter terror police are investigating the incident in Finsbury Park, where eight people have been taken to hospital and two more were treated at the scene.
"The driver of the van - a man aged 48 - was found detained by members of public at the scene and then arrested by police in connection with the incident," a spokesperson for the Metropolitan Police said.
"He has been taken to hospital as a precaution, and will be taken into custody once discharged.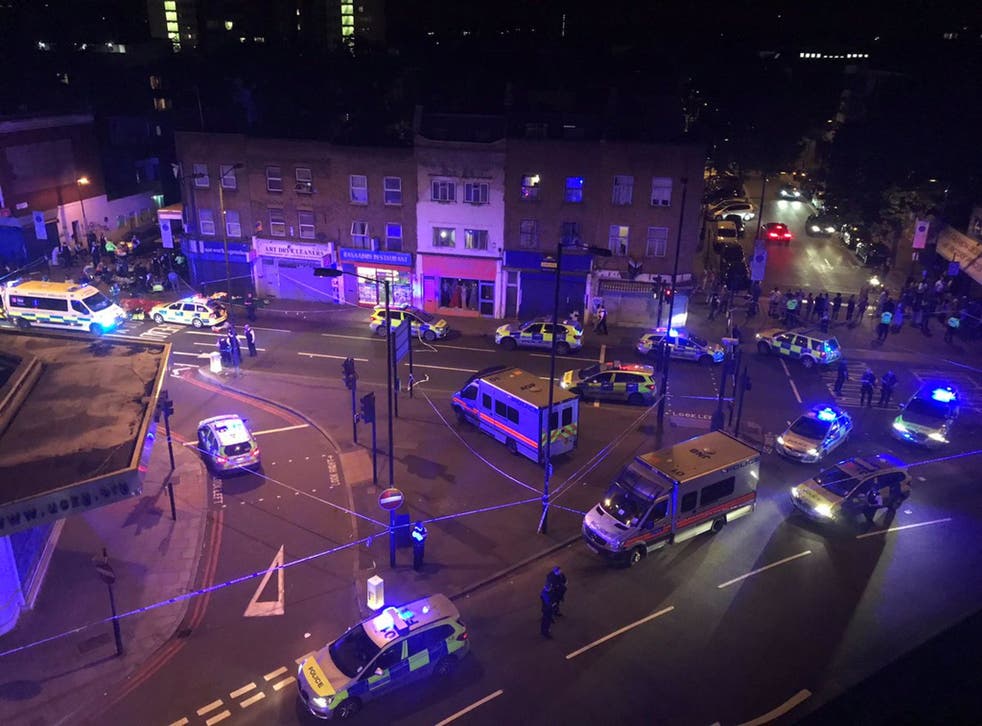 "He will also be subject of a mental health assessment in due course."
Scotland Yard said armed police were at the scene, with the investigation being carried out by Counter Terrorism Command and an extra officers deployed to reassure Muslims during Ramadan.
Witnesses said the vehicle veered off the road into worshippers leaving prayers in Finsbury Park shortly after midnight.
"From the window, I started hearing a lot of yelling and screeching, a lot of chaos outside," a woman who lives opposite the scene told the BBC.
"Everybody was shouting: 'A van'€™s hit people, a van€'s hit people'.
"There was this white van stopped outside Finsbury Park mosque that seemed to have hit people who were coming out after prayers had finished."
Passers-by said a crowd had gathered to help an elderly man who collapsed on the pavement and was already undergoing CPR when the vehicle approached.
Witnesses described how members of the public managed to restrain the driver after he left the van.
A witness who gave his name as Ali described horrific scenes as injured people lay on the pavement.
"There was one guy who was bleeding from his head, from his foot," he told The Independent.
"There was a woman on the floor who had fallen out a wheelchair, we helped her up. There were loads of people in the streets on the ground.
"There was blood on the pavement."
Footage showed injured people motionless on the pavement as angry crowds surrounded a white man believed to be the driver.
A spokesperson for the Metropolitan Police said officers were called to a "major incident" at 12.20am.
The force said it had found nothing to confirm witness reports that up to three men had been in the van before two fled, or that the driver was carrying a knife and stabbed victims.
Harun Khan, Secretary General of the Muslim Council of Britain, said: "Shocked and outraged to hear a van has intentionally run over worshippers leaving Ramadan night prayers."
The former EDL leader Tommy Robinson, real name Stephen Lennon, was condemned for "attempting to justify" the attack by accusing the mosque of past links with extremists.
"I genuinely hope the innocent people targeted tonight outside the mosque are ok," he later wrote on Twitter.
It was unclear whether worshippers had been leaving the Finsbury Park Mosque or nearby Muslim Welfare House, which said the incident happened "five minutes from us".
Mohammed Shafiq, chief executive of the Ramadhan Foundation Muslim organisation, said the incident came as members of both mosques left Tarawih prayers performed for the Islamic holy month of Ramadan.
"It happened outside the Muslim Welfare House but people were leaving Finsbury Park Mosque as well so there's a lot of confusion at the moment," he told The Independent.
"According to eyewitnesses it was a deliberate attack against innocent Muslims, and if that's confirmed by authorities it should be classed as a terror attack, no doubt about that."
In pictures: Van hits pedestrians near Finsbury Park mosques

Show all 6
The London Ambulance Service's deputy director of operations, Kevin Bate, said ambulances, advance paramedics, special response teams and an advance trauma crew were sent to the scene.
"Our priority is to assess the level and nature of injuries and ensure those in the most need are treated first and taken to hospital," he added.
Theresa May and Jeremy Corbyn sent their condolences to the victims as operations continued in Seven Sisters Road.
The Prime Minister described the attack as a "terrible incident'', adding: "All my thoughts are with those who have been injured, their loved ones and the emergency services on the scene."
The Labour leader said he had been in touch with local mosques, police and the council following the incident, which took place in his constituency and near his home.
"My thoughts are with those and the community affected by this awful event," Mr Corbyn added.
It came weeks after three Isis supporters rammed a van into pedestrians on London Bridge before rampaging through Borough Market with knives, killing eight people before being shot dead by police.
It was the third major incident less than a month for London's emergency services, following the London Bridge attack and Grenfell Tower disaster, which killed at least 58 people.